Happy Friday Fanatics!  What do you say we kick off the weekend with a little discount just for fans of ALU!
The ladies behind Ginger + Liz want you to experience two of their fave nail colors, Hold The Drama and Reality Check and they're offering $2 OFF those two polishes from now through 8 a.m. Tuesday March 30th.  Use code ALUFans at checkout to receive your discount.
Hold The Drama
Hold The Drama is a blackened eggplant purple shade that is like no other! Kind of like a stormy sky at sundown, this deep dark purple hue is simply beautiful and a great alternative to the bluish black staple shades. Hold The Drama transcends the styles appealing to the Classic, Boho, Rocker, and Prepster.
Reality Check
Reality Check is coral with tangerine highlights. This is a great shade for the fashionista that loves colour but sways from extreme brights. Her look is always fresh but sometimes unexpected. Everyone needs a Reality Check from time to time.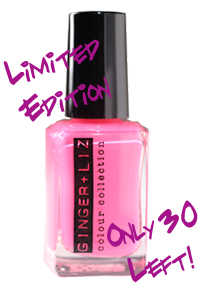 While you're shopping the G+L site, be sure to check out Gimme More their limited edition shocking neon pink. Liz tells me they're running low on supply and this color won't be restocked so if you want some Gimme More in your lifestyle, you better hop to it!
Gimme More
A must have electric neon pink very rich in pigment that adds an optimistic punch to any neutral or dark palette. There are few shades out there that peak the interest of both the Girly girl and Glam Rocker and this is one of them! Gimme More will make them well, want more!
One last thing, G+L have switched their shipping method to FedEX which will make tracking more reliable. Happy Shopping!