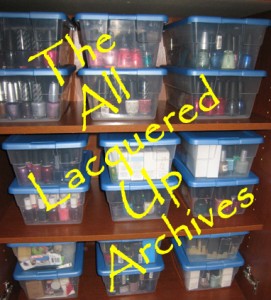 The ALU Archives focuses on older, beloved shades from the All Lacquered Up stash.
As much as I try to focus on readily available colors for the Archives I couldn't help myself this week.  I finally got my hands on one of my dream dc'd shades and just had to share it with you.  I mean if anyone will understand the excitement over finding a bottle of Essie Dominica Green on your doorstep, it's all of you.
Back in the early days of the MUA Nail Board, when I still had time to frequent it, there were only a few of us "green queens" hunting down old HTF shades and they seemed easier to find.  Now it's like the whole polish loving world has joined in, making these rare polishes even harder to find.  I had pretty much given up hope of ever finding Dominica Green on my own (I REFUSE to pay big money on eBay) when an extremely generous gift made its way to me.
See this treasure after the jump!

I now have two IKEA Helmer drawers stuffed tight with greens and I'm about to start filling a third.  I own pretty much every kind of green in the spectrum that you can imagine from the palest mint to the blackest forest and yet nothing compares to Dominica Green.    There's something about this color that makes it light up on the nails like an electrified emerald.  It's not that it's bright per se but between the slightly golden undertone and the fine green shimmer it just illuminates.
The only negative this old gal brings to the party is lack of opacity.  You really have to want it with Dominica Green.  Even though it applies buttery smooth I needed four coats, five on my ring finger, to take this pic.  And for those of you on the 3-Free bandwagon, it is in Essie's old formula so if you should come across a bottle, be warned.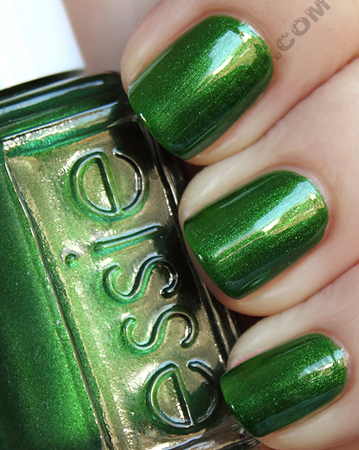 Now there are a couple bottles of Dominica Green on eBay and if it were up to me, that's where they'd stay.  I'm sure someone will eventually cave on the seller's ridiculous price but I'd much rather see you get the satisfaction of finding a bottle in a dusty old nail shop than give in.
If you've never been "dusty hunting" Dominica Green is a fantastic reason to start.  Start scouring all the nail salons in town.  Check their walls and don't be afraid to look in that dust filled glass case under the counter.  That's how I came across OPI Rainforest (since a few of you have asked recently).  Go out there and find yourself a gem!
Disclosure: In the interest of full disclosure this bottle was given to me by the creator herself, Ms. Essie Weingarten.  Not for review, just as a kind gesture to this green polish loving girl.