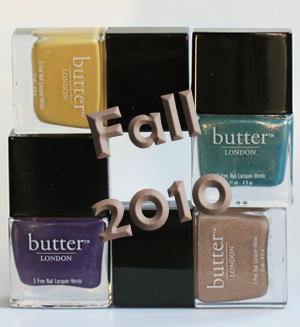 As an editorial manicurist and butter LONDON Creative Director, Nonie Creme merges the world of fashion with nail color.  So it should come as no surprise that when the fashion community experienced the loss of the brilliant Alexander McQueen, Nonie thought to pay tribute to his genius.

The butter LONDON Fall 2010 Collection polishes All Hail McQueen and Bumster are both nods to the designer.  Marrow is Nonie's second collaboration with the designers behind Vena Cava and Victoriana is a faded blue inspired by vintage British fabrics.

Application & Formula: butter LONDON is known for its 3-Free formula but it is actually 4-Free (no Formaldehyde Resin).  The bottle has a smooth plastic outer cap that easily slides off (thanks to a bottle redesign) to reveal a ribbed, round inner cap used for polishing.  The brush is thin and round with flexible bristles that easily fan out to cover the nail.
The consistency of these polishes is thick but spreadable.  You can almost feel how pigmented they are.  With the exception of All Hail McQueen I only used two coats of polish to get full coverage.  However, I would suggest waiting for a few minutes between coats.  I went to apply my second coat of Bumster a little early and ended up with a bit of dragging and had to start over to avoid using a third coat.

Victoriana is a patina-esque muted blue packed with silver micro-glitter.  The base color reminds me a lot of Rescue Beauty Lounge 360 only this is a bit more vivid.  I see a green undertone in this in the same way that 360 has a tinge of green, like murky seawater.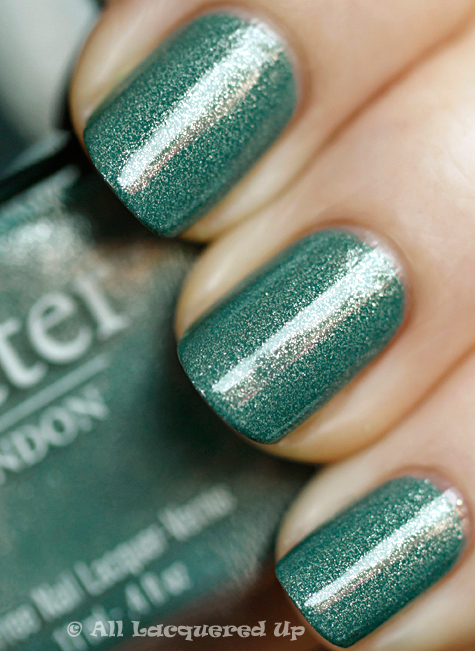 All Hail McQueen is described as a holographic taupe.  On me, it's a twinkling BBB (band-aid but better) shade.  I love it because it's a more wearable, sparkly version of one of my fave BBB shades, OPI Skinny Dip'n In Lake Michigan.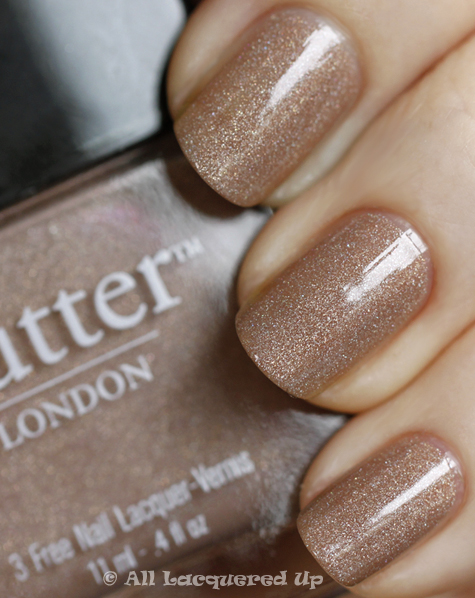 My only real point of contention with this color is the "holographic" claim.  Yes, there is multi-colored glitter in the polish but you don't really see it unless you are in the sunlight and even then you mainly see the rose colored glitter.  I don't see a holographic/prismatic effect.  The polish is still beautiful but I wouldn't classify it as a holo.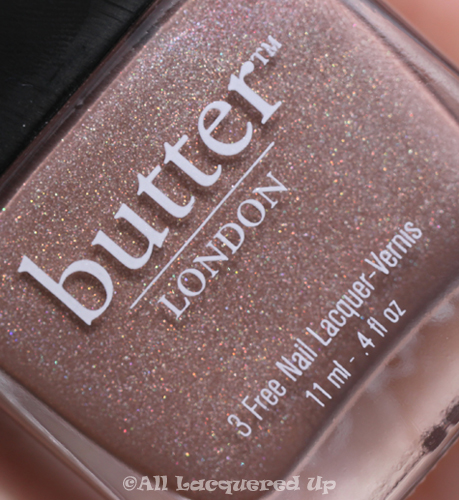 Marrow looks different than the custom mixed color Nonie showed me backstage during NYFW.  See for yourself.  Granted the lighting situation is much different but still, I remember it as a dusty plum.  Much more like what you would expect dried bone marrow to look like.  Used at the Vena Cava FW 10′ show, designers Sophie Buhai and Lisa Mayock named the reddish grape polish.  A fine silver shimmer replaces the glitter seen in the runway version to add depth and shine.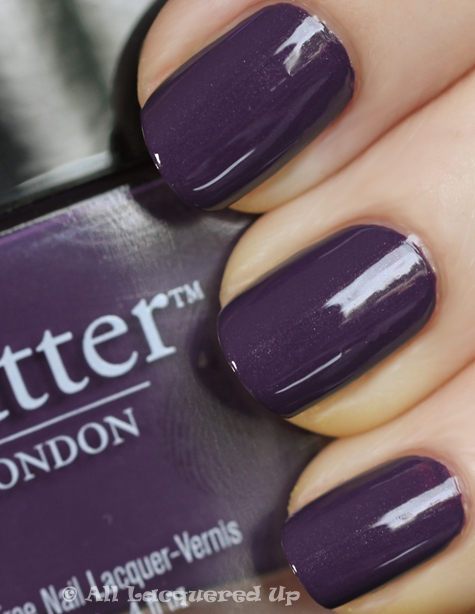 I'm still not sure how I feel about Bumster. Named after McQueen's famous low slung trousers, this dijon yellow creme is a bit daunting on the nail. I appreciate it for being so odd but I don't know if I love it or hate it with my coloring.  In poor lighting it looks like baby poop which is not exactly a look I'm going for.  I don't own it to compare but this looks a lot like Misa Hot Couture from the Runway collection which was another polarizing love it/hate it polish.

Bottom Line: If you liked RBL 360 or are into blues & greens like me you'll love Victoriana. It's my top pick from the collection and totally unique. All Hail McQueen is my runner up. It's an amped up neutral that can work for day or night. I wish I could say that Marrow lived up to my expectations but it fell short. I think with all the purples that have come out this past year, including my own, they're all starting to blend together.
The butter LONDON Fall 2010 Collection is available now on butterLONDON.com and ULTA.com. Beauty.com also carries bL but they seem to get the collections a little later than the brand's website.  Polishes retail for $14/ea for a .4oz bottle.  The bL website has a Store Locator if you want to make your purchases in person.  I don't see any in Ohio yet but hopefully that will change soon.
What do you think Fanatics?  Which colors are calling your name?  If you already ordered from the collection, which ones?
Disclosure: Product samples were provided to me by butter LONDON. For more info view my Disclosure Policy.