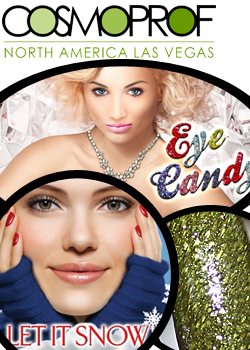 Stopping by the AII Beauty booth at Cosmoprof North America, the premiere business to business beauty trade show, is like a visual assault. They own so many brands, including China Glaze, that it's hard to know where to look first.

Thankfully, two of my fave people from the company, Amy & Anne, were there to walk me through. You may remember that eons ago, not really but it seems that long, I had the chance to meet the China Glaze team during a trip to LA. It's where I got my first glimpse of the best green glitter to ever exist on the planet, China Glaze Emerald Sparkle.

Get ready for your own visual assault courtesy of ALU as I bring you a look at the 34 new China Glaze polishes that will be released between now and January 2012. That's right, I said 34.

China Glaze Metro is the Fall 2011 collection and it's already on shelves. Going around the nail swatch wheel we have: Skyscraper, CG in the City, Urban-Night, Traffic Jam, City Siren, Loft-y Ambitions, Brownstone, Midtown Magic, Street Chic, Concrete Catwalk, Westside Warrior and Trendsetter.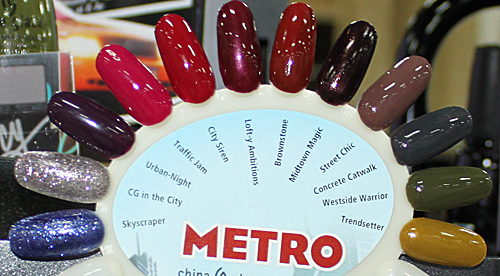 China Glaze Haunting started shipping August 12th so expect it on shelves very soon. This is China Glaze's Halloween offering and it includes two cremes and two glitters. It will be displayed with Ghoulish Glow, a glow-in-the-dark top coat, and Crackle Glaze Black Mesh.

From left to right we have: Haunting, It's Alive, Near Dark and Crimson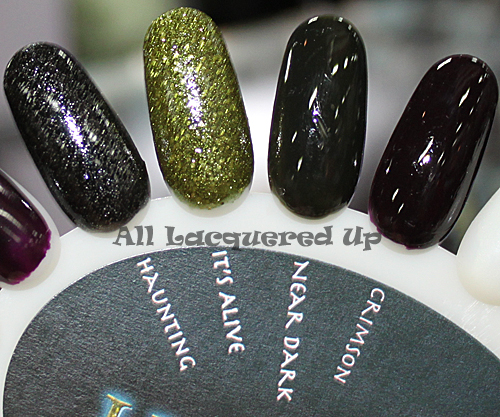 Just like last year's holiday collection, China Glaze Let It Snow is bringing a LOT of color to the party. There are 12 colors in the collection and 12 gift sets and the whole collection starts shipping September 2nd.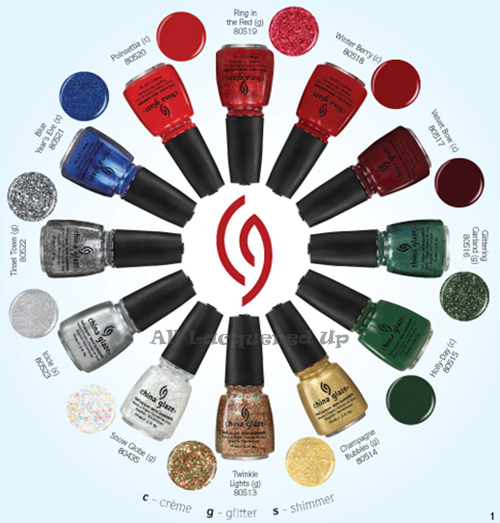 Twinkle Lights, Champagne Bubbles, Holly-Day, Glittering Garland, Velvet Bow, Winter Berry, Ring in the Red, Poinsetta, Blue Year's Eve, Tinsel Town, Icicle, Snow Globe (re-promote)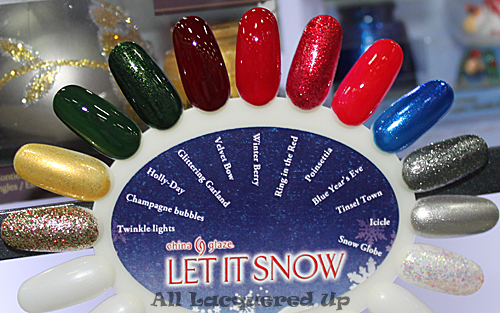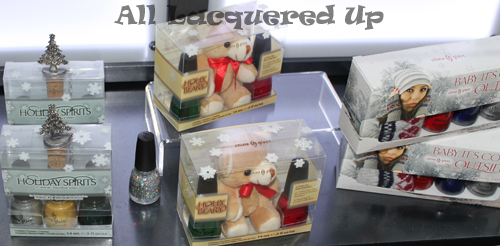 I'm a sucker for a great gift set and even though the Carry Me Away for the Holidays set doesn't contain very "me" shades, I love the travel case the comes with it.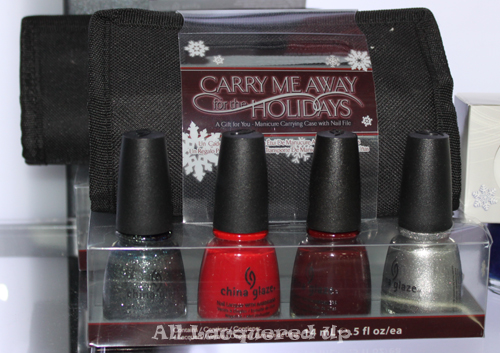 It's a travel roll that holds your nail tools and has a zip up case to hold your nail polish bottle. I need one of these in my life ASAP!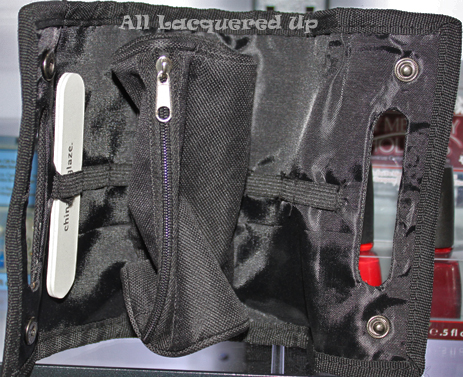 The next collection to roll our way after Let It Snow are the China Glaze Eye Candy 3-D Glitters. Shipping out at the beginning of November, these six new lacquers are named with a Marilyn Monroe theme and packed with a mix of multi-shaped, multi-colored glitters to create a multi-dimensional look on the nail.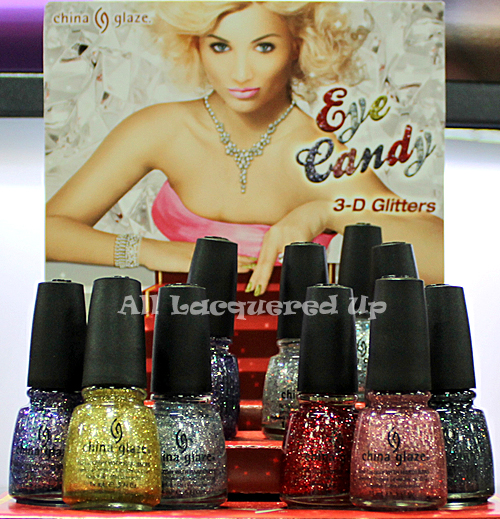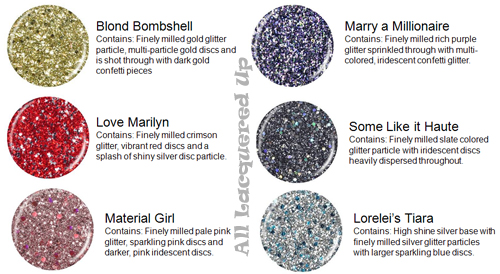 Blonde Bombshell, Love Marilyn, Material Girl, Marry a Millionaire, Some Like It Haute, Lorelei's Tiara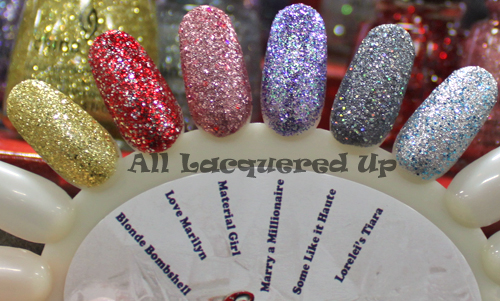 Finally, let's talk Spring 2012 for a hot second. Releasing in January 2012, China Glaze ElectroPop brings eleven pop-art bright cremes along with the re-promoted glitter Techno.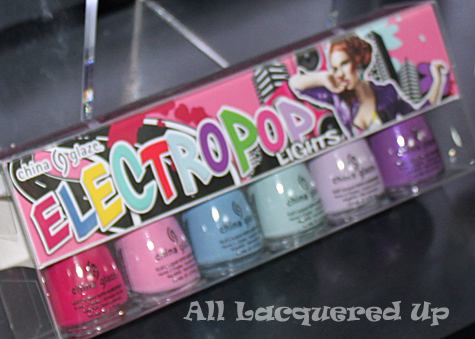 The world is yours to create, a bed ripened for your own artful ecstasy. It's about independence and pushing boundaries –a hyper sensory clash of art and technology. This trend is optimistic for a bright future!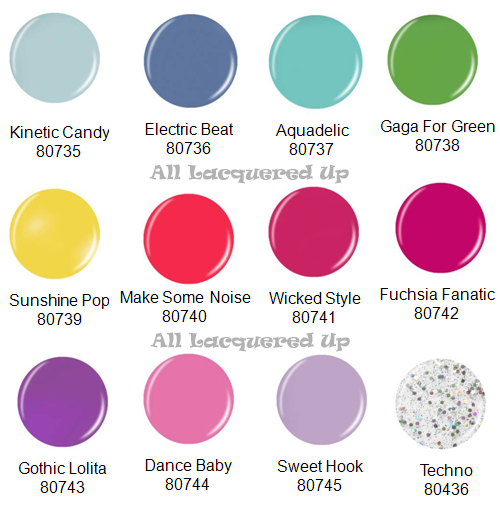 Top Row: Kinetic Candy, Electric Beat, Aquadelic, Gaga for Green. Second Row: Sunshine Pop, Make Some Noise, Wicked Style, Fuchsia Fanatic. Bottom Row: Gothic Lolita, Dance Baby, Sweet Hook, Techno.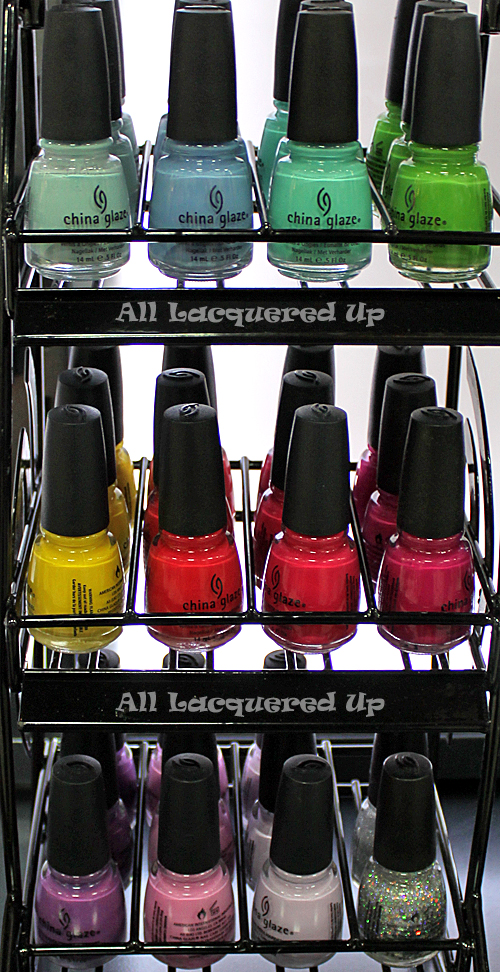 Whew! That's a lot to take in all at once. China Glaze is certainly living up to its "Live in Colour" motto, no?
Which collection is grabbing your eye? Is there one specific color you can't wait to get your hands on? How do you feel about Spring being all cremes with an accompanying glitter top coat?