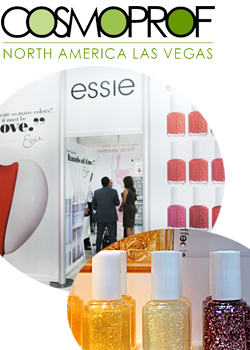 I recently attended the Cosmoprof North America business to business beauty trade show in Las Vegas and, as always, it was completely overwhelming, in a good way. Imagine an enormous convention center filled with rows upon rows of beauty brands, manufacturers, packaging companies, etc. debuting their latest products and innovations. I didn't know which way to go first.
In years past I haven't made it to the Essie booth. In part because they make it look so secretive with the surrounding walls. This year however, I met the adorable and charming Dominic and Melissa who took me on a tour of the upcoming Winter & Holiday 2011 collections. Sadly, Essie was not at the show this year but I'm sure I'll run into her in a few weeks during New York Fashion Week.
Dominic, by the way, told me he reads my blog (so flattering) and when I playfully questioned him, he replied, "I know that you store your nail polish in IKEA Helmers!" How cute is that?!?
Let's check out what Essie is bringing to the nail polish party in the upcoming months including some hints about SPRING!

First up, the Essie Cocktail Bling nail polish collection for Winter 2011. These gemstone and jewelry inspired colors have a little something for everyone, including a new GREEN and TEAL! Get excited.
The shades (l-r): Cocktail Bling, Brooch The Subject, Bangle Jangle, School of Hard Rocks, Size Matters, Bobbing for Baubles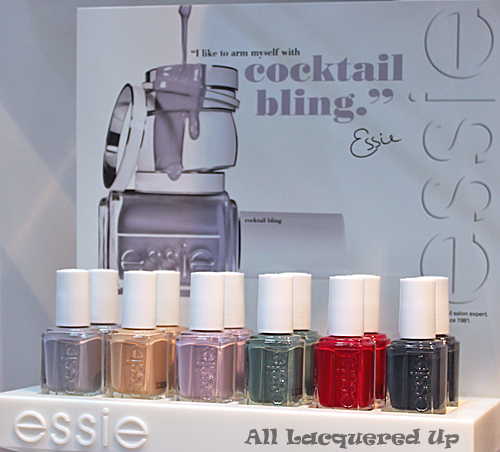 Melissa from Essie happened to be wearing School of Hard Rocks on her nails and let me snap a shot of it. It's even more gorg in person.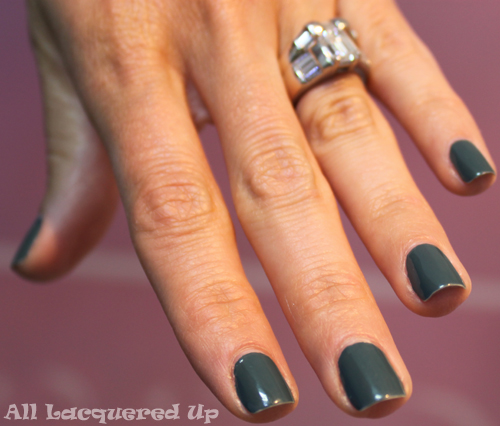 The Essie Luxeffects collection for Holiday 2011 is comprised of glitter effect top coats of varying sizes and textures. There are chunky glitters, more refined sparkles and even a FLAKIE!
I didn't catch all the names but the gold is As Gold As It Gets and the flakie is Shine of the Times (3rd from left).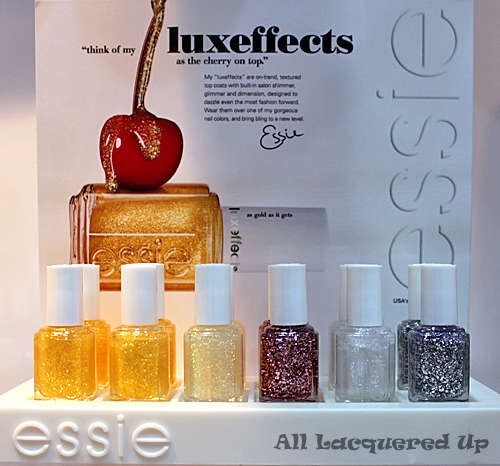 Also, three of the retail exclusive shades are being brought over to the salon side. They will be re-promoted along with three core Essie colors, including Sexy Divide and Over The Top. The three retail shades are: Dive Bar, Trophy Wife and Jamaica Me Crazy.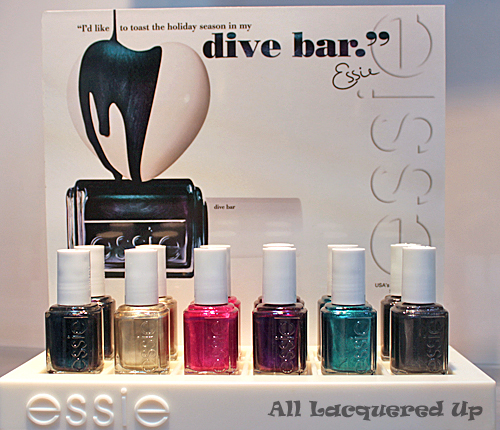 Finally, Dominic let it slip that the Essie Spring 2012 collection had just landed on his desk before flying to Vegas. We were discussing how Essie continues to step outside of the classics/neutrals corner we tend to paint her into. I mentioned how unexpected the neons in Fall 2009 were (Pink Parka, Bright Tights) when he shared that the Spring 2012 collection is also, "BRIGHT! Like little easter eggs." If you have pastel hopes and sheer dreams for Essie this spring, you're going to have to put them on hold.
Okay so which colors are you already drooling over? Does one collection appeal to you more than the others? Do you think Essie should continue making more unusual shades like blues or greens?