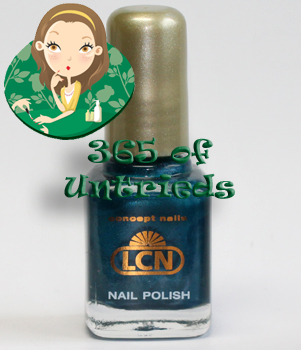 365 of Untrieds is my personal challenge to weed through the polishes in the ALU stash that I've been wanting to try but just haven't gotten around to.
Untried Day #117: I'm already declaring magnetic nail polish to be the new crackle and with LCN being the first out of the gate in the US, I'm sure it will put them on the map with consumers in the States.
I met with the owners of LCN USA at Cosmoprof and I had no clue that the brand has been in the US for 20 years. What's funny about that is I placed an order with a German e-tailer years ago and picked up a LCN polish not knowing it was available here. I didn't even swatch or blog about it at the time because I know how hard it can be to get nail polishes from overseas outside of swapping.
So now that I know that this color is accessible to both my US and European Fanatics, I figured it was time to crack it open. That brings us to today's untried, LCN Blue Laguna.

Formula & Application: I'm still not clear about the ingredients in LCN nail polish but I will investigate further. The polishes come in both a 8ml size and 16ml size. I have the smaller of the two. The square bottles have a smooth cap with rounded edges and a long, full-size brush.
The brush is thin and round with bristles that have an average firmness but enough give to allow the brush to flatten and fan across the nail. The brush is top notch and allows you to complete a perfectly smooth stroke along the cuticle line.
The formula is nice and thin but well pigmented. I only needed two coats to get the polish opaque. I must be on some kind of kick at the moment because the finish and formula both remind me a LOT of Nubar Indigo Ocean. The only difference is that the metallic/pearl shimmer is a bit stronger in this one so you can end up with some brush lines if you aren't careful.

LCN Blue Laguna is a deep aquamarine shade that borders on teal. Another similarity between it and Nubar Indigo Ocean is that the depth and intensity of the color just doesn't translate. That's true for almost every nail polish but this color has a fire behind it that the camera just can't capture.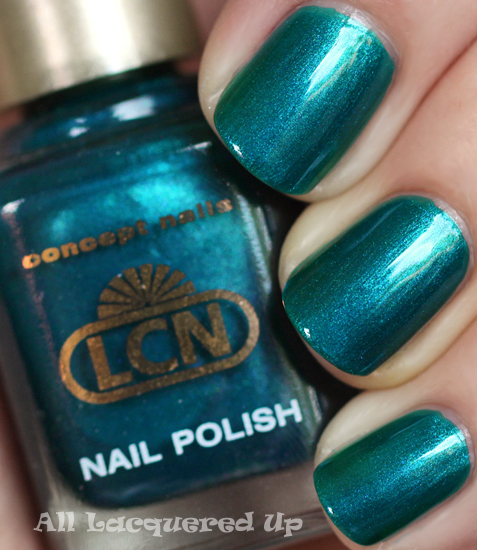 In looking for comparisons I pulled a few shades hoping to find a match. The glorious MAC Whirlwind is way too dark and duo-chromatic to play in this pool but China Glaze Rodeo Fanatic and Icing Deep Pool can definitely hang.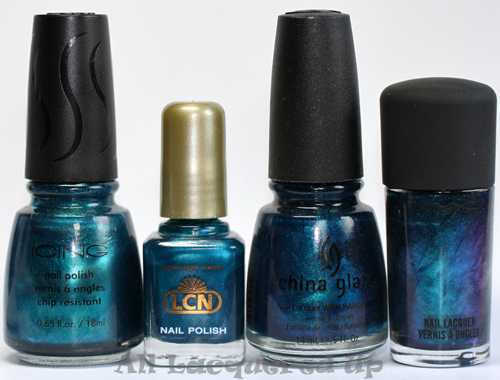 Ignoring the difference in finish between Rodeo Fanatic and Blue Laguna, which I keep wanting to call Blue Iguana btw, the base colors are actually very similar however RF dries quite a bit darker. Deep Sea on the other hand has the same finish but it has a lighter, greener hue to it.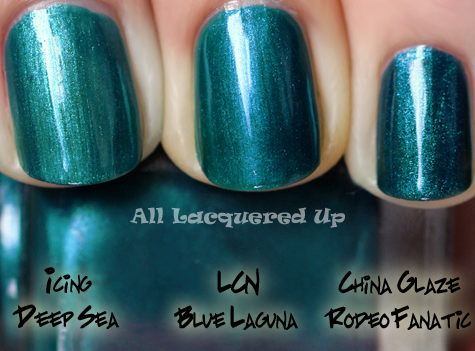 Bottom Line: I'm not like over the moon for Blue Laguna but it has a solid formula and a great depth of color. It will definitely cause me to try more LCN polishes in the future. In all reality, even though they are different, any polish looks flat next to Rodeo Fanatic. It's almost unfair to Blue Laguna that I even compared the two because it's clouding my judgement.
365 of Untrieds Stash/Share Verdict: Since I don't have a dead-on dupe for it, I'm STASHing it.
LCN Blue Laguna is available online to consumers at LCNBoutique.com and licensed professionals at LCNUSA.com. LCN nail polish retails for$7.50/ea for a 8ml bottle or $9.90/ea for a 16ml bottle.
Thoughts on Blue Laguna? Have you tried LCN's nail polish before? Any favorite shades from the line? Do you plan to pick up either the magnetic or regular nail polishes from the brand?
Disclosure: I purchased this nail polish. For more info view my Disclosure Policy.