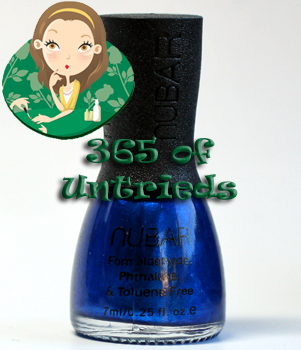 365 of Untrieds is my personal challenge to weed through the polishes in the ALU stash that I've been wanting to try but just haven't gotten around to.
Untried Day #116 – Before we start talking polish, I have a Weight Watchers update for you. If you recall, I joined the program in July after my father's health scare. Well it's been 30 days and I have lost 10 pounds! I'm so excited. I'm really loving WW since they have an app for Android and I'm pretty much addicted to my phone. It makes it so much easier to calculate and keep track of my points.
Okay so back on track. As you know I went to Cosmoprof last week and I promise to start posting about everything I saw tomorrow. In the meantime, let's talk about the fact that Nubar is launching mini bottles of their best selling shades. The minis are currently available outside the US but releasing here very soon.  They also have some gorgeous colors coming out in the fall collection but I can't reveal pics for another couple weeks. Let's just say they are unexpected fall shades.
I had a great time chatting with Nubar founder Noubar Abrahamian and he was kind enough to send me home with some minis before they launch on the site. Oh and keep an eye out for a completely redesigned, easier to navigate ByNubar.com.
Since one of the minis is a shade I have in full size but have never worn, I decided to use it for today's Untrieds. Let's take a closer look at Nubar Indigo Ocean.

Formula & Application: Nubar nail polish is 4-Free (includes formaldehyde resin) and is free of camphor, which can be an irritant.  The brand is also billed as vegan and cruelty free.  The bottles are topped with a curved, matte cap that is designed to rest comfortably between the thumb and forefinger.
The mini bottle brush is identical to the one in the regular size which is fantastic. It is thick and round though the width doesn't impede application.  In fact it's one of my favorite brushes.  It has a bit of resistance which allows for control but the bristles are flexible enough to fan out flat across the nail bed.
The lacquer is thin but not squishy or jelly like. It has a great flow and levels out to an even finish. The brush and lacquer formula work really well together allowing you to easily manipulate the polish. Plue the pigmentation is spot on.  I achieved opaque coverage in two coats and in spite of the slightly metallic nature of the shimmer, it doesn't show any brush marks.

Nubar Indigo Ocean is much more electric blue than indigo but who am I to squabble over names. Pictures really don't do this one justice as the finish is REALLY high shine to the point that it still looks wet in person. Unfortunately the two dimensional nature of photography doesn't allow that to show. The polish is mesmerizing. And as I mentioned above, the pearl/metallic shimmer doesn't cause brush strokes. It creates a really even, flawless finish.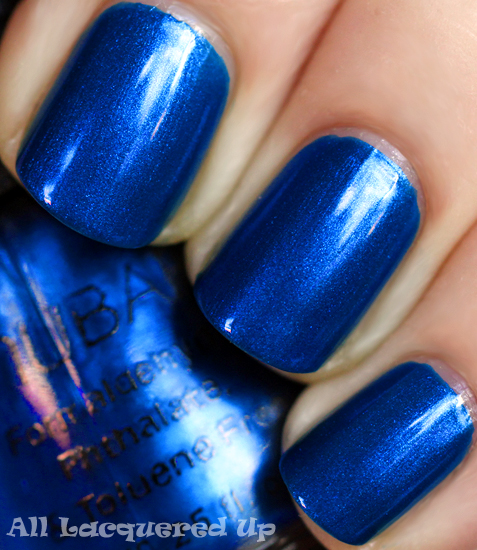 When I saw this color I immediately thought of Essie Aruba Blue and even though it's a glass fleck, I thought China Glaze Drinkin My Blues Away might have a similar base color. Same goes for China Glaze Eyes Like Sapphires.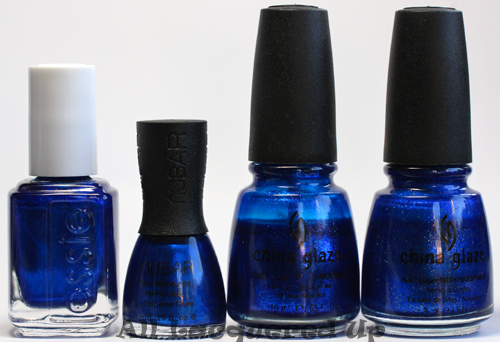 As it turns out, Aruba Blue is very similar in its base color but it dries a bit more intense.  Though the downside is that the Essie doesn't apply nearly as well. I needed three coats and it shows brush marks (they're more visible in person). DMBA is also a close relative but the glass flecks set it apart.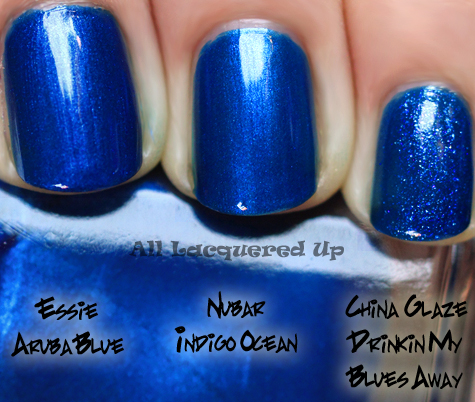 Seriously, how adorable are the Nubar minis? Has science figured out what it is about mini-sized things that make people want them, no matter how unnecessary they are? I will say that mini nail polish has one major benefit… it's perfect for travelling. Especially mini treatment products and Nubar has minis of the Foundation Base Coat and Diamont Top Coat. Gotta love it!
Top Row: Pink Creme, Sexy Red, Euphoric, Orange Spice. Bottom Row: Forest, Indigo Ocean, Hieroglyphs Purple, Sphynx Purple Regular size bottle: Vaso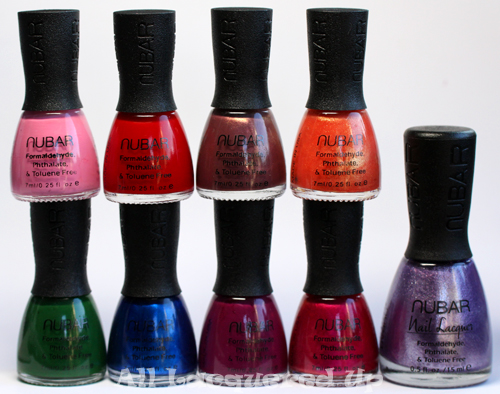 Bottom Line: Although I appreciate the added depth of color that Aruba Blue brings to the party, the fabulous Nubar formula is winning me over. Knowing I can get perfect application, even from a mini bottle, is a major trump card. Of course I would dump both over a glass fleck but if you're looking for a more subtle blue shimmer, Indigo Ocean gets my stamp of approval
365 of Untrieds Stash/Share Verdict: STASHing Indigo Ocean, no doubt!
Nubar Indigo Ocean is available online at  ByNubar.com.  Nubar nail polishes retail for$7.49/ea for a .5oz bottle.  The shipping can be on the higher side but if your order is over $50 it's free. I found a Canadian site selling the mini bottles so if you want to check out which shades will be offered head to GetAllDolledUp.ca. I can't recommend the site for purchasing since I've never ordered from them so buy at your own risk.
Thoughts on Nubar Indigo Ocean? Are you also a sucker for all things mini? What other brands do you think have quality mini bottles in their line?
Disclosure: Product samples were provided by Nubar. For more info view my Disclosure Policy.