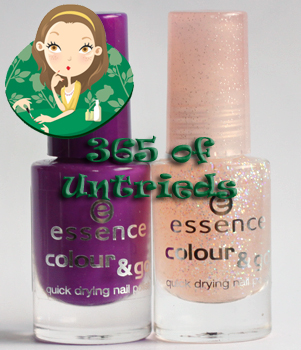 365 of Untrieds is my personal challenge to weed through the polishes in the ALU stash that I've been wanting to try but just haven't gotten around to.
Untried Day #115 – Do you ever have those days where you love your nails? Like when you file them perfectly and they are the exact length and shape you want? I'm having one of those days today. It doesn't happen often since I'm am hypercritical but, when it does, I just LOVE putting polish on my nails.
A few weeks back an image popped up in my Tumblr stream of a pale pink with multi-colored glitter and it reminded me that Essence Space Queen has been sitting in my untrieds for way too long. I wanted to pair it with something a little bolder than the image that inspired me so I pulled out Essence Break Through. You HAVE to love a layering manicure that only costs $2.

Formula & Application: Essence Colour & Go nail polish is 4-Free. For a full ingredient list, visit Essence.eu.  The bottles are small and round with a sizable smooth, plastic cap.  The brushes are wide, flat and long considering the bottle size.  The bristles are somewhat stiff (think MAC) which can lead to some dragging so use a light touch. The thing I noticed this time that I haven't in the past is that while the brush fans out well, it's almost too wide for smaller nails, like the pinkie.
The formula itself is well pigmented. Two thin coats are all I need to achieve opacity. The consistency falls somewhere between a creme and a jelly so it's pretty easy to control.

Essence Break Through is a deep magenta creme. It's like a cross between red grape and Byzantine purple and very vivid. It's definitely bright enough to make for a fun spring/summer mani/pedi but it's dark enough to transition right into fall/winter.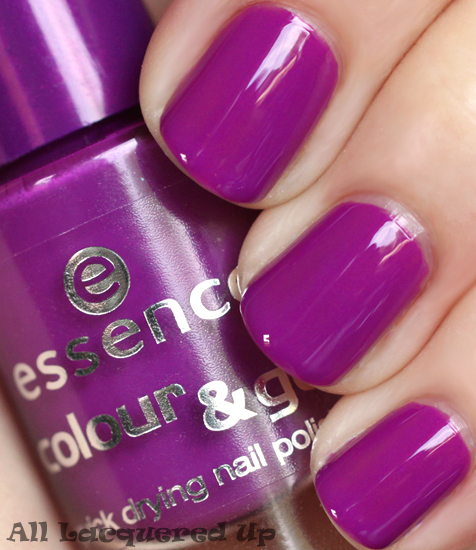 Adding a coat of Essence Space Queen definitely adds a more youthful, flight-of-fancy feel. The clear, jelly-like base perfectly suspends the tiny, hexagonal multi-colored glitter. As the light hits each particle you see small bursts of gold, orange, red, pink, blue and green. I'm not totally loving this combo but it's entertaining. Space Queen looked better in the inspiration pic over Sweet As Candy.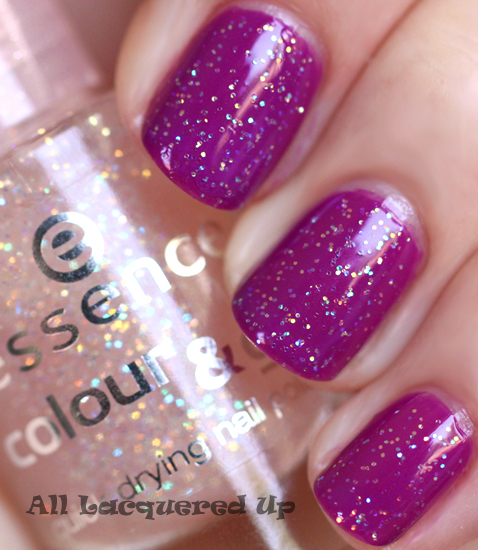 In looking for a close dupe of Break Though, all my purples seemed to lean too red or too blue in comparison. The best comps I could come up with are Barry M Bright Purple and OPI Pamplona Purple.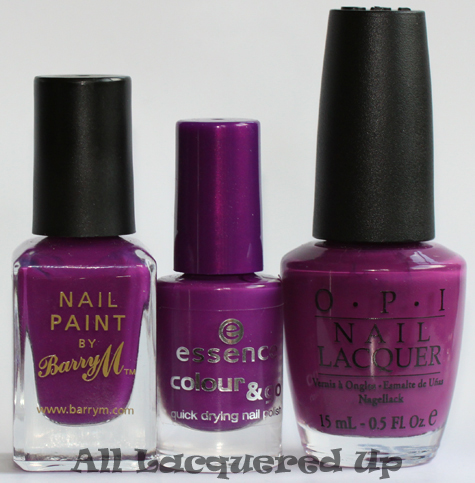 I overlooked Pamplona Purple when it first came out and now I regret doing so. Especially after seeing this pic. In this instance however, it's not a match. Nor is Bright Purple. BP is too red and Pamplona is too dark.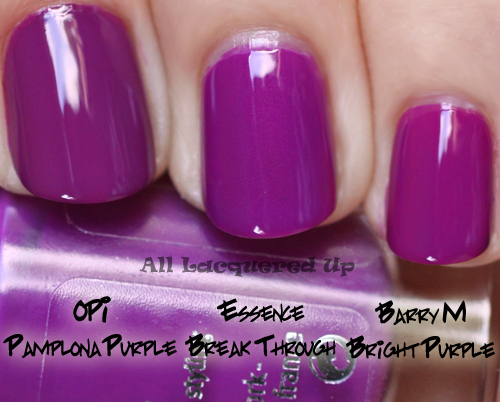 Bottom Line: Essence nail polish would be a great buy at 5x the price so for a $1/ea there's no reason to pass this line by. Break Through may be too warm for some, myself included, but it's a great shade with no dupes in my collection. Space Queen is a fun glitter top coat but I'm not in love with it over a color this dark. It looks a bit cheap over a color this dark. I think I will reserve it for use over lighter colors.
365 of Untrieds Stash/Share Verdict: I'm STASHing both of them. They tiny and cheap. What's not to love?
Essence Colour & Go nail polishes are available at ULTA stores nationwide, availability can vary, and online at ULTA.com. Essence nail polishes retail for 99¢for a .1oz bottle.
How are we feeling about Break Through and Space Queen? If you have Space Queen what do you like to layer it over? If you haven't tried Essence yet, what are you waiting for?
Disclosure: I purchased the Essence nail polishes. The Barry M and OPI polishes were furnished by reps for the manufacturers. For more info view my Disclosure Policy.