Icing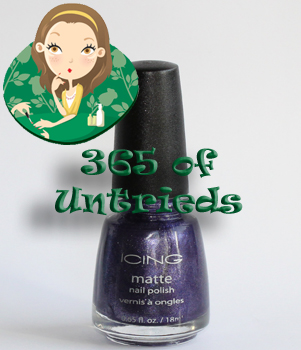 365 of Untrieds is my personal challenge to weed through the polishes in the ALU stash that I've been wanting to try but just haven't gotten around to.
I rarely make it to an Icing accessory store since we moved a few years ago which is a shame because I really love their polish.  The closest one to me is a hual and in a pretty unremarkable mall.  With the Cleveland shopping mecca, Beachwood Place, so close, I never see the purpose in traveling to other malls.
However, last summer I found myself visiting friends near Detroit and had an afternoon free so I FINALLY got to meet up with K. from Pumps and Gloss for some retail therapy. I introduced her to the wonderful world of Icing nail polish and discovered that they had joined the wonderful world of mattes.
Now I know that mattes are "so 2009″ and all but they're still a great last minute manicure option due to their quick dry time. Besides, the metallic mattes look fantastic with a glossy top coat so polishes like Icing Bet Me And Lose aren't just one trick ponies.
The ALU Archives focuses on older, beloved shades from the All Lacquered Up stash.
I can't believe that in the two and a half years I've been writing ALU that I've NEVER mentioned Icing polishes! If you're unfamiliar, Icing is a chain of accessory stores owned by Claire's. I honestly never shopped there until some MUA nail board girls discovered their line of nail polish. They have a wide range of colors and come out with limited edition seasonal collections quite often. AND they're pretty cheap. You can usually find them on some kind of sale.
Unfortunately, since we moved a couple years ago I haven't had immediate access to an Icing so it's been a while since I added to my stash. Obviously I'm not up on the latest colors but I have a couple of my faves to show you. Check them out!

According to my bottles Icing polishes are 3-Free (including Formaldehyde Resin) but I would check the labels before buying, just to be sure. The formula is on the thinner side so even dark colors usually take three coats for even coverage but it flows smoothly on the nail and dries glossy.
Money Talks is a blackened forest green shimmer with silver micro-glitter floating throughout. It was packaged in a set a couple holidays back so I'm not sure if it's still able to be found.

I Married Blue was an open stock color I picked up during one of their sales. It's definitely in the burple family more than navy. It has a pearl/shimmer that looks a bit magenta in the bottle that I attribute to its slight purple leaning.

I realize the bottles look VERY similar to China Glaze and I know people have wondered if they're by the same company but I think the similarities stop at the bottle shape. Icing polishes are produced in Illinois while China Glaze is based in California.
You can only find Icing polishes at their stores and this bottle size retails for $3.50 but there's usually some kind of deal going on. You find an Icing near you using their store locator.
Where are my Icing lovers? What are your favorite shades? Seen anything new and fun that I should make the trip out east for?