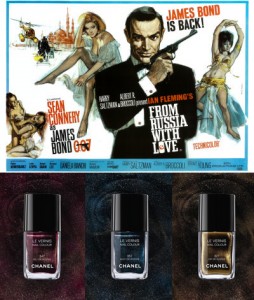 From Russia with love I fly to you
Much wiser since my goodbye to you
I've travelled the world to learn
I must return from Russia with love
"From Russia With Love" lyrics by Lionel Bart
I don't know about you gals but when I laid my glitter loving eyes on the Chanel Paris-Moscou collection, my heart skipped a beat. Talk about polishes sent "from Russia with love." Feel free to groan at my cheesiness all you want but a collection of black based glitter bombs from Chanel is pretty unique.
Though in traditional Chanel style, Global Creative Director Peter Philips made the look upscale with super fine micro-glitter that lays down to leave a smooth glossy finish. By encapsulating the glitter in a black base, the shade isn't as in your face as say a Ruby Pumps. Now I'm not knocking my fave red by saying that but when you consider the stereotypical "Chanel Woman", Ruby Pumps probably isn't her thing.

Nuit De Russie – this inky blue-black creation is like Blue Satin on crack. For those that complained that Blue Satin didn't have enough shimmer or sparkle, Nuit De Russie is your girl. I wore this one for the past week and even on its last legs with a dulled top coat those little blue sparklies kept winking, "Hello."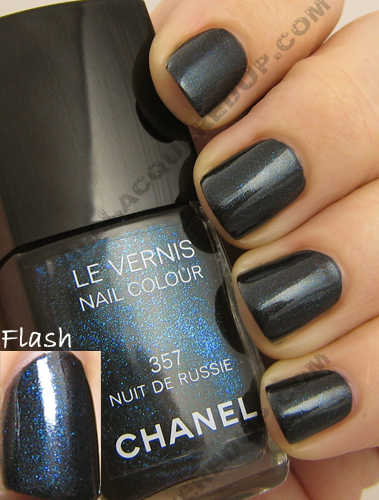 Feu De Russie – One might be tempted to call this glistening burgundy a kissing cousin to OPI Midnight In Moscow or even the black-based red glitter China Glaze Lubu Heels but they'd be wrong. Feu De Russie is lighter and more glittery than MiM and it's more pigmented with a smoother finish than Lubu (sorry girlfriend but you know you dry bumpy).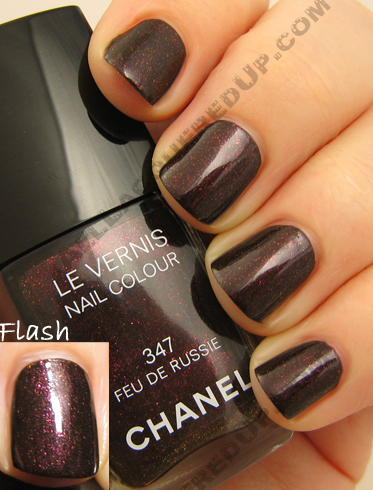 Or De Russie is the color I was least excited about yet it turned out to be the most unique. It has the look of weathered old gold that's been blingified. It's not the easiest shade to pull off though. I'd say it's best suited to neutral/warm/dark skinned girls. As far as dupes go, there were none to be found in the ALU stash. I've heard comparisons to China Glaze Wagon Trail but at most, that blackened olive is a 2nd cousin.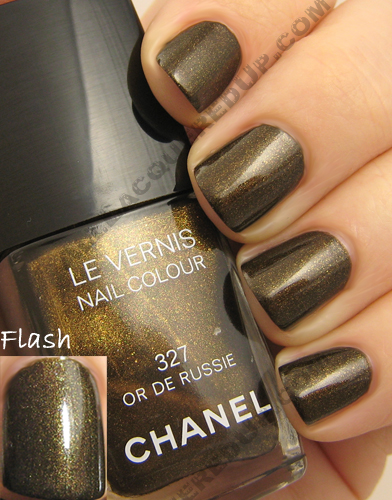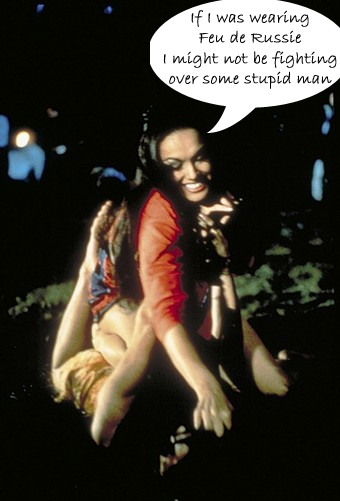 Martine Beswick & Aliza Gur as Zora & Vida in From Russia With Love
Overall, I was impressed with the pigmentation and uniqueness of color in this collection but what didn't thrill me was the price. Jaws were dropping last summer over the $25/bottle Robertson colors and $30/bottle Gold Fiction with its high priced pigments. So while I try not to let price reflect my review of colors, I find it hard in this time of economic crisis to jump for joy over $30 polishes. Don't get me wrong, I still love these shades but I get the outcry over the price.
The Chanel Paris-Moscou collection retails for $30/ea and is available now at Chanel Boutiques and online at Chanel.com.