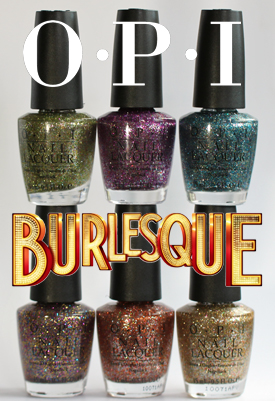 OPI partnered with the upcoming film Burlesque, starring Cher & Christina Aguilera, to create a set of blingtastic Holiday shades and six of the twelve polishes are all glitters.

No doubt the madness that the Alice In Wonderland glitters caused played a role in this collection's creation.  To this day I still get emails from readers trying to locate Mad As A Hatter and Absolutely Alice.  Hopefully their needs will be satisfied with the OPI Burlesque Collection.

I don't know how many of you are movie musical fans but I am a proud fan so I'm definitely excited to see Burlesque.  The mere fact that ALU Mom ingrained a love for Cher into me from birth is enough to get me in the theater regardless of who else is billed though I do think Christina Aguilera is extremely talented.  I am sure the film's music style will suit her voice quite well.

Formula and Application: OPI is a 3-Free brand. They made the switch to 3-Free in 2008. You can identify an OPI with the 3-Free formula by the green lettering on the label. Bottles with black lettering have the old formula. Always check the labels to be sure. The OPI Pro Wide brush is flat, wide and medium in length. It's of average stiffness and easily spreads out on the nail when pressed. The only downside to the Pro Wide brush is that it can be too wide for slim fingers or little toes.
This half of the collection is all glitters so they are all made up of a clear base filled with multi-colored micro hexagonal glitter.  They all take three coats to become opaque though that all depends on your application technique.  The thicker your layers, the less coats you'll need though that can lead to chipping.
Because these polishes are formulated like the Alice glitters, you should refer to my Mad As A Hatter Wear Test if you have issues with chipping.  Your fellow Fanatics gave some great advice as to which products work best with the OPI glitters.
The glitter particles are all metallic and highly reflective so in person the polishes really glow.  Because there is no pigment in the base they are great for layering over other colors, wearing opaque or mixing to create a frankenpolish.
Removal: The downside of glitters is most definitely the removal.  I always feel like I need to take a shower after removing a glitter because I end up with chunks of glitter all over my skin, on my face and sometimes even in my hair.  It's the price you pay to sparkle.  Patience is key with removing glitter.  Soak a pad in remover and hold it in place for a few minutes.  You can always wrap the pad in aluminum foil or plastic wrap to keep it on the nail and allow you to soak multiple nails at once.

About The Swatches: All swatches are shown with top coat to avoid a bumpy finish.  You may need two coats to get the finish completely smooth unless you use a thicker top coat like Seche Vite.  I applied one coat to the pinkie nail, two coats to the ring nail and three coats to the middle nail so you can see how the glitter builds to opaque.
All the polishes contain a multi-colored glitter blend with one or two dominant colors.  It has a very confetti-esque feel.
Bring On The Bling is a yellow gold glitter.  It's a pale blonde but it's rich enough to look gold and not yellow.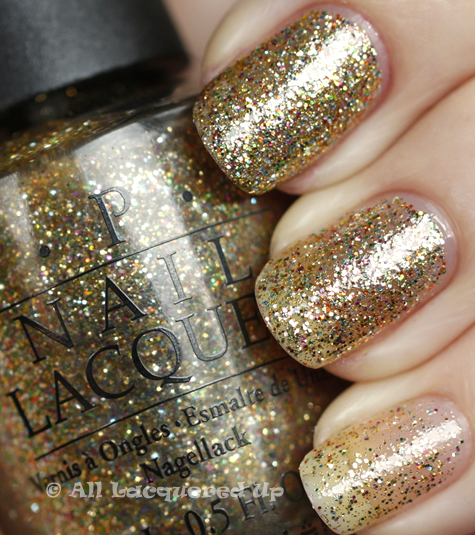 Extra-va-vaganza is an coppery orange.  The blue glitter really stand out against the orange even though it's not the primary color in this polish.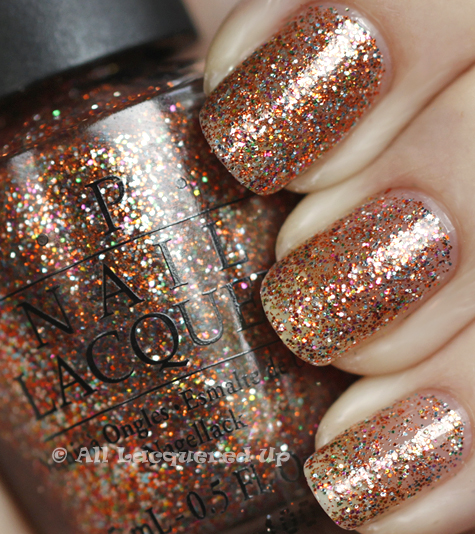 Glow Up Already! looks very green in the bottle but on the nail it's more mellow.  It falls somewhere between meadow green and gold.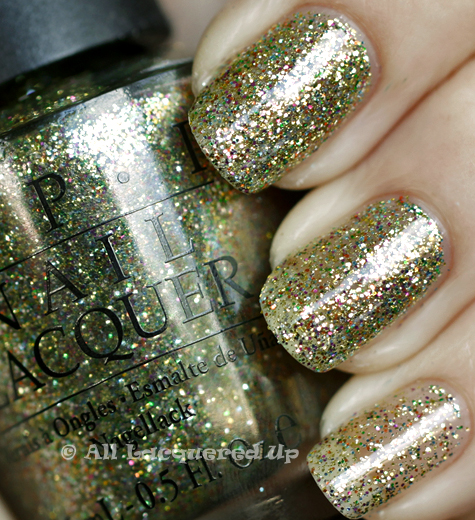 Shimmer & Simmer is a mix of turquoise and electric blue glitter.  The overall effect creates a more subdued blue than Absolutely Alice.  AA was almost entirely electric blue glitter with sprinkles of gold and in S&S the multi-colored glitter tones down the overall punch of the color.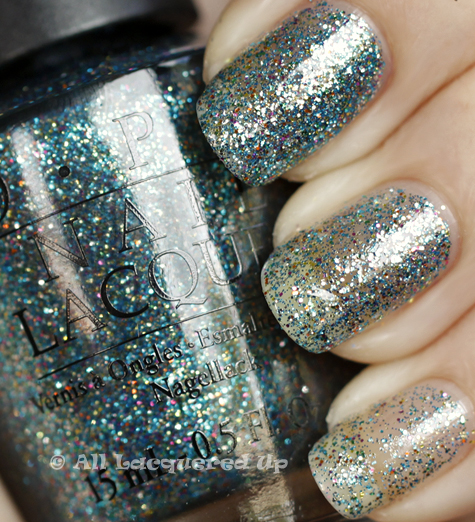 Show It & Glow It! is a fuchsia pink glitter with a lot of silver pieces that the other colors lack. All of the polishes have some gold glitter in the mix but it takes a back seat in this one.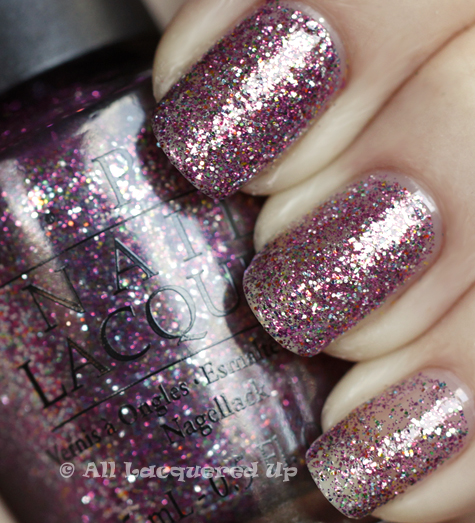 Sparkle-iscious would look like Mardi Gras on the nail if only there was green instead of blue in the mixture.  This is the lone color in the collection with only three colors in it; purple, gold and blue.  The purple & gold stand out as the key colors while the blue is more of a highlight.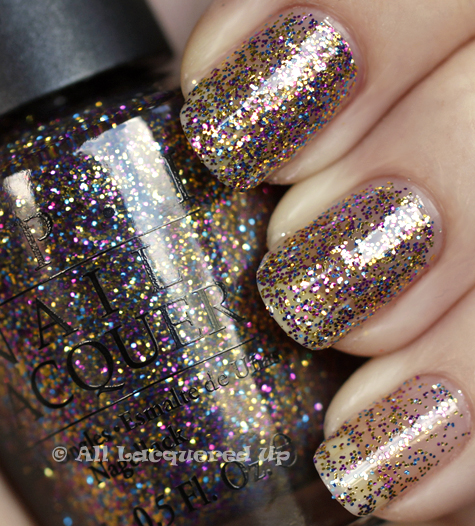 Bottom Line: What surprises me is that OPI didn't create the collection to be layered, with six matching opaque polishes.  I know they've done that in the past.  The thing with glitter is, it's a love/hate thing.  People who love glitters and don't care about the hassle with removal will love these.  Everyone who died over the Alice glitters will die over these as well.  My personal faves are Shimmer & Simmer, Sparkle-iscious and Show It & Glow It! What, the green didn't make the list?  As much as I love green, this one didn't do it for me.
The OPI Holiday 2010 Burlesque Collection is slated to launch November 2, 2010 however I'm hearing that salons already have it out in some cities so the release date may have been pushed up. You can find OPI at professional salons including Beauty Brands, Beauty First, Chatters, Dillard's, JCPenney, Pure Beauty, Regis, Trade Secret, and Ulta. OPI nail polishes retail for $8.50/ea for a .5oz bottle.
Also, OPI Axxium fans, OPI is releasing these glitters for a limited time in the Axxium range so you can get your bling on with an extended manicure as well.  Ask your local salon if they have the Showstoppers Collection.
Okay glitter girls, are you over the moon or what?  How many of you are scooping these up?  Which colors are your faves?  Do you think these will cause a craze like the Alice glitters?  Maybe we should start a pool as to high they'll go for on eBay once the collection sells out.
If you missed it make sure you view my swatches & review of the other half of the Burlesque Collection.
Disclosure: Product samples were provided by OPI. For more info view my Disclosure Policy.