This just in! While the CND team is working away prepping the models at Jason Wu we get word of a collaboration between the designer & CND.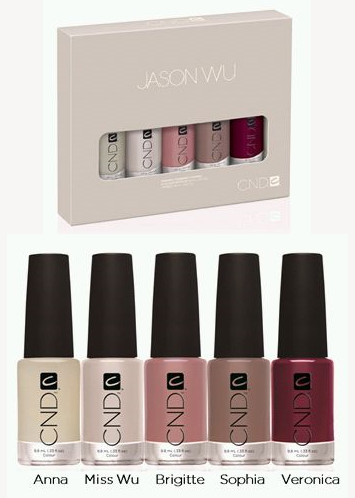 Fashion designer Jason Wu is collaborating with runway manicure leader CND to introduce a limited edition Jason Wu Collection that honors iconic women through wearable, timeless shades. The set will come with 4 Colours and 1 Effect that can be layered to achieve the designer's effortless yet elegant nail styles.
"Every season I play with different ways of using color in my collection, so it was a natural choice to collaborate with CND on a capsule of nail colors that reflects my aesthetics. Included in the set is my signature gray color," says Jason Wu.
These fabulously femme Colours provide rich coverage and everyday accessibility:
Miss Wu – Jason's signature limestone, warm gray that dries matte with subtle chrome sheen, in perfect harmony of masculinity and femininity
Brigitte – voluptuous warm pink that perfectly channels 50′s screen siren
Sophia – gorgeous mushroom taupe
Veronica – highlights the evolution of decadence with a blue-based, oxblood red
Anna Effect – layered over any of the four Colours provides a tweed finish via microscopic fibrous pieces that create cool, subtle texture
CND's Torrie Savickis posted this pic via her Twitter.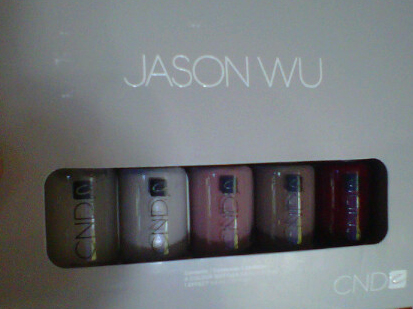 Jason Wu and CND have joined forces on the runway for the past eight seasons. This color collection is Jason Wu's first foray into nail products, and CND's first designer product partnership. The full collection will be introduced at Jason Wu's Spring 2011 runway show where audience members will receive a complimentary set.
The Jason Wu Collection will be available for purchase in salons and via CND.com in May 2011. Suggested retail price is $47. The collection will be sold globally while supplies last.
I don't know exactly what a "tweed effect" will look like but I know I want it!  What say you?