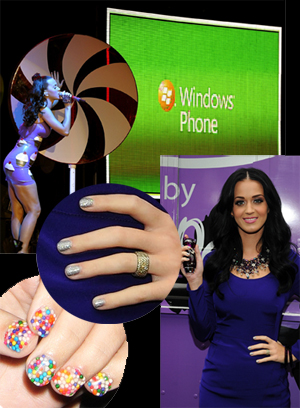 Katy Perry is one busy lady. Between her recent wedding to Russell Brand, the launch of her own fragrance, Purr, and the free concert she put on for the release of the Windows Phone she is probably going blind from all the camera flashes in her face.

Being photographed at so many public, and not so public, appearances means your makeup, hair and nails have to be on point.  To keep her digits looking perfect, Katy has been relying on Manicurist Pattie Yankee, Executive Technical Director for Dashing Diva.

I spoke with Pattie to find out more about Katy's candy coated tips from the performance and the glittering gray nails she wore to the Purr launch event yesterday in NYC.  Keep reading to find out how each look was created.

To go with the candy themed concert for Windows Phone launch, Katy asked Pattie to give her "Candyland" nails. Pattie showed Katy the options below and Katy chose the center design, a multi-color sprinkle covered nail.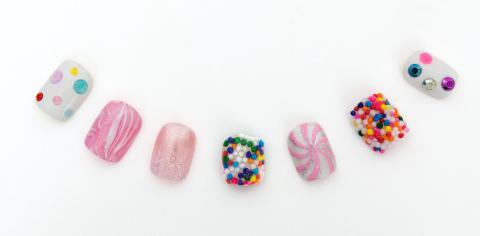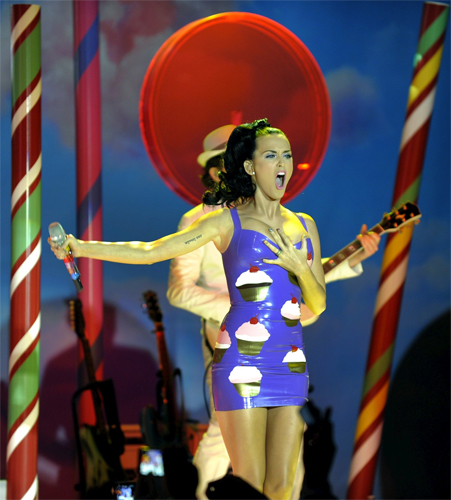 Get The Look: Pattie coated Katy's nails in a layer of clear CalGel and dipped them in the sprinkles before curing for 2 minutes. She then applied a layer of Dashing Diva Soak Off Top Gel.
Pattie noted that this is where she would have stopped had Katy not been playing guitar later that night. At Katy's request she encased the sprinkles in multiple layers of CalGel to prevent any pieces of candy from popping off while performing.
As you can see in the pic from Katy's Twitter account, the nails are pretty thick due to the extra CalGel.  Those sprinkles are going NOWHERE!  While the nails are much thicker than I would wear, I do love this look.  It's so whimsical and Willy Wonka-esque which, based on Katy wearing Oompa Loompa Minx, may have been an inspiration.  And can I just say how happy I am to see a celeb rocking nail art on short nails? I'm so sick of the talons. I'm looking at you Rihanna!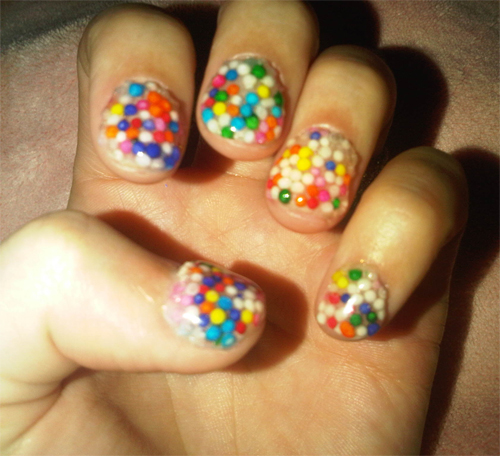 Shortly after the concert, Katy began the press tour for her fragrance, Purr. This time Pattie gave her a sparkly gray manicure.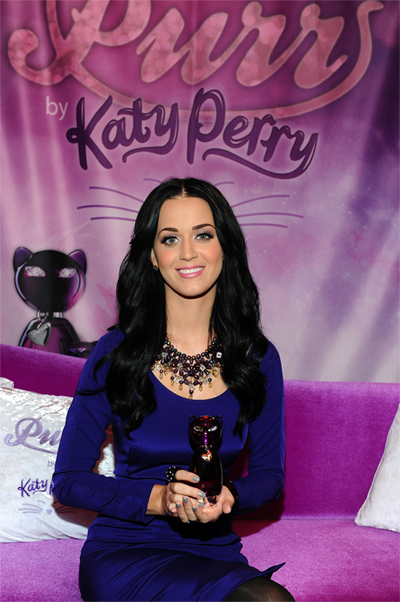 Get The Look: To ensure a long lasting manicure Pattie used Dashing Diva Gelife Color Gel in Astor Place at Dawn, a new shade. Like OPI Axxium, DD Gelife is a soak-off gel polish.  She used three coats and then added a layer of Gelish Water Field to bring on the bling, sealing it with a layer of DD Gelife Top Gel.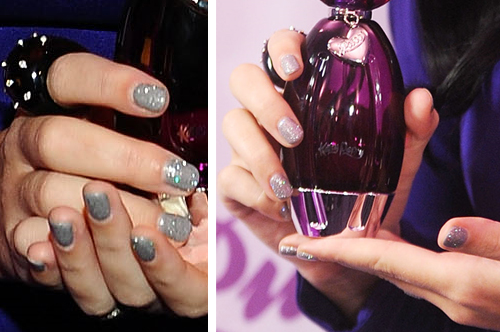 Recreate The Look: Astor Place at Dawn isn't available in the Dashing Diva Polish line but they have a color called Astor Place that you could use as a substitute though any light gray polish would work. Think RBL Concrete Jungle, Barielle U-Concrete-Me, MAC On The Prowl, Orly Mirror Mirror, Maybelline Gray-T Glamour.  Top your polish with a clear based glittery silver top coat. CND Silver Sparkling or Nicole by OPI Wink of Twink come to mind.
Which of Katy's latest nail looks do you prefer?  Would you wear candy on your nails?  What nail polish combo would you use to recreate Katy's glitzy gray tips?

image credit: Pattie Yankee, WireImage and Katy Perry via Twitpic. Do not republish without permission.