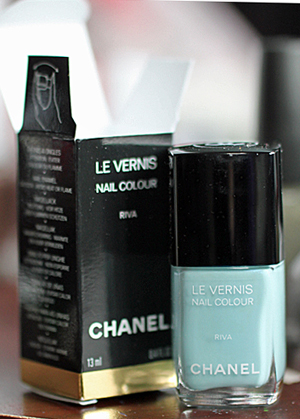 Ever since its debut on the Chanel Cruise 2010-11 collection runway, the beauty interwebs have been buzzing about Chanel Riva.  Even before we knew its name this baby blue nail polish has left us guessing.

Would this be another sellout hit like its pale polish predecessors, Jade and Nouvelle Vague?  Will it include that stunning Chanel subtle shimmer?  More importantly, will it have that "it" factor that makes certain Chanel polishes highly coveted and quickly copied (ie Khakis, Paradoxal, Jade)?

Read on to find out!

Formula & Application: Chanel nail polish is 4-Free (including Formaldehyde Resin).  The bottle is square with a removable outer cap that reveals an inner round ribbed cap for use in application.  The brush is round and similar in length to OPI's with an average firmness that allows you to easily fan out the bristles and cover the nail bed.
While I am normally a fan of Chanel's formula in terms of application, I was severely let down with Riva.  I get that with lighter colors achieving two coat coverage is near impossible if you want the polish to flow and level itself but Riva is very sheer.  It has a squishy jelly-ish texture which I normally love but it doesn't build up to opaque fast enough.
Anyone who can get an opaque three coat application without bubbles is my hero.  I originally applied four medium coats and obviously didn't wait enough between applications because it was bubble city sweetheart.  I always photograph my swatches dry so I had to start the process all over again, this time waiting a few minutes between layers.  What a bother!

The color itself is light and airy, a wintry sky blue with a touch of murkiness.  It's not a traditional baby blue yet it doesn't have that magical Chanel touch to make it unique and knock-off worthy.  In the bottle Riva foreshadows that beloved Chanel shimmer but on the nail it's virtually undetectable.  The only time it rears its head is in direct light.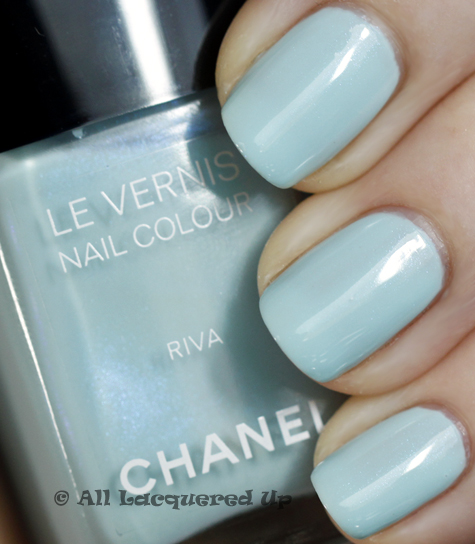 Close-up of Riva's shimmer in direct light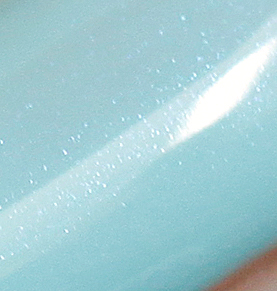 In my hunt to find you a dupe or at least a good comparison I pulled Chanel Nouvelle Vague, Rescue Beauty Lounge Bikini Bottom, Sephora by OPI Havana Dreams, China Glaze Moody Blue and OPI What's With The Cattitude?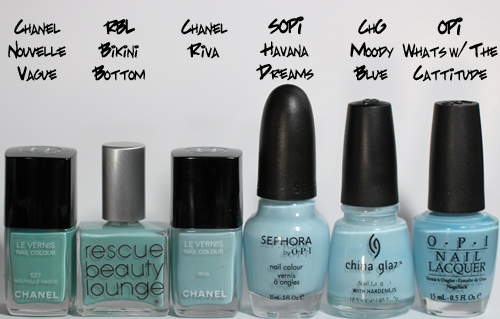 I swatched Nouvelle Vague just to see how different they are and what a world of difference. NV is so rich, opaque and creamy.  Because of the jelly texture I thought RBL Bikini Bottom might be a good match.  SOPI Havana Dreams looked twin-like in the bottle, as did China Glaze Moody Blue.  I could see right away that Cattitude would be too dark in comparison but since a few readers asked about it, I pulled it anyway.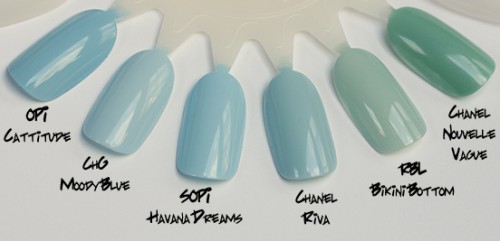 I ended up using RBL Bikini Bottom and SOPI Havana Dreams for my comparison.  While neither is a match, I feel like Riva is a blend of the two.  Havana Dreams is more vivid and Bikini Bottom has a twinge of dirty green but combined they would probably be a good match for Riva.  FYI Michèle from Lacquerized did a great comparison with China Glaze Moody Blue.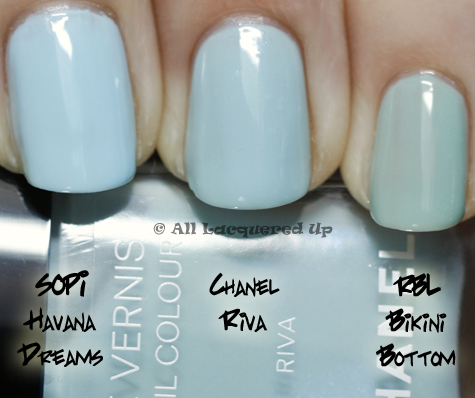 Bottom Line: As much as I have loved the majority of Chanel's polishes this year I can't get behind Riva.  The formula issues combined with how ordinary the color is plus the jacked up price tag means it gets a "pass" from me.
Chanel Riva, part of the Côte d'Azur collection, is available now on Chanel.com and at Chanel Boutiques and Chanel Makeup Studios.  The polish retails for $27/ea for a .4oz bottle.
What do you think of Riva?  Does it look extraordinary enough to pick up a bottle?  Those of you who already bought Riva, did it meet your expectations?  Have you found a dead-on dupe for it?
Disclosure: A product sample was provided by Chanel.  For more info view my Disclosure Policy.