If you're a child of the 80s or 90s, you undoubtedly owned a Caboodles makeup carrier at some point in your adolescence. Mine was pink and green and it still exists somewhere in my parents' house. Though I can't bear to think of what rotten, old makeup is living in there! Well, Caboodles are still around peeps and they created a storage solution with us nail polish fanatics in mind.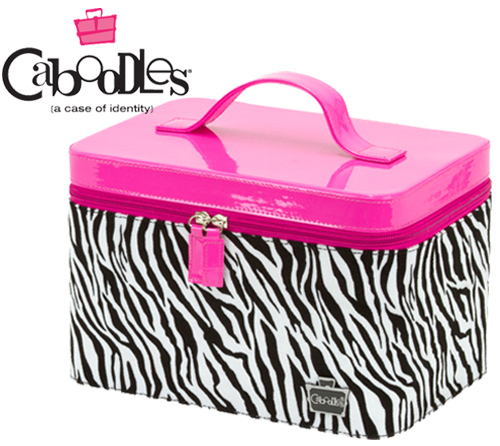 Over the years, a post about my Nail Polish Room has sparked many inquiries about my OPI train case. Unfortunately, it was a limited edition item I bought over eight years ago and I've been looking for something to recommend to readers ever since. Enter the Caboodles Gilded Pleasure Nail Valet. Take a peek inside…

The Caboodles Gilded Pleasure Nail Valet is covered in a black-and-white, faux-hide, textured zebra print with a hot pink zippered top for an added pop of color. The lid contains a mirror and five elasticized pockets for tools. The inner tray and nail polish divider are both removable.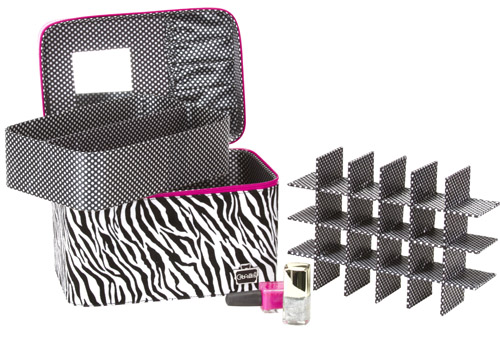 I tested the 24 bottle grid divider to see if the case will still close with taller bottles in the mix. While super tall bottles, like YSL and Dolce & Gabbana, won't fit, any polish the height of Sephora by OPI or shorter is no problem.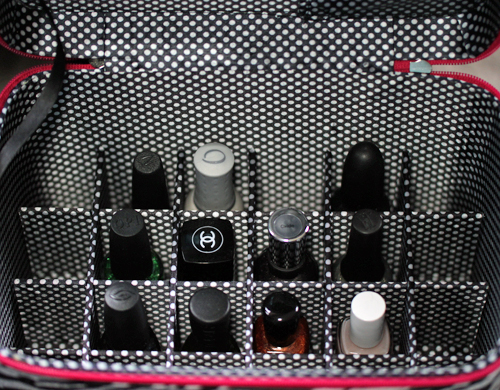 The horizontally divided, top tray is 2.5″ deep and perfect for housing remover, cuticle oil, etc. Smaller treatment bottles, like Essie or Nails Inc are a perfect fit to sit vertically in the divider but taller bottles, think China Glaze, will have to lay horizontally or go down below.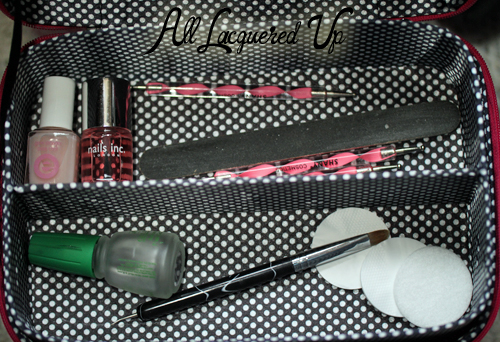 Bottom Line: If you have a modest nail polish collection or you like to take your nail necessities on the road, this is definitely one of the most affordable nail storage cases I've seen in a long time. I remember paying $20 for my OPI case, AFTER buying $25 worth of product, almost a decade ago!
The Caboodles Gilded Pleasure Nail Valet is shipping to stores this week and will be carried at Meijer, Target and Walmart. The 10″ L x 7″ W x 6.5″ H case has a retail price of $29.99.
Are you loving the Caboodles Nail Valet? What kind of nail polish storage solutions do you have? Even if you have a larger, Helmer-required collection, do you still buy train cases? Obviously, I do!
Disclosure: A product sample was provided by reps for Caboodles. For more info view my Disclosure Policy.