With the launch of her eponymous nail polish line, JINsoon, Jin Soon Choi has become one of the leading ladies of lacquer. Known as a sought-after Editorial Manicurist, Jin has an eye for fashion and color that is reflected in her work in both print and runway.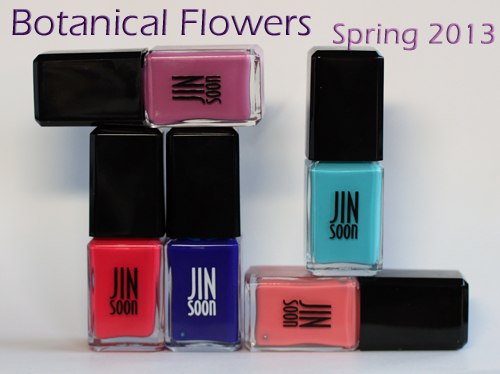 I met Jin through a mutual friend and I've come to find that she is one of the hardest-working, humblest people in the beauty biz. In the midst of the craziness that is backstage at New York Fashion Week, she always greets me warmly with smiles and hugs. Plus, she, and our friend Heather Park, introduced me to the deliciousness of Korean BBQ. It was on one of those outings that she mentioned wanting to start her own nail polish line and I couldn't be happier that she made her dream come to fruition.
Launched last fall, the JINsoon line consists of six permanent Quintessential shades in classic colors of red, pink and nude but it's the seasonal trend hues in the A La Mode collection that speak to my non-traditional, color-loving heart. For Spring 2013, the shades are inspired by Botanical Flowers.
"Botanical flowers is a reflection of my love for the arts and background in high fashion," says Jin Soon Choi. "The vivid pigments that I discovered during a visit to Monet's Garden exhibit at the New York Botanical Gardens influenced my new colors."

Formula & Application: JINsoon nail polish is 5-Free and includes UV filters to prevent yellowing and fading of color. The bottles are tall, thin rectangles with shiny, black removable caps. Think of them as a thinner, more angular Chanel bottle shape. The brush is flat and wide with bristles that are shorter and stiffer than OPI's Pro Wide Brush. They are still flexible enough to allow for fanning of the brush without any dragging.
All the lacquers in the JINsoon line are cremes that have a squishy, jelly-like consistency. They spread evenly on the nail and self-level. Though unlike jellies, they are packed with pigment. With the exception of Tea Rose, I achieved full coverage with two coats.

JINsoon Blue Iris is an electric blue creme. Words can't even describe how eye-catching it is. Leaning towards purple, it has a depth and vividness similar to Orly Royal Navy, minus the shimmer.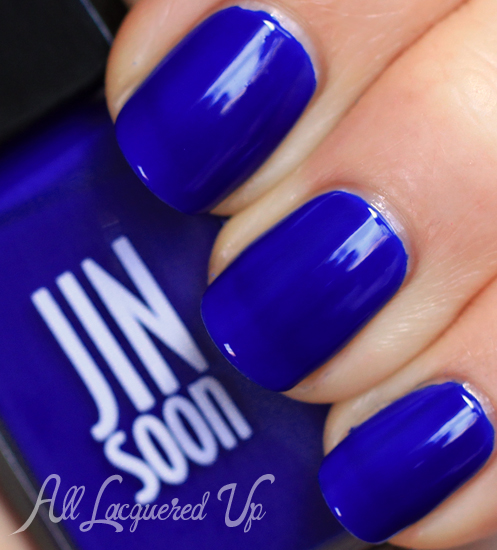 I can't explain it but, when photographing Blue Iris with my dSLR, it's like my lens has X-Ray vision because it shows my tips, even though the polish looks opaque to the naked eye. I took a quick pic with my old point-and-shoot and as you can see, it's giving full coverage realness.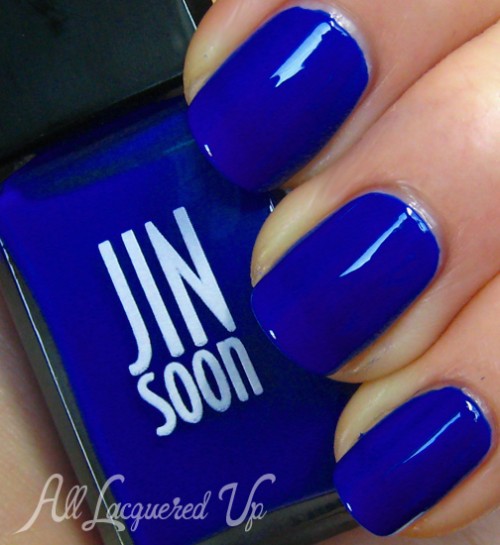 JINsoon Blue Poppy isn't quite turquoise yet not quite a true light blue. It's described as a bright, mint blue and I find that to be a perfect fit for this Caribbean feeling hue.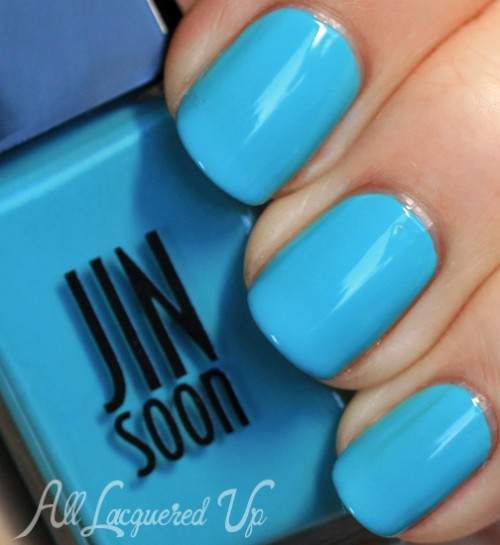 JINsoon Coral Peony is a coral pink creme on steroids. I typically find myself drawn to corals that lean a bit warmer but I've had this shade on for days, paired with Blue Iris, and I can't bear to take it off.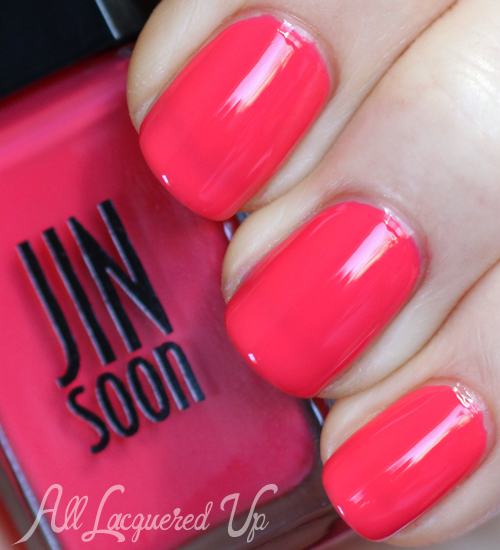 JINsoon French Lilac is a pink-based, pale, plum creme, that has a light mauve feel to it.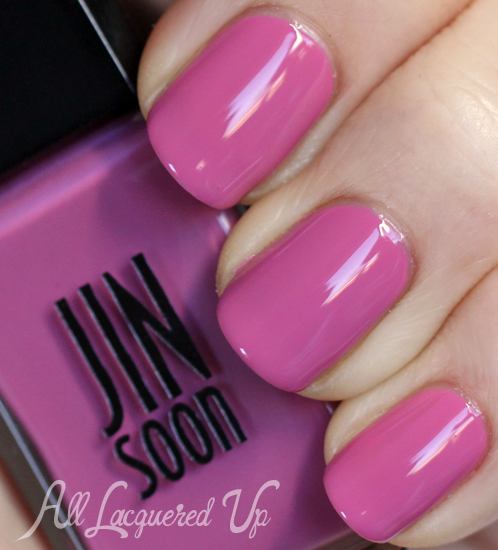 JINsoon Tea Rose is a peachy pink creme. If you know me, you know that pinks and I are not friends. I rarely wear them but because of the warmer tones that give this shade a slight coral feel, I find it much more wearable than your traditional pink.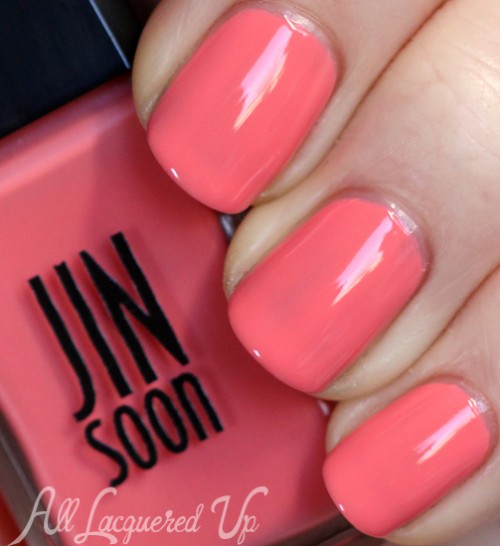 Inspired by shot on Jin's Instagram of my friend Amber's manicure at the Spring A La Mode launch, I added a chevron moon accent nail to my Blue Poppy manicure using Blue Iris. I love this combo though I think pairing any of the shades in this collection would make for a winning look.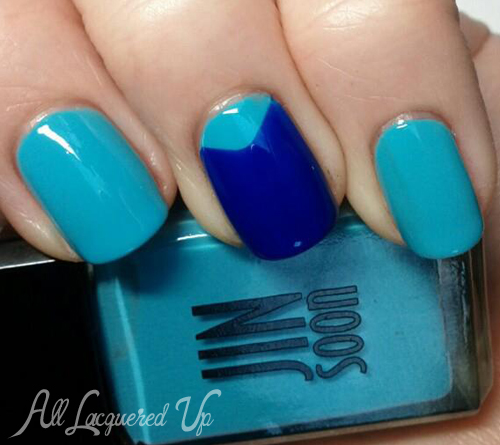 Bottom Line: Spring is usually my least favorite nail color season (pastels, sheers, blech!)  but I'm feeling invigorated and inspired by these new JINsoon shades. There's something clean and renewing about glossy, creme nail color after a dark and sparkly holiday season.
Yes, the polishes are pricey but the formula and wear are fantastic so they're more of an investment piece than a throwaway shade. That being said, Blue Iris, Blue Poppy and Coral Peony are my must-haves from the collection. Tea Rose is pretty but not something I would reach for often. Pink-based purples rarely flatter my skin tone so French Lilac gets a pass from me.
JINsoon Botanical Flowers nail lacquers are available online at JINsoon.com, Sephora.com and SpaceNK.com in addition to select Sephora and SpaceNK stores. They retail for $18/ea for a .33oz bottle.
Thoughts on the Botanical Flowers collection? Have you tried JINsoon polishes or been to one her salons? Which of these shades are going on your wish list?
Want to learn more about Jin? Check out my The Nail Files interview.
Disclosure: Product samples were provided by reps for JINsoon. For more info view my Disclosure Policy.