I'm a girl of the Mariah Carey generation. I remember wearing OUT a tape (yes, I said tape) of "Vision of Love" as a teen. I was deeply in my grunge phase when Daydream released yet I was the first one on the dance floor when "Fantasy" came on. One of my best friends in high school had Mariah Carey hair and I was beyond jealous. Even more-so when she straightened it. I mean, WHY? Hell, I still envy Mariah's curls decades later. So when OPI announced a collaboration with the iconic diva, my curiosity was piqued.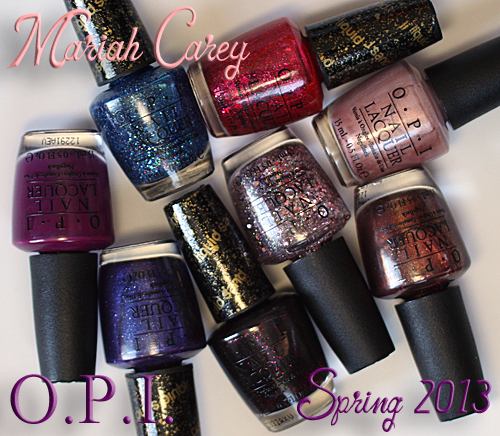 What I wasn't expecting was to see the emerging trend of texture polishes in Mariah Carey for OPI. I think of Mariah as a pretty classic nail girl which is why this collection is divided into two sections; The Studio Shades (ie traditional) and The Stage Shades (aka Liquid Sand). Let's take a look…

Formula & Application: OPI is a 4-free brand. The OPI Pro Wide brush is flat, wide and medium in length. It's of average stiffness and easily spreads out on the nail when pressed. The only downside to the Pro Wide brush is that it can be too wide for slim fingers or little toes.
First, let's talk about the Liquid Sand formula. Think of it as a jelly based glitter polish that dries with a matte finish and texture similar to sugar crystals. Similar to matte nail polish, it is meant to be worn sans top coat. What surprised me is how great the coverage is. I didn't need more than two coats with any of the colors to achieve opacity. I attribute that to how dense the glitter is because the base color really does look sheer in the first coat.
Added bonus… these polishes wear like iron. It takes an army to remove them. Not really but I wore Can't Let Go on vacation and even with two days submerged in pool water, I didn't get a single chip during two weeks of wear. NOT.A.ONE.
The rest of the polishes in the collection all apply smoothly though the coverage varies based on finish. The creme and frost are both packed with pigment requiring just two coats. The foil metallic is a bit on the thin in the pigment department so I needed three coats and the glitter is pretty sparse in the clear base so it's meant to be worn as a topper.

OPI Can't Let Go is a purple liquid sand polish. It is packed with multiple types of grape micro-glitter and lighter lilac mini-sequin glitter. Due to the small size of the sequins, they suspend nicely in the polish so you can end up with one or two on each nail without much effort.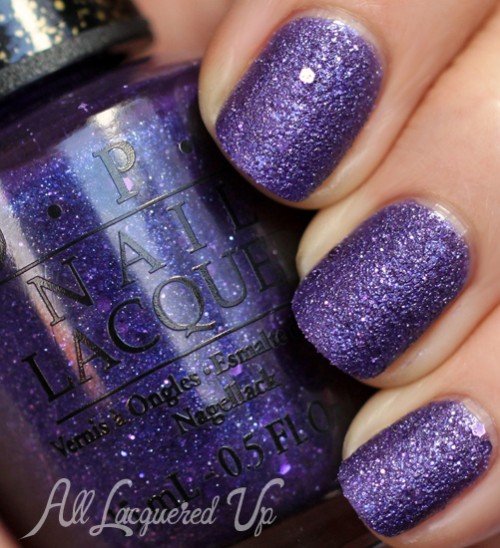 OPI Get Your Number is a vivid medium blue liquid sand polish that is punctuated with mini holographic octagonal glitter. Depending on the angle of your nail you can see a rainbow of colors reflected in it.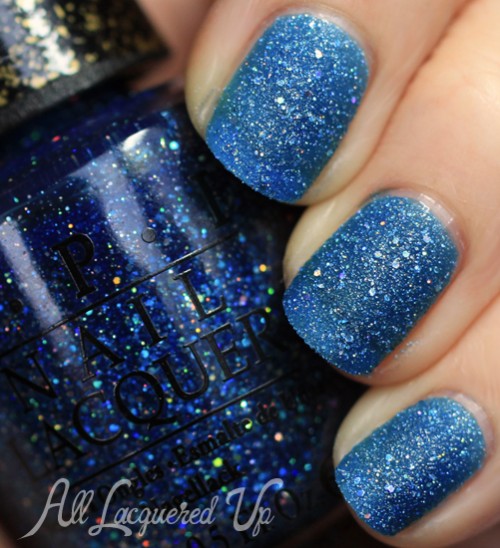 OPI Stay The Night is a black-base liquid sand nail polish peppered with red glitter particles. To me, it's a super textured version of China Glaze Lubu Heels.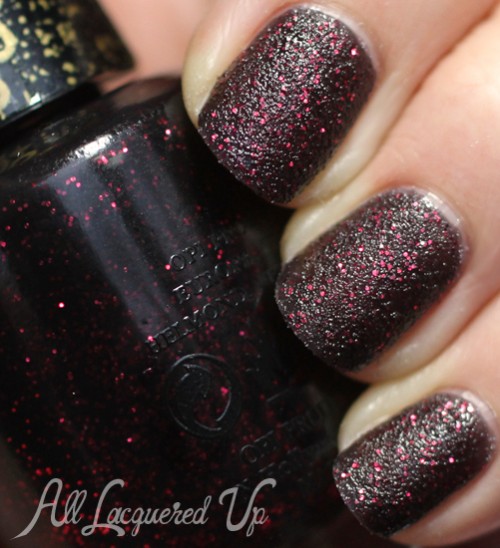 OPI The Impossible is a fuchsia liquid sand polish infused with tonal sequin and star-shaped glitter. The sequins are similar in size to the ones in Can't Let Go but the stars are bigger and heavier, therefore they tend to sink in the bottle. It took a LOT of bottle rolling and multiple dips into the bottle to finally get a couple stars on my nail so be warned. You gotta want it!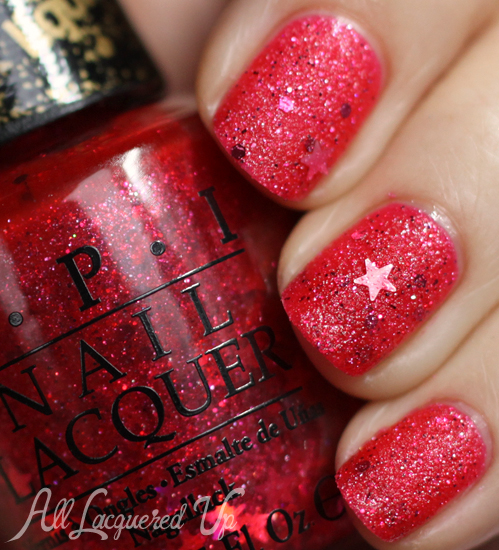 Of course if you don't like the rough, matte texture of the liquid sand polishes you can get them glossy but be prepared for multiple layers of top coat. It took me one coat of Gelous and two coats of Seche Vite to get this look and I still could feel the texture. Not to mention the dreaded SV shrinkage the next day. Honestly, if you don't love the sand texture look, I wouldn't bother trying to make it glossy.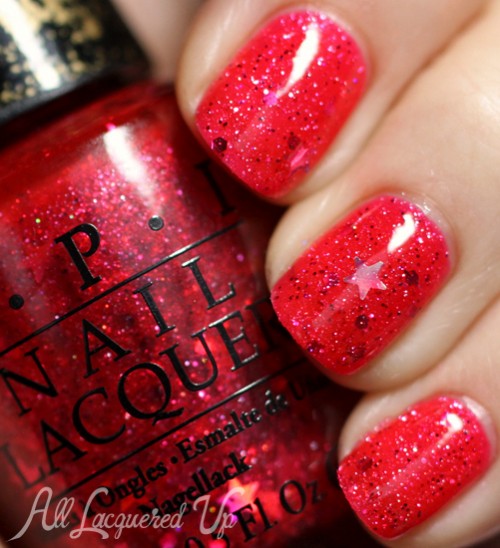 OPI Anti-Bleak is a berry creme. OPI describes it as purple but it just doesn't fit in that category for me. I've been on such a glitz kick lately that I forgot how gorgeous a rich creme finish can be. And this one has great depth and luscious shine.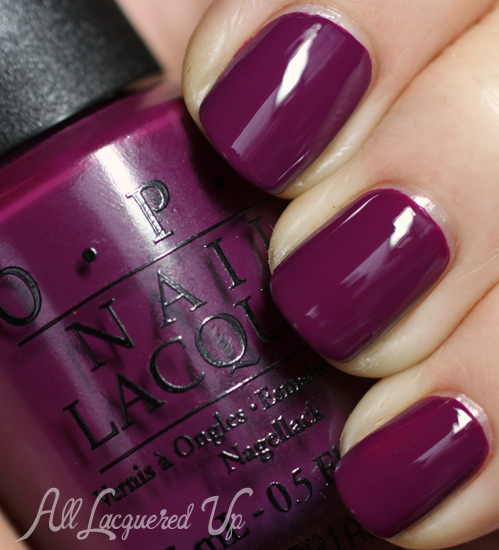 OPI Sprung is a bronze-y foil metallic. It contains a fun mix of gold, copper and red foil glitter particles to give this polish an overall bronze tone. The only downside is that it's a bit sheer but that makes is great for layering or fade effects.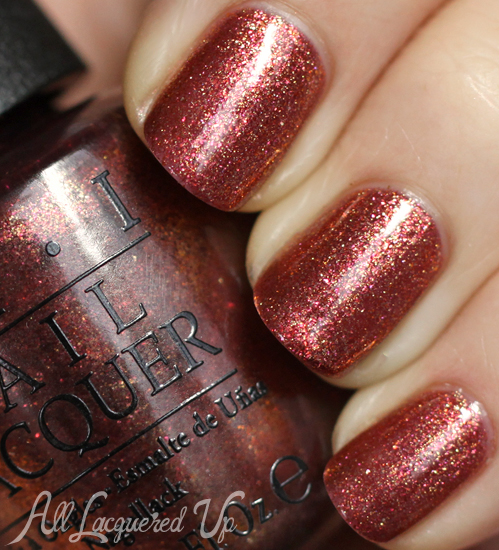 OPI Butterfly Moment is a pink-tinged nude with gold frosty shimmer that gives the polish a peachy feel without being too warm. It's a very spring-y neutral. This type of shimmer can lead to brush marks on the nail so use a gentle touch and start on the sides, finishing with one smooth stroke down the middle of the nail.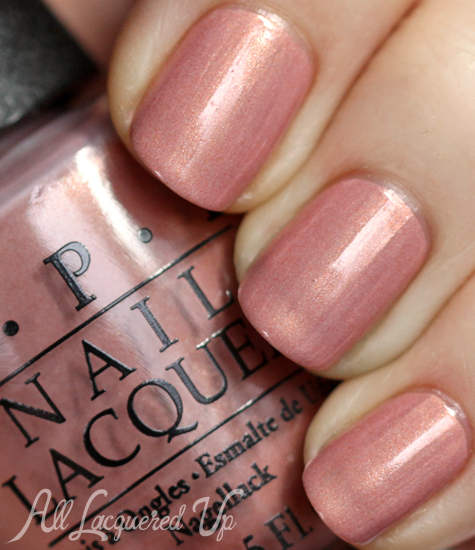 OPI Pink Yet Lavender is a clear based glitter polish. It is filled with silver and holographic square miro-glitter and shiny pink sequins. I put two coats over Anti-Bleak and, as you can see, it doesn't provide a lot of coverage. While I'm sure, with enough coats, you can get it opaque, that's not how it is intended to be worn.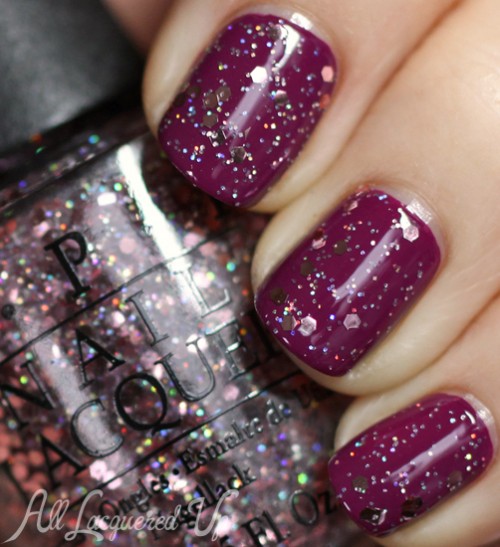 For fun I wore Anti-Bleak with a foil fade accent nail using Sprung over Butterfly Moment. I used the glitter gradient technique shown in this video from Lucy's Stash. Not my best effort but I like how the colors compliment each other.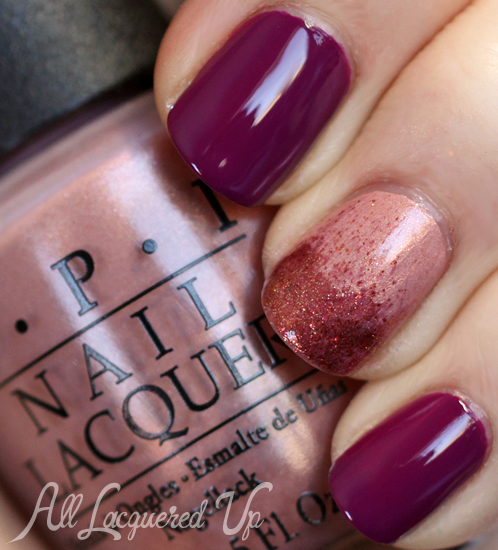 Bottom Line: Besides being named after Mariah Carey songs/albums, I'm not sure what these colors have to do with the pop icon and I'm still not sure how I feel about the Liquid Sand look. It's something new, which I'm always on the lookout for, but I LOVE a glossy nail. Like matte, crackle, caviar, etc. it's a kitschy trend so I wouldn't invest in a ton of textured polishes but they are fun to try.
Of the traditional polishes in this collection, I'm surprisingly drawn to Butterfly Moment. It feels like a fresh take on nude, which is trending for Spring. Also, Anti-Bleak is gorgeous though dupe-able. The only polishes I would definitely pass on, are Pink Yet Lavender and Stay The Night. The glitter isn't a unique combo and the black with red looks kind like tar in this finish.
The Mariah Carey for OPI Spring 2013 collection is available now at salons and spas nationwide including Beauty Brands, Beauty First, Chatters, Dillard's, JCPenney, Pure Beauty, Regis, Trade Secret, and ULTA and coming soon to ULTA.com. Visit OPI.com for authorized retailers in your area. OPI nail polishes retail for $9/ea for a .5oz bottle.
What do you think of the sand texture look? Have you tried any of these? Which colors are your must-haves and which ones get a pass?
Disclosure: Product samples were provided by OPI. For more info view my Disclosure Policy.