Web Snob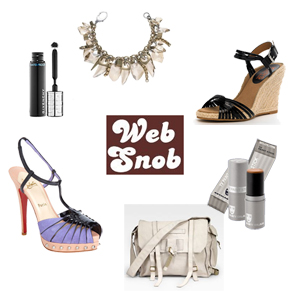 Allie is Wired discusses Jessica Simpson's questionable personal hygiene.
Frugal Snob options for a very popular IT Bag on Bag Snob!
If you have previously been opposed to waterproof mascara, try this Beauty Snob option to see if you change your mind.
Coquette can't decide which stylish pair of espadrille wedges to get, so she may have to get them all!
Fashion Pulse Daily is quite taken this week with the marvelous jewelry of Winifred Grace.
The Jet Set Girls reveal Chanel's Paris Shanghai collection.
Manolo says, on the other of the hands, small children and drunken men would point and laugh at you, which you may, or may not enjoy.
Second City Style powdered, glossed, slathered and scrubbed in the name of beauty…presenting the winners of our 4th Annual Beauty Olympics!
Shopping and Info loves the simplicity of the Enza Costa Rogue tank top worn by Katie Holmes recently.
Stiletto Jungle thinks that Rick Owens Wedge Clogs are the only clogs worth wearing.
StyleBakery asked their favorite fashion bloggers to share their must-buys for spring
Stylehive Says Ruffled Handbags Are Cute & Feminine Without Being Prissy
The Beauty Stop test drives Kryolan Paint Stick foundation.
The Shoe Goddess loves how Heidi Klum strikes a pose in her Christian Louboutin "Zigounette" T-Strap Sandals!