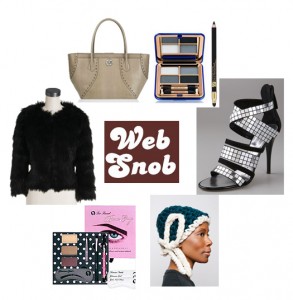 Allie is Wired has the first pics of Kourtney Kardashian's new baby.
Look for the right bag to start off the New Year at Bag Snob.
Start 2010 off right with these foods at Beauty Snob.
Coquette gets cozy in Mischa Lampert's stylish knit hats.
eye4style shares her fashion resolutions for 2010.
Fashion Pulse Daily rekindles its love for T. J.Maxx - especially now since they have a runway section!
The Jet Set Girls pick the best eye shadow kit for creating a smoky eye.
Second City Style suggests Five Subtly Sexy Trends for Rihanna to wear for her Upcoming UAE Concert in Abu Dhabi.
Shopping and Info loves Rachel Zoe's black fur coat.
Stylehive is thinking 2010 is the perfect time to try out a new beauty trend, and wants you to vote on the one you think will make it big in the new year!
The Beauty Stop shows how to get Keira Knightley's sculpted cheekbones.
Stiletto Jungle is reconsidering "jeggings" after seeing Stephanie Pratt's cute denim leggings.