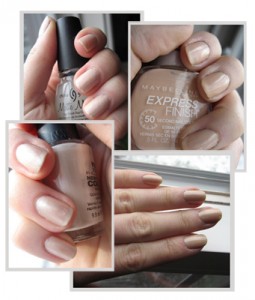 Mannequin Hands is a new series featuring ALU Fanatics showing off their "mannequin hands" shade. The one polish that best gives that elongated, flesh-toned look to their hands.
Salvaged Expression has been getting crafty when it comes to her mannequin hands look.  Unable to find a decent flesh toned polish in her stash, she went to work frankening her perfect match.  But what makes her franken truly unique is the inclusion of powdered foundation.  Genius, no?  She used this franken to eventually find a ready made match in NYC Mulberry Street.  Learn more after the jump!

Since Salvaged Expression gave me such a detail description of her process, I'll let her explain…
What I ended up doing was taking a decent nude, Maybelline Express "Blushing Bride" and adding a bunch of powdered foundation (Cover Girl Tru Blend, Translucent Fair) a bit of CQ "Sienna Cream", (which may have been a mistake) and about a mani or so's worth of Opi's Ti-Tan your Toga when it all started looking like a crayola skin color rather than my own.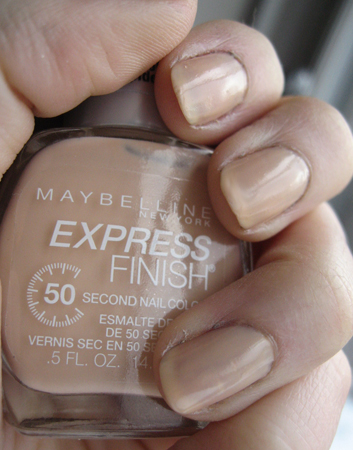 I'm wearing it with a topcoat of Ti-Tan in the photo without the bottle (below) since it matches my winter skin better (probably says a lot about my skin tone right there!) but I left it a bit more "healthy" looking so I could adapt it to match my skin this summer should the sun ever return.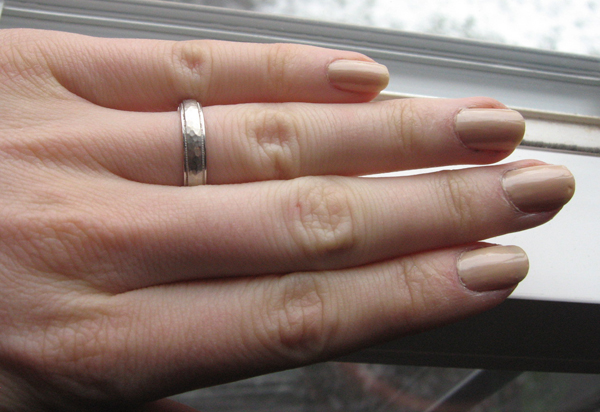 NOTE: Salvaged Expression and I are NOT chemists or experts in mixing polish so mix polish and foundation at your own risk! Polish mixes have been known to explode so tread carefully when mixing brands or products not intended for nails.
As an early experiment I tried WnW clear and a too pale WnW compact. It turned into nail polish/paste, which did indeed darken but overshot my skin by about 3-5 shades. It appeared to have no functional purpose and smelled bad. Just don't do it!
The foundation franken appears to be shelf stable or at least hasn't turned green or anything. It definitely wants to settle more than my other polishes but seems to mix right back to normal. I might start shaking it up periodically to keep it from forming a clay like cake down there so it's easier to use when I call on it. Just in case!
I actually found this store bought mannequin shade by wearing my franken mannequin to the drug store and noticing that NYC Mulberry Street matched my nails fairly well.  It's a pearlized color so it's not a proper mannequin shade but I thought it might be of interest anyway.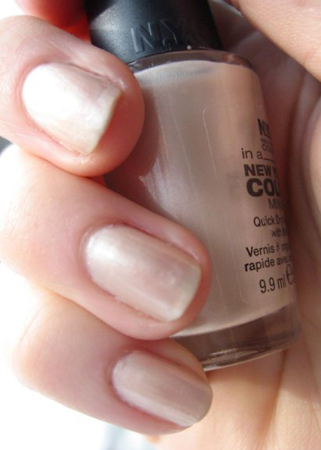 The photo (below) shows my nails with 2 coats of Mulberry Street with a coat of China Glaze Matte Magic. Without the top coat Mulberry matches my skin best in low light when the pearl flash doesn't show much, and with the top coat it matches best in high light when my skin looks palest.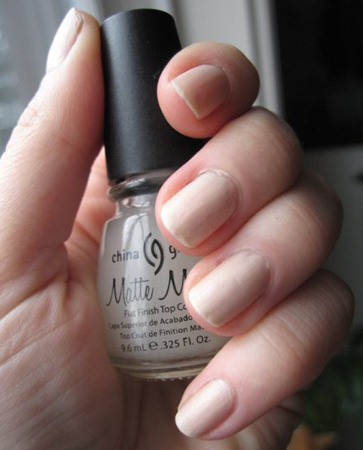 Talk about creative, right Fanatics? Now I'm wondering if my mineral foundation from Aromaleigh would work in polish and not explode. Have any of you tried mixing foundation in polish before? I've mixed pigments but never thought about foundation. What about liquid foundation? Who's tried it or thinks it would work?
Don't forget, you have until January 15th to share your Mannequin Hands with the group. CLICK HERE for more details.