N.Y.C. Color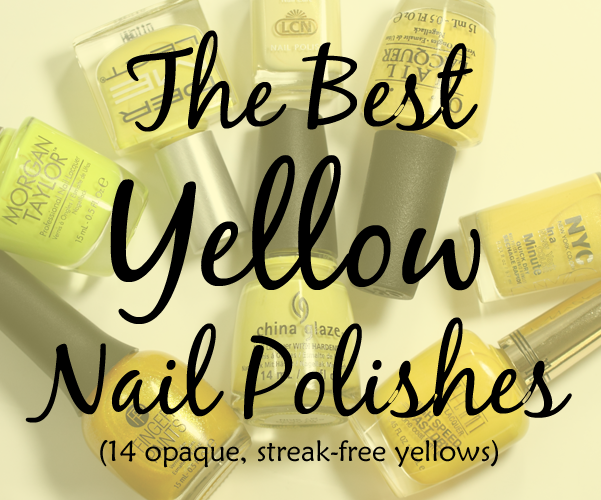 Yellow nail polish. Such a polarizing shade. Why? Because, regardless of whether you love or hate it on your nails, if you've ever applied a yellow, you know the issues that plague the color family.
Yellow gets the Nail Polish Problem Child of the World Award. They're either super sheer or opaque and streaky. And while one-coat reds, blues, etc exist, a one-coat yellow is our chupacabra. That being said, I'm often asked what the Best Yellow Nail Polish is, when I've just finished railing on one in a review. So I've got 14 streak-free, opaque yellow nail polishes for you.
Continue Reading »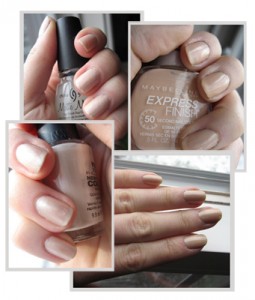 Mannequin Hands is a new series featuring ALU Fanatics showing off their "mannequin hands" shade. The one polish that best gives that elongated, flesh-toned look to their hands.
Salvaged Expression has been getting crafty when it comes to her mannequin hands look.  Unable to find a decent flesh toned polish in her stash, she went to work frankening her perfect match.  But what makes her franken truly unique is the inclusion of powdered foundation.  Genius, no?  She used this franken to eventually find a ready made match in NYC Mulberry Street.  Learn more after the jump!
I first discovered drugstore gem N.Y.C. (New York Color) through my fellow fanatics on the MUA nail board. It was a swatch picture of Skin Tight Demin (a gorg navy) from their Long-Wearing line that drew me in. A quick trip to Target and I was adding Skin Tight Demin, Big Money Frost and Turquoise Seas from the Nail Glossies line to my collection.
I've always been very pleased with my N.Y.C. polishes. They are affordable, Big 3 Free and have a varied color range that isn't overwhelmingly large. But what has really caught the attention of all us fanatics are the Limited Edition Nail Glossies shades that accompany their Fall makeup collections. Fall 2006 brought us the rich glittering Cognac Sparkle, a shade that still creates lemmings on the nail board. It was so popular that girls were stalking it at every drugstore in town and buying extras for other nail boarders. Same thing happened when Midnight, a teal tinged blue-black sparkler, hit shelves last year. And I have a feeling they may have another hit on their hands.
Molten Metal from this Fall's collection will fit right in with the metallic trend we're seeing. A mix of silver glitter and bronzey red base, the overall shade is hard to describe. In sunlight it's pewter, indoors the base gives it a rosy cast. It's unique, that's for sure! I used 3 thin coats to achieve bottle color and used a high gloss top coat since it dries a bit matte.
The only downside of these Limited Edition shades? They aren't restocked and come in a special display that only holds 3 bottles. So if you're digging this color you have to be on the ball.
Molten Metal and the rest of the Fall N.Y.C. color collection will hit shelves in September and can be found in drugstores and mass merchandisers like Target, CVS, Walmart, Rite Aid and ULTA.