Have you been following the drama that transpired after I originally announced the China Glaze & Hunger Games nail polish collaboration? After word of a lawsuit emerged I thought for sure the collection was dead and then I read on Crushable that Lionsgate finally CONFIRMED that the collection is indeed happening but that the theme, and possibly the colors, would change.
Well, thanks to The Hob we now know that while the theme has changed, the colors have not. Phew! I loved the original color palette so I'm happy that is staying the same.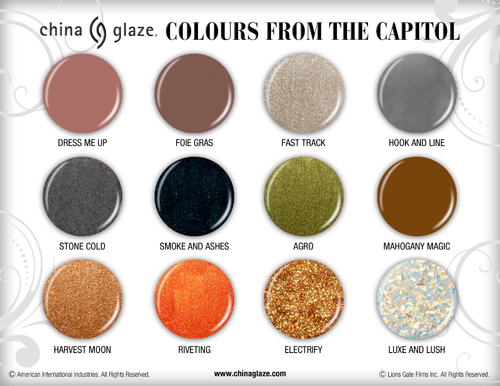 The official name is now the China Glaze "Colours From The Capitol" Collection.
In keeping with the powerful themes and messages of the story, the collection of nail polish will be inspired exclusively by one of the book's distinct settings—the Capitol of the nation of Panem. Awash in lavish fashion, food, and entertainment, Capitol citizens enjoy extreme cosmetics and body modifications, bold wigs, and outlandish costumes.
Though as a reader of The Hob pointed out, the polish names coincide with the specialties of each district.
Luxe and Lush – District 1 (Luxury)
Stone Cold – District 2 (Masonry)
Riveting – District 3 (Technology)
Hook and Line – District 4 (Fishing)
Electrify – District 5 (Power)
Fast Track – District 6 (Transportation)
Mahogany Magic – District 7 (Lumber)
Dress Me Up – District 8 (Textiles)
Harvest Moon – District 9 (Grain)
Foie Gras – District 10 (Livestock)
Agro – District 11 (Agriculture)
Smoke and Ashes – District 12 (Mining)
Are you as relieved as I am that the collection is NOT dead? What do you think of the new theme and names?
The China Glaze Colours From The Capitol collection releases on March 1st and The Hunger Games premieres on March 23rd. Let the countdown begin!
May the odd be ever in your favor.
image: The Hob