365 of Untrieds is my personal challenge to weed through the polishes in the ALU stash that I've been wanting to try but just haven't gotten around to.
What day is it? What time is it? I seriously have no clue at this point. The time change from Cleveland to Vegas has me in such a tailspin that I honestly have no idea if it's Monday, Tuesday or Sunday. I rarely have this type of reaction to flying outside my own time zone but this trip is really throwing me off.
Maybe there's something in the air because Deborah Lippmann mentioned this morning that she's all out of sorts. That her typical spot-on sense of direction is so off that she keeps getting lost in the Mandalay Bay, a hotel she has stayed in many times. At least I fly home tomorrow night (gotta love the red eye) and will hopefully be back on track asap.
So far I have met some amazing people and seen lots of fun products and colors at Cosmoprof (more on that to come) but I had a major fangirl moment when I met Suzi Weiss-Fischmann, EVP & Executive Artistic Director of OPI. I've had the privilege to speak with some incredible people in this industry but Suzi has always been at the top of my nail bucket list and today I can finally cross her off. It seems only fitting that I meet her the day I delve into OPI Sparrow Me The Drama from the Pirates of the Caribbean: On Stranger Tides collection as part of my commitment to inject more pink/red into the 365.

Formula & Application: OPI is a 3-Free brand but some (not all) of the PotC polishes are 4-Free including Sparrow Me The Drama. They made the switch to 3-Free in 2008. You can identify an OPI with the 3-Free formula by the green lettering on the label. Bottles with black lettering have the old formula. The new 4-Free formula doesn't have a different color writing on the label so always check the labels to be sure.
The OPI Pro Wide brush is flat, wide and medium in length. It's of average stiffness and easily spreads out on the nail when pressed. The only downside to the Pro Wide brush is that it can be too wide for slim fingers or little toes.
The formula is thin and easy to work with but I found that the pigmentation was lacking some and it looked a little streaky/patchy in person. I ended up using three thin coats just to make sure I had proper coverage but someone who applies their polish a little thicker could probably get away with two coats.

OPI Sparrow Me The Drama is a nice middle-of-the-road pink creme. I appreciate that it's a bit cool but not so much that people with warm/olive skin tones can't get involved. You'll have to forgive me for not presenting comparisons. Due to time constraints before I left for Vegas, I just wasn't able to make it happen.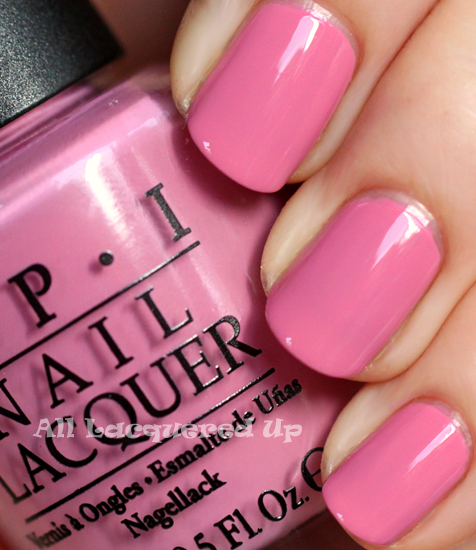 Of course I couldn't leave a sleeping dog lie. I had to pump up the volume on this color with a little Shatter Attack. Since the creme shatters don't do much for me and Silver Shatter was released to be worn with the Pirates hues, I went for it. I was honestly curious if there would be enough contrast both colors to make it interesting and while I'm steadfast in my anti-pink-ness, I do appreciate the funky flavor of this combo.
Remember: When working with Shatter, apply to a COMPLETELY DRY nail or else it won't crack properly. You will get the best effect when the polish is dry.  Thin coats = more cracks and make sure you apply a top coat to prevent the Shatter from flaking off.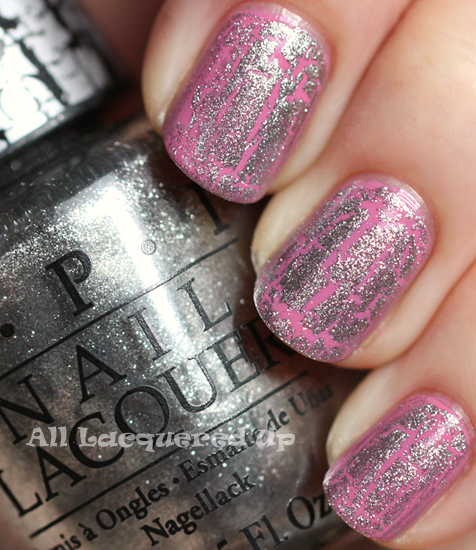 Bottom Line: Sparrow Me The Drama's name is more entertaining than the actual polish. I mean, the color is fine but would you want to be described as "fine?" Neither does this pink lady. Regardless of my personal feeling on the color, I wish the formula was a little less streaky for all my pink lovers out there. The nice thin flow of the polish held such promise.
365 of Untrieds Stash/Share Verdict: I'm just not feeling it… SHARE
OPI Sparrow Me The Drama from the Pirates of the Caribbean: On Stranger Tides collection is available now in limited edition at salons and spas nationwide including Beauty Brands, Beauty First, Chatters, Dillard's, JCPenney, Pure Beauty, Regis, Trade Secret, and ULTA. OPI nail polishes retail for $8.50/ea for one .5oz bottles.
Thoughts on Sparrow Me The Drama? Do you like it better with or without Silver Shatter? How many of you love pink polish over all the other color families? Do you have a favorite pink that you think I would just FLIP over?
Disclosure: A product sample was provided by OPI. For more info view my Disclosure Policy.