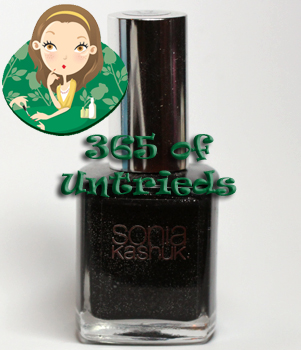 365 of Untrieds is my personal challenge to weed through the polishes in the ALU stash that I've been wanting to try but just haven't gotten around to.
Even though nail polish colors have essentially become seasonless, I think we will always gravitate, in some way, towards the more typical shades associated with each season. Brights for summer, darks for winter, etc.
That being said, there's something so refreshing about flipping the script mid-season by wearing a sky blue in winter, a la China Glaze Bahama Blues, or a sexy black in the sweltering heat of summer.
That brings me to today's untried, Sonia Kashuk Starry Night. When I originally acquired this shade last year I wasn't feeling it. I was ready for fun Spring colors but now that the dog days are upon us, I'm loving the contrast.

Formula & Application: Sonia Kashuk nail polishes are 4-Free (including formaldehyde resin) and free of camphor, which can be an irritant.  The square glass bottle and smooth metallic cap are identical to the Inglot Nail Enamel packaging.  The round, fat brushes even look the same but they apply the polish differently.  Where the Inglot brush tends to impede application, causing dragging, I experienced no issues with the Sonia Kashuk brush.  The bristles weren't as densely packed, making the brush more flexible overall.
The pigmentation of this polish is simply phenom and the formula is thin, slightly squishy and workable. I barely needed two coats to get it opaque and it dried with a smooth, glossy finish.

Sonia Kashuk Starry Night has a jet black base with silvery micro-glitter peppered throughout. I imagine this is the type of starry sky you see when it's "country dark." Though the way the sparkles seem to run down the nail in lines, it looks like some kind of 80s computerized backdrop that you might see behind Max Headroom. What impressed me the most is how inky the base is in spite of the silver micro-glitter. Usually the addition of shimmer or glitter will significantly lighten a black polish.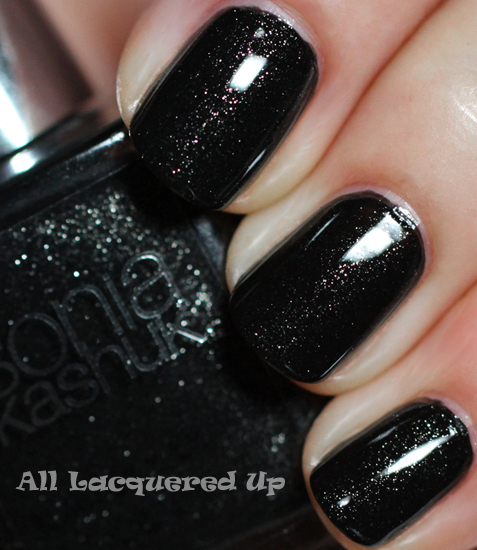 In looking for Starry Night twins I came up with two close relatives; Orly Goth and Dior Black Sequins. Starry Night doesn't have the irregular shaped flecks that have contributed to Goth's popularity yet is has a lot more sparkle power than Black Diamonds. I wouldn't say the differences are enough to warrant owning all three. It's more a matter of accessibility and budget.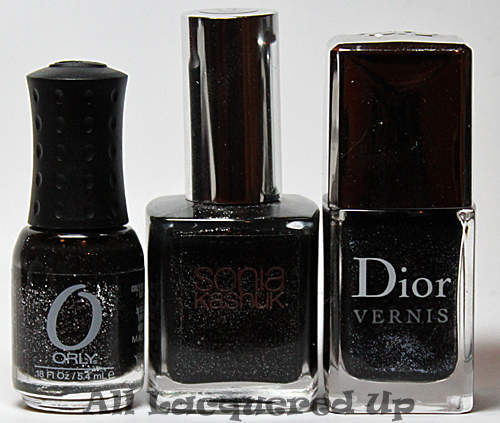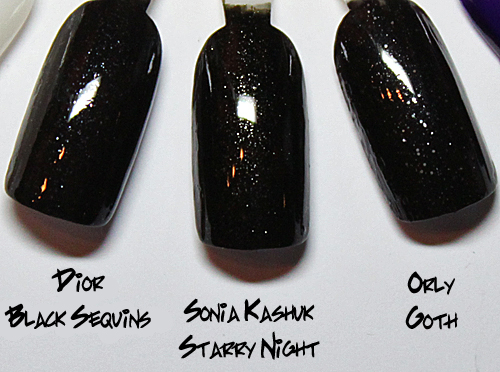 Bottom Line: If you're looking for a great sparkly black, Starry Night is a great option. It's not super glittafied (yes I'm making up my own words) but it packs enough punch to make sure people know your nails have a little bling. If you already own Orly Goth I would say skip it but if you are lamenting missing out on Dior Black Sequins, this will satiate you.
365 of Untrieds Stash/Share Verdict: I would keep it if I didn't already own Black Sequins and Goth but since I do, SHARE.
Sonia Kashuk Starry Night was released as part of the Fall 2010 collection but it is still available at Target and Target.com. Sonia Kashuk nail polishes retail for $4.99/ea for a .5oz bottle.
Are you into Starry Night? What are your thoughts on Sonia Kashuk nail polish? Which colors would you recommend the line? What is your all-time fave black shimmer/glitter polish?
Disclosure: A product sample was provided by reps for Sonia Kashuk. For more info view my Disclosure Policy.