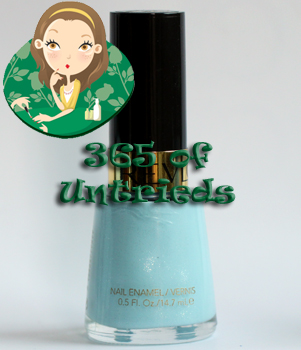 365 of Untrieds is my personal challenge to weed through the polishes in the ALU stash that I've been wanting to try but just haven't gotten around to.
When I reviewed Revlon Vixen, I pretty much ripped it a new one thanks to the extreme bubbling and difficulty in application. Then I tried Revlon Top Speed in Emerald which I fell for, hardcore, since it's an OPI JitNB twin. In my eyes, that one polish redeemed Revlon in a big way so I wanted to give the regular line a second chance as well.
I don't remember when I found Revlon Blue Lagoon sitting in the Summer Romantics display but I know I purchased it before I tried Vixen. All I can remember is that I couldn't resist the tiny sparkles peering at me from behind the glass. Will it be the disaster Vixen was or will it be a winner like Emerald? Keep reading to find out.

Formula & Application: The Revlon formula is 4-Free (including formaldehyde) and is free of camphor, which can be an irritant. The signature Revlon bottle is topped with a slim silver chrome cap that houses a dense, round, average length brush.
Now I had problems with the brush in Vixen but the brush in Blue Lagoon did right by the polish.  The bristles are nice and flexible and can be pressed almost completely flat against the nail. The only issue I had was with a bit of dragging on one nail but I think that's because I pressed a bit too hard. If you use a light touch, it shouldn't be an issue.
Normally I expect pale polishes to be either be thin and sheer or thick and streaky but Blue Lagoon didn't suffer from either of these issues. The formula is a bit on the thick side but it's self leveling and packed with pigment. I ended up using three thin coats on my nails but I think you can get away with two coats if you apply with a bit more polish on your brush. The best part… NO BUBBLING. I've had the polish on for over 24 hours now and it still looks flawless.

Revlon Blue Lagoon is more blue sky than water but I'm not complaining. The tiny silver flakes are subtle but they give the color a little something special. What I dig about the color is that it's soft but not pastel and doesn't have any green in its base that would pull it more towards aqua.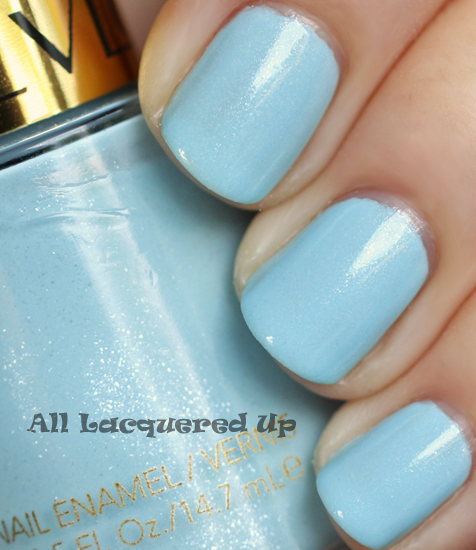 In looking for comparisons, I immediately looked to Chanel Riva & Sally Hansen Barracuda but referenced the China Glaze Bahama Blues as well. Even though they aren't in any way dupes, China Glaze Caribbean Blue has the same finish as Blue Lagoon. In fact that finish is the reason why Caribbean Blue is one of my all-time fave blues and I can't believe how long it has been since I've worn it. Too long!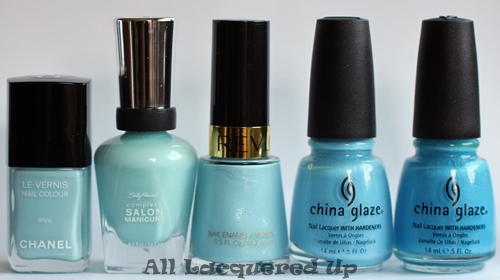 I chose to show Blue Lagoon next to China Glaze Bahamian Escape and Sally Hansen Barracuda and as you can see, it falls somewhere in between the two. I have no dead on dupe for Blue Lagoon which makes me very happy even though it will make my light blue Helmer drawer even more packed.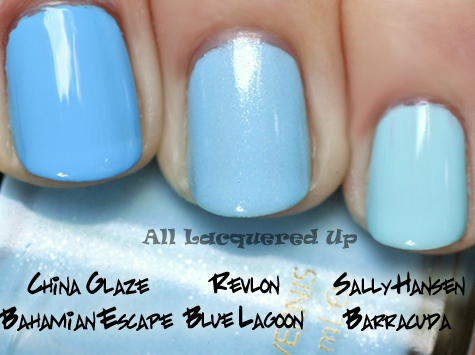 Bottom Line: I'm not sure if Revlon Vixen was a random fluke in terms of formula or if Revlon is just hit or miss but Blue Lagoon has my attention. I have no longer sworn off the brand but I'll take each purchase with a grain of salt. Blue Lagoon is definitely worth picking up, especially if you like subtle flakie glitter.
365 of Untrieds Stash/Share Verdict: I already alluded to the fact that my light blue Helmer drawer is getting more full so I'm sure it's no surprise that I'm STASHing it.
Revlon Blue Lagoon nail polish is a limited edition shade released as part of the Summer Romantics collection which is available at drugstores and mass retailers nationwide. Revlon nail polishes retail for $5.99/ea for a .5oz bottle.
Thoughts on Blue Lagoon? Have you been able to figure out the puzzle that is the differing Revlon formulas? What are your must-have shades from the core Revlon line?
Okay so let's discuss the elephant in the room. Clearly Vegas kicked my butt and I have failed, yet again, to keep up with the 365 concept when faced with a crisis or vacation. This leads me to wonder if I should press on or let it go but I want your input. Do you think I should continue until I hit 365 reviews of untried polishes or scrap the idea and go back to traditional collection reviews?
[polldaddy poll="5359940"]
Disclosure: I purchased this nail polish. For more info view my Disclosure Policy.