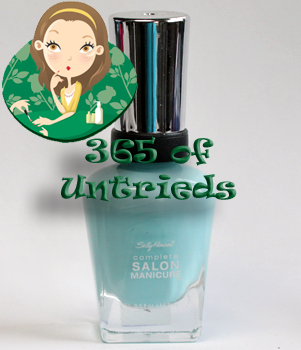 365 of Untrieds is my personal challenge to weed through the polishes in the ALU stash that I've been wanting to try but just haven't gotten around to.
When Chanel Riva came out this past spring, I was less than thrilled with it. The sheerness, the lack of sparkle or uniqueness. It just didn't live up to the Chanel reputation or cost.
When I spotted Sally Hansen Barracuda from the Tracy Reese for Sally Hansen Spring 2011 collection, I immediately thought of Riva and thankfully it comes with a more affordable price tag.

Formula & Application: Sally Hansen Complete Salon Manicure nail polishes are 4-Free (including formaldehyde resin) and free of camphor, which can be an irritant. The hefty glass bottles are topped with a smooth chrome cap that has a rubberized grip around the base. The grip makes opening the bottle easier and keeps the brush from slipping while polishing.
The brush is the same flat, paddle style as the Insta-Dri line with curved bristles. The bristles are firm so use a light touch to avoid streaking or dragging the polish.
The Complete Salon Manicure formula has a thin, squishy consistency and while it usually becomes opaque in two coats, Barracuda required three due to slight patchiness. Since this line is meant to be worn sans base and top coat, it dries with a high gloss shine.

Sally Hansen Barracuda is an energized baby blue creme with the slightest hint of turquoise in its base color. You don't notice it as much on its own but when you put it next to Riva,  you see the subtle difference.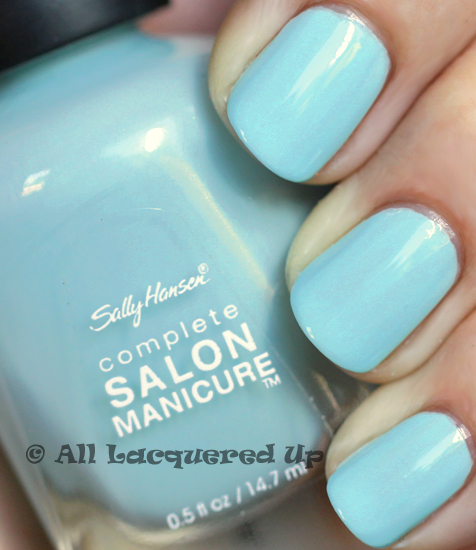 When you line Barracuda up next to Rescue Beauty Lounge Bikini Bottom and Chanel Riva, it really stands out from the crowd. The other two appear quite muted in addition to the slight color variances.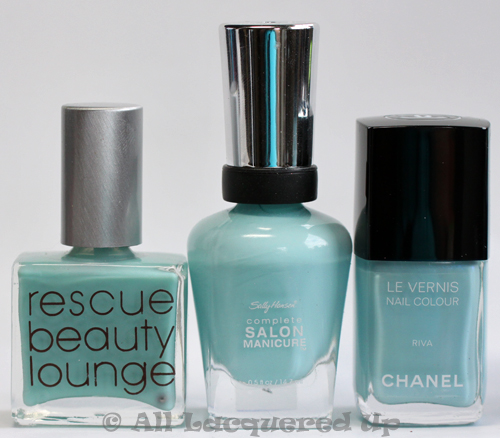 One of the major differences between Barracuda and it's competitors is opacity. Bikini Bottom is a sheer and Riva is semi-sheer so they both require at least 1-2 more coats to become opaque. Color-wise BB is more aqua and Riva looks pale and more blue next to Barracuda.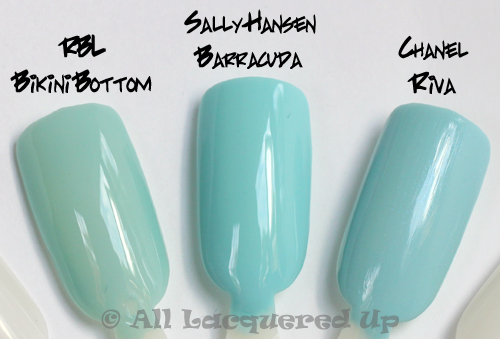 Bottom Line: While Barracuda may be a bit brighter than Chanel Riva, I find it to be a great substitute in addition to $OPI Havana Dreams, another LE polish. I prefer the Sally Hansen version simply because it's brighter and I find it to be more pigmented than Havana Dreams. Plus, Sally Hansen is frequently on sale.
365 of Untrieds Stash/Share Verdict: SHARE the old, SOPI Havana Dreams, and STASH the new, Barracuda.
Sally Hansen Barracuda is available in drugstores nationwide as part of the limited edition Tracy Reese for Sally Hansen Spring 2011 collection. Sally Hansen CSM nail polishes retail for $7.99/ea for a .5oz bottle.
Thoughts on Barracuda? Of the three, Riva, Barracuda, Havana Dreams, which do you prefer? Did you pick up Riva or one of its dupes?
Disclosure: A product sample was provided by Sally Hansen. For more info view my Disclosure Policy.