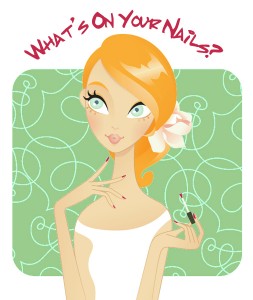 What's On Your Nails? is a series focusing on my fellow beauty bloggers and industry insiders, their favorite nail polish and other hot nail topics.
Hey Fanatics, I'm back and it's time to kick off the week with another installment of WOYN?  This week I want you to meet Marina from Makeup Loves Me.  I met Marina at my very first NY Fashion Week as we stood in a torturous, long line for a show only to be rebuffed at the last minute because they invited everyone and their mother.  Regardless, we had a blast gabbing throughout the wait and I always look forward to running into her when I'm in the city.
The last time I saw Marina not only did I not recognize my own polish on her nails (I'm so oblivious!) but she had on the most gorgeous eyelash extensions I have ever seen.  I was jealous on the spot.  To find out that they only cost her $7 from some hole of a salon in one of the boroughs made me even more green. $7??? I can't even!  It's Marina's ability to discover the beauty world's diamonds in the rough that makes Makeup Loves Me a unique and fun read.
Learn more about Marina, find out what green polish she's loving and check out her fave CalGel manicure after the jump!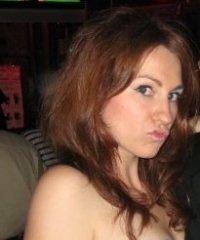 Introduce yourself to the ALU readers. Tell us a little about you and your blog.
Hi ALU readers! I'm Marina and I write MakeupLovesMe.com, a site dedicated to makeup trends and reviews of the latest products, and sometimes I'm funny.
What is your favorite nail polish? Why?
I have two favorite polishes right now – essie's Mint Candy Apple and Barielle's Falling Star from the All Lacquered Up collection! Both colors are totally unique, while still being on point with the fall trends. Plus, I can't where either without getting a ton of compliments, and who doesn't like compliments?
What is on your tips and toes right now?
Tips – essie's Mint Candy Apple, of course! Toes – Lippmann Collection's Funky Chunky – which is a sheer, sequined black.
Do you consider nail polish a beauty necessity or accessory? Why?
Nail polish is a total necessity, especially right now. All of the hottest makeup trends revolve around nails. If you're not making a statement with your nails, you're not making a statement, end of story.
How many bottles of nail polish do you own?
I just got rid of 20 bottles of nail polish, and I still probably have about 75? And I love every single one. I can't cut the collection back any further.
How often do you change your nail polish?
I change my finger nails twice a week and my toes every other week. In the summer I change the toes up weekly.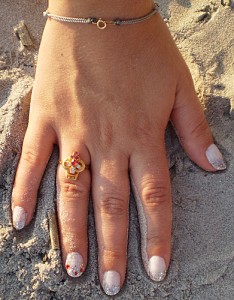 Do you have a favorite nail treatment you think my readers should know about? Why is it so fab?
I think everyone needs to know about Calgel nails. My calgel manicure (pictured above) literally lasted 3 full weeks without a chip and the nail art they do at Sakura unreal. My nails were covered in glitter of all color and sizes – plus rhinestones!
What do you think is the big nail trend for fall?
There are so many nail trends right now. Minty green nails, matte nails, super glittery nails and nail art are all big – and I want them all!
What nail trend do you wish would go away?
Neon nails – sorry, ladies! essie's perky purple is still acceptable – but you shouldn't be rocking day-glo tips now that the summer has ended.
What is the biggest nail faux pas that women make?
Having your tips and toes be the same color. It's like getting a purse with matching shoes – get creative.
Thanks a million Marina for sharing with us and for giving Falling Star a shout out!  Fanatics make sure you stop by Makeup Loves Me to follow Marina's beauty adventures in the city.