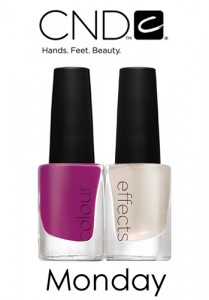 Welcome to CND Monday, a new feature here on ALU. Each week I'll be sharing a new layering combination from CND Colour & Effects to show you the versatility and creativity of the line.
OK so I'm not confused, I know it's Tuesday but due to server issues I wasn't able to post my CND Monday combo and I just couldn't wait a week to do so.  This server downtime is driving me batty but it should be resolved. *fingers crossed*
This combo was inspired by a reader comment.  ReaderRita mentioned that she recently ordered Violet Shimmer hoping it would look good layered over any color.  I decided to pull mine out of the drawer to see how it if fares with Plumville.  Check out the results after the jump!

If you missed my detailed review of the new CND Formula, Bottle and Brush check out CND Colour, Effects and Henna? for a recap.
Plumville is a rich blue based berry creme.  It's not quite raspberry, not quite plum.  It's what I imagine a snozberry would look like.  "Who ever heard of a snozberry?" The color is so rich and the pigment is so strong that I barely needed a seconnd coat and it applied so damn flawlessly.  To my creme loving Fanatics, you NEED to try this formula if you haven't already.  I find myself saying "Wow, this is amazing!" every single week.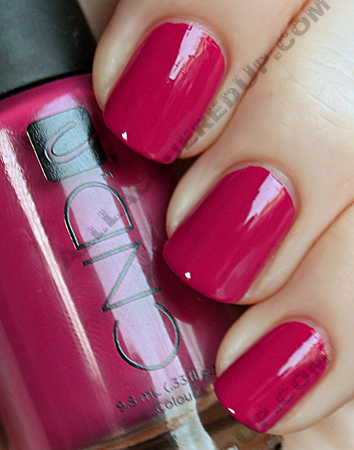 Adding a layer of Violet Shimmer not only lightened the hue, it gave it this cool blue-violet flash.  The shimmer particles are so fine that you really have to be looking for them so instead of shimmer, it adds a veil of glow.  This combo reminds me of an OPI but the name is escaping my mind.  Anyone know which one I'm talking about?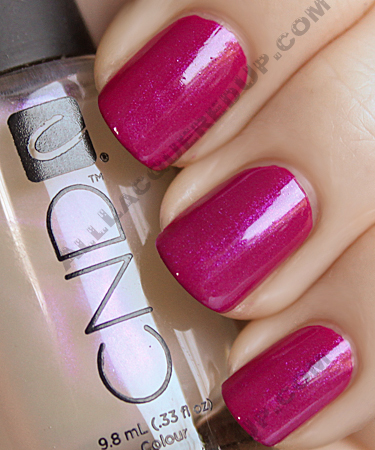 Sunlight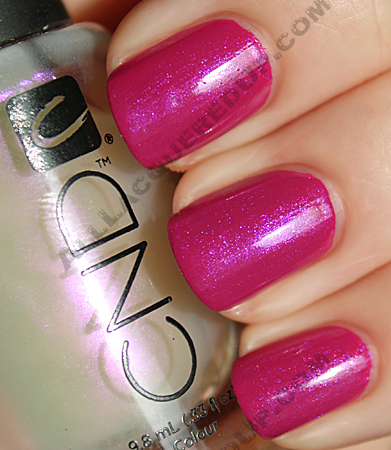 You can find CND Colour & Effects at salons nationwide and online at our fave e-tailers (see sidebar). Colours retail for $9/ea and Effects retail for $11/ea.
So are we feeling this? Can you think of similar shade to this one? I couldn't find a creme dupe but if anyone can think of that OPI, I'd appreciate it. It will continue to bother me until then. Jewel of India?? Darn, I'm not sure. Anywho, ReaderRita I hope you're happy with your Violet Shimmer purchase. If you have a CND Monday request, leave it in the comments.