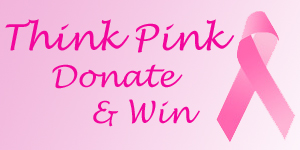 I've been bursting at the seams wanting to announce the results of this year's BCA Month fund raising drive and the giveaway winners.  I am at a loss for words over the outpouring of generosity from the ALU reader community.
Together we more than surpassed my expectations and I'm truly thankful to each and every one of you for supporting my efforts to raise awareness and funds for such a worthy cause.
Your donations in the Think Pink – Donate & Win Giveaway raised $2,131 for Living Beyond Breast Cancer almost THREE TIMES what we raised last year.  And thanks to all your wonderful comments, I personally donated another $150 to the cause.  Together we donated a whopping $2,281 which is simply amazing.  Thank you so so much!
Now for the winners…

There were 1,588 entries in the giveaway and using Random.org the winners were chosen.  I would like to congratulate…
Grand Prize Winner – Amber J. from the USA
1st Runner Up – Jane P. from the UK
2nd Runner Up – Faith D. from the USA
3rd Runner Up – Christy S. from the USA
Congratulations to the winners and to the whole ALU community for such a successful BCA Month.