Breast Cancer Awareness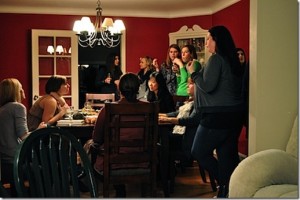 Wednesday night I had the pleasure of hanging with a bunch of cool CLE blogging babes while raising money for charity and clearing out the ALU beauty closet. You may remember that I hosted a similar event last year benefiting my local Dress For Success. This year I decided to coincide the event with my Breast Cancer Awareness campaign, donating the money raised to Living Beyond Breast Cancer.
This past year a local blogger, Allison from Green Dog Wine started organizing regular blogger meet-ups and was kind enough to include me in the group even though we hadn't met.  It's been wonderful getting to know other women in the community who have a passion for our city and blogging.
I decided it would be fun to host one of the meet-ups and combine it with my charity sale.  It was a blast having everyone over for wine and snacks and watching them head to the basement to clean me out of product samples.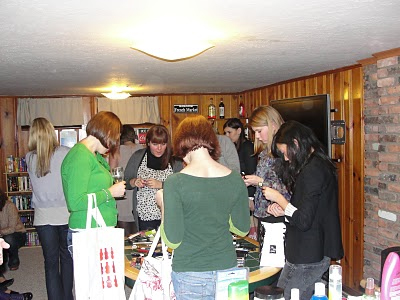 At the end of the night everyone went home with a bunch of new beauty loot to try and I raised $1,085 for Living Beyond Breast Cancer bringing the total amount raised by ALU to $3366. Amazing!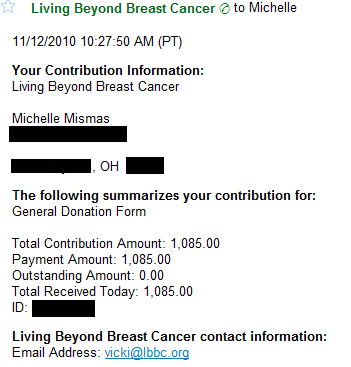 I couldn't have done this without of the incredible support of my blogging community and friends so thank you to Alana from The Dawg's Dish, Alexa from Cleveland's A Plum, Allison from Confessions of a Cohabitant, Allison from Green Dog Wine, Charity from I Heart Cleveland, Heather from Mile 26 and more, Jocelyn aka @Legalesque, Michelle from Cleveland Foodie, Molly from Food n Such and Suzanne from Life on Mars.  And of course I have to thank my good friends Christine, Jen, Sandi and Steph for coming again this year and supporting my fund raiser!
If you want to check out some of their hauls click on over to
Cleveland's A Plum – Cleveland Beauty Blogger Sale, Green Dog Wine – All Lacquered Up, Mile 26 and more - CLE Blogger Beauty Sale and The Dawg's Dish – Girls Night Out: Blogger Beauty Sale. Of course the biggest haul of the night went home with my friend Steph who doesn't have a blog. She needed an extra bag just to take everything home. Love it!
image credit: Alexa from Cleveland's A Plum