ULTA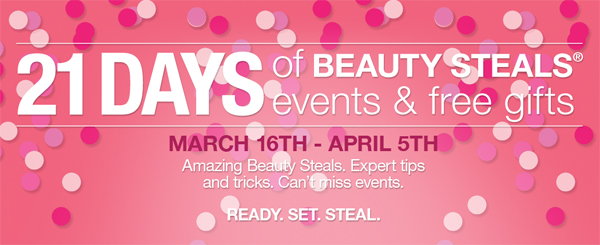 One of my fave things about Sunday Funday is going out to breakfast with the boyfriend. And yes, I said breakfast and not brunch. Brunch is fine but I like traditional breakfast foods, omelettes, pancakes, etc.
Anyway, most Sundays I find myself at a local spot that just happens to be across the street from an ULTA. Coincidence? You can usually find me there, after breakfast, while the boyfriend plays Candy Crush in the car.
And you better believe I will be making multiple trips to ULTA over the next three weeks as their 21 Days of Beauty starts today. Want to know what I'll be shopping for? Keep reading to see my favorite of the 21 days of deals.
Continue Reading »
ULTA's 21 Days of Beauty kicked off last Sunday and today's big deal is just for us polish fanatics.

butter LONDON nail polish is only $10 today (reg $15) at ULTA stores nationwide and online at ULTA.com. *Limit 2 per customer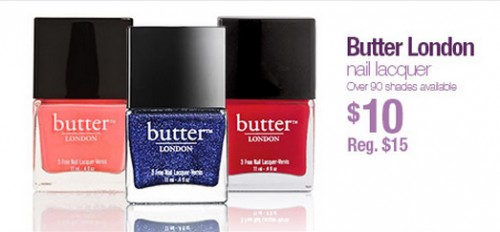 If you're looking for shade recommendations, some of my fave bL colors are, All Hail The Queen, Artful Dodger, British Racing Green, Indigo Punk, Lady Muck, Jack The Lad, and Victoriana.
Which two shades do you plan to pick up? What are your favorite bL polish colors?
Disclosure: Affiliate links appear via rewardStyle and skimlinks. For more info, view my Disclosure Policy.
I could probably fill a separate blog with the beauty mistakes I've made over the years. My frugal nature has led me to many DIY beauty disasters. Like tweezing my formerly Brooke Shields-esque eyebrows to a Chola-style thinness because I couldn't get them even. They've never truly recovered.
And I can't be the only one traumatized by a Sun In incident as a teen. Trusting my BFF to evenly spray it on my hair resulted in a giant ORANGE patch. That was a fun fix. It actually led to that one year I was a blonde. Not a good look for me (though my mom would disagree).
Even better, being a blonde resulted in my 4-hair-colors-in-24-hours incident. I thought I could go from blonde back to brown using box dye in my natural shade. Wrong! Say hello to black, Witch Hazel hair. It gave new meaning to straw-like. Only one salon in town would see me the next day and they stripped my hair to bright purple (like Manic Panic purple) before bringing it back to my natural, reddish brown. Good times!
It's tales like these that my friends at ULTA want to hear. While at BlogHer '13 they had video booths available to share your Beauty LOLs, though you can submit them in writing as well.  The best one will win $2000.  I clearly didn't understand the assignment when I recorded my video but I decided to share it with you anyway. No judgement!
So head on over to ULTABeautyLOLs.com to share your best beauty blunder and you could end up $2000 richer. Or just read some of the hilariously horrific tales from fellow beauty fanatics and ULTA Beauty LOLs spokesperson, Wendi McLendon-Covey.
Side note: Wendi was at BlogHer, hosting the fashion show and I ended up in the same elevator with her. But being a total fangirl, I was too frozen to speak or say hello. UGH! I'm probably one of a handful of people that watched her in Lovespring International on Lifetime but, find out what you missed on Hulu. HIGH-larious!
What are some of your Beauty LOLs? I shared with you, now it's your turn. Don't leave me hanging, peeps!