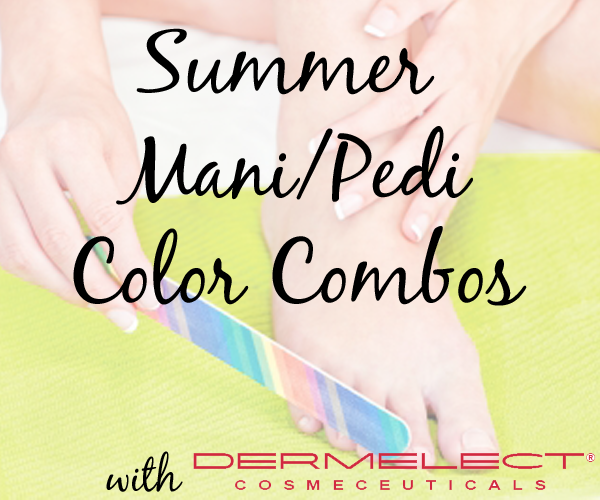 Whether it's for a special event or just everyday wear, one question I get most often is about what colors to pair together for the perfect mani/pedi look. As much as I love creating new combos, even I get stumped some times. So, I turned to my pal, and Dermelect Color Curator, Celebrity Manicurist Elle, for her favorite nail polish pairings for this summer.
Bonus: Dermelect is offering an amazing deal at ULTA if you pick up any of these duos.


Manicure/Pedicure Combinations for Summer 2014
Dermelect Moon Kissed and She-She – Just last week, someone was asking me how to select a color for a weekend wedding. One where you have multiple outfits; a rehearsal dinner the night before or an early church ceremony and evening reception. You get the gist.
My advice is represented in this combo. Think of your nails as jewelry and wear a metallic or shimmery white, like Moon Kissed, that will work with the outfits you pack. Then you can wear something funky and fun, like She-She, on your toes. The perfect look for your fave LBD.
Dermelect Above It and Phenom – Blue is dominating the nail world this year. You can't avoid it and you shouldn't! And, unless you've been living under a rock, you know how I feel about blue so I'm over the moon for this pairing. Phenom is a dusty denim hue that grounds the airy feel of Above It, a sky blue creme.
Dermelect Debonaire and Stunner – Sometimes you want something a bit more neutral on your nails but with a summery feel. Debonaire's slight peachy tone is the perfect compliment to a faux glow. And the shimmery, sultry mocha, Stunner, is a twist on typical summer metallic pedicure shades.

Deal Alert!
If you haven't tried Dermelect ME Peptide Infused Nail Lacquer before, this is the perfect time to get involved. Dermelect is carried at ULTA stores and ULTA.com and from now through July 26th, they are offering a FREE Hand and Foot Duo with any $24 purchase. That's just two polishes, you guys!
A $29 value, Dermelect's Hand and Foot Duo includes the Timeless Anti-Aging Daily Hand Treatment that I've raved about for its ability to reactivate in water, yes really, and its grease-free, powdery finish. It's a staple on my desk. The Runway Ready Luxury Foot Treatment is just as heavenly, plus it contains glycolic and salicylic acids for exfoliation. And here I was just extolling my love of foot creams with acids.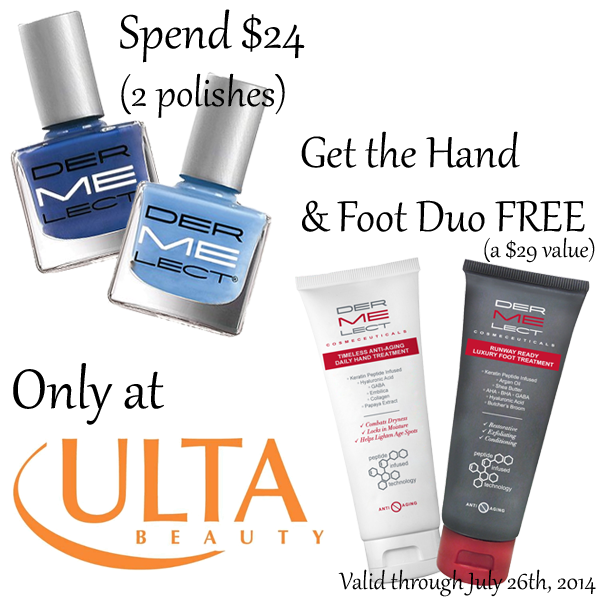 While you're shopping, you should check out the Dermelect Nail Recovery System ($49, ULTA.com). If you have damaged or weak nails that need intense treatment, this is for you. The Launchpad Nail Strengthener, with its peptide-infused formula, hydrates and strengthen nails. I know so many nail bloggers who swear by it.

Have you tried Dermelect nail polish? Which colors are you most drawn to? What mani/pedi colors are you wearing now?
Disclosure: This post was sponsored by Dermelect but all opinions are my own. Affiliate links appear in this post. When you purchase through an affiliate link, you help support this site. For more info view my
Disclosure Policy
.