They say if you really want to gauge a woman's age, look at her hands. Between sun exposure and lack of moisture, it's one major area a lot of women neglect. Though hands are just as exposed to the elements as the face so, as the cold winter months quickly approach, it's time to stock up on heavy duty lotions and potions to keep them in tip top shape.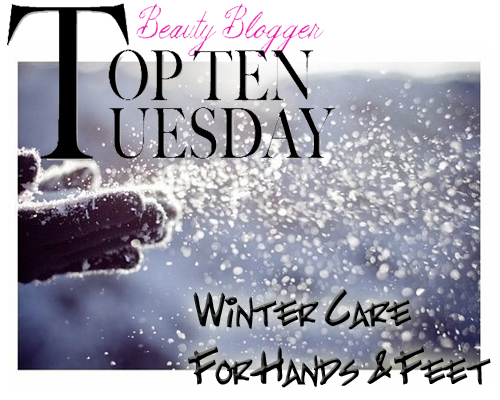 Affiliate Link|I Bought This|Press Sample
That's why, as the Top Ten Tuesday bloggers discuss winter skin savers, I'm focusing on the hands and feet. The skin in those areas takes a beating all year long but the dry air and intense temperatures of winter are especially ravaging. See which hand, nail and foot treatments made it into my Top Ten.

1. Aveda Hand Relief ($22.50) – While most women can tolerate a little hand lotion residue, men can't stand it which is why Aveda Hand Relief is a favorite of my boyfriend. He's been using it religiously for years and is never without a tube in his desk. For someone who handles paper all day then gets rough in hockey gloves at night, his hands are buttery soft.
2. Dermelect Timeless Anti-Aging Daily Hand Treatment ($22) – If you are a constant hand-washer, this lotion is for you. It has a unique technology wherein the lotion re-activates itself in water. As if that isn't reason enough, it dries powdery smooth while peptides plump up and hydrate the skin.
3. Feet by OPI Callus Therapy ($14.95) – You normally think of calluses as being a summer concern but dry, cracked heels can occur in winter as well. Given that I spend a lot of my day barefoot on hardwood floors, it's always a problem for me. That's when I turn to Feet by OPI. This citrus-scented lotion contains fruit acids to help gently exfoliate dead skin cells.
4. Qtica Overnight Intense Foot Repair Balm
($22) – If you're looking for some heavy-hitting foot moisturization, look no further. Intense is an accurate word for this super hydrating foot balm. Apply at night, slip on some cotton socks and wake to see  your skin transformed.
5. Qtica Solid Gold Cuticle Gel
($22) – Thanks to finger-less gloves, our cuticles are destroyed all winter long. Get them back in shape with this unique gel that melts into an oil on the skin. Because it dispenses as a gel you get precise application with no mess.
6. CND Solar Oil
 ($7.50) – There's a reason professional manicurists worldwide sing the praises of CND Solar Oil. It's the gold standard of cuticle oils and I dare you to find a salon that doesn't keep it in stock. Don't forget to rub it over your dry nail polish to extend your manicure and help rejuvenate the shine.
7. Sephora Brush-On Nourishing Cuticle Oil ($12) – I've been raving about these genius little pens for years and I'm not about to stop now. A cross between and balm and an oil, the gel-like treatment that comes out of the brush is perfect for when you're on the go. It's grease-free and TSA friendly.
8. China Glaze Calcium Gel Fortifier ($6.99) – To avoid brittle, breaking nails, schedule yourself a regular "naicial." Remove your polish and wear this gel-based strengthener to bed, for an intense nail bed treatment. I find that it doesn't wear well under polish so I don it on naked nails.
9. Nail Tek Citra 3 ($15) – Nail Tek is known for their top notch formulas but the Citra line is unique in that it's Formaldehyde-Free. I'm a fan of Citra 3 for brittle, peeling nails and you can definitely use it as a base coat.
10. Essie Millionails ($10) – Essie revamped their treatment products this past year and I have to say that Millionails won me over. Fortified with iron, amino acids and kevlar (yes, as in bulletproof vests), this strengthener is no joke. I've been using it, almost exclusively, as a base coat and I can really see the difference in my nail health and it doesn't stunt my wear time.


Do you turn to any of my Top Ten when the cold weather season hits? What are your proven products for keeping your hands and feet hydrated?
Disclosure: Product samples were provided by reps for Dermelect. While I received samples from Aveda, China Glaze, CND, Essie, Nail Tek, OPI and Qtica I have purchased those same items, multiple times, since. Affiliate links appear in this post. When you purchase through an affiliate link, you help support this site. For more info view my Disclosure Policy.