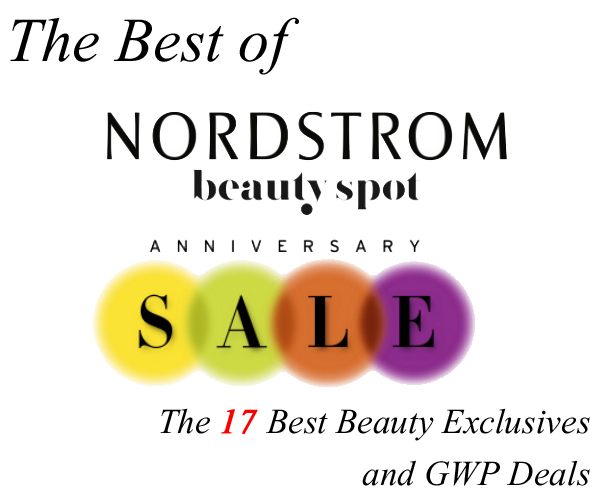 It's that oh so joyous time of year again. The Nordstrom Anniversary Sale, chock full of Beauty Exclusives and fantastic Gifts With Purchase. As much as I love the Anniversary Sale, the list of deals, limited edition products and gifts with purchase is exhausting so I'm breaking down my favorites from the sale. Everything from exclusive nail colors to deeply discounted products and GWP worth shopping for.


Nails
butter LONDON Funfair Fashion 10pc Gift Set ($49, Nordstrom.com) A $104 value, this set of bL minis includes Brick Lane, Macbeth, La Moss, Giddy Kipper, Petrol, Slapper, Yummy Mummy, Chimney Sweep, Nail Foundation (base coat) and Hardwear (top coat). And the bottles are 6ml, not 5, so they're a bit larger than the average mini.
butter LONDON Scrubbers ($15, Nordstrom.com) – You get 20 individual nail polish remover towelettes (a $20 value) for removing your lacquer on the go. Not a deep discount but a great deal if you travel a lot and need quality remover wipes.
Deborah Lippmann Recipe for Love Set ($29, Nordstrom.com) Per usual, Deborah Lippmann has put together an exclusive nail polish set for the Nordies sale. Sized at .27oz, they are roughly 8ml, so a little more than half the average nail polish bottle amount.
The set includes You Got Me (dusty dove grey crème), Make Someone Happy (blooming blush bling glitter), Let's Stay Together (mysterious mauved plum crème).
Deborah Lippmann The Stripper Duo ($35, Nordstrom.com) – As much as I love The Stripper, its regular price is out of my budget. This set that includes a 3.2oz pump and 8oz refill retails for $60 which makes this quite a steal. If you've been curious about The Stripper, this is the time, people! I mean, I've never even seen an 8oz bottle available before.
Dior Night Shock Nail Lacquer ($25, Nordstrom.com) – Part of the Colour Icons collection, this inky black with subtle shimmer reminds me of Chanel Black Satin. At least based on the pics I've seen on ImABeautyGeek.com.

Beauty
Anastasia Brow Gel Duo ($29, Nordstrom.com) – There's a reason Anastasia is known as the brow queen and her products are just as fantastic. I've been using her Brow Gel for years so this is a great way to stock up. A $42 value.
Bobbi Brown Nude on Nude Color Set ($85, Nordstrom.com) – Bobbi Brown made nudes her business and this palette is a stunner with a diverse range of shades paired with a black eyeliner and mascara. A $208 value.
Lancome Mascara Wardrobe ($39.50, Nordstrom.com) Lancome makes some great mascaras, including my fave Definicils. This set of travel size mascaras, including Cils Booster XL Super Enhancing Mascara Base, eyeliner and fan fave makeup remover Bi-Facil, gives you the opportunity to find a new fave for yourself.
LORAC Navy Skinny Eyeshadown Palette ($15, Nordstrom.com) – I get sucked in every time LORAC puts out one these LE mini palettes. They've done them for ULTA and a number of retailers and the price is always too good to pass up. This one is no exception.
MAC Look In A Box – Coral ($39.50, Nordstrom.com) – I always look forward to the Nordstrom exclusive collection that MAC puts out and this is the first one that has really caught my attention in recent years. The warm brown shadow palette and totally wearable coral lip shades are calling my name.
MAC Look In A Box Face Kit – Plum ($49.50, Nordstrom.com) – Thank you MAC. No really, thank you for putting a plastic lid on the lip colors in this multi-product palette. No more shadow dust getting caught in my gloss.
Rebecca Minkoff Erin ($49, Nordstrom.com) – I have a serious Rebecca Minkoff problem. I started with one M.A.B. bag a few years ago and my collection has grown exponentially since. I will only allow myself one of these Erin bags but I can't decide which one. Though I'm leaning towards the coral with the embossed #nordygirl. Thoughts?
Smashbox Studio Pro Brush Set ($89, Nordstrom.com) – Smashbox brushes really don't get enough fanfare and this set (a $239 value) is too good a deal to pass up. As the image says, they are extremely limited in supply so I suggest RUNNING to your local Nordstrom to secure one for yourself.

Gifts With Purchase
There are a slew of GWP items during the Anniversary Sale but these four are my favorites. To see the full list visit, Nordstrom.com.
butter LONDON and Deborah Lippmann are both offering nail polishes as their GWP. The butter LONDON gift is only available online so if you order the Funfair Fashion set, do it at Nordstrom.com.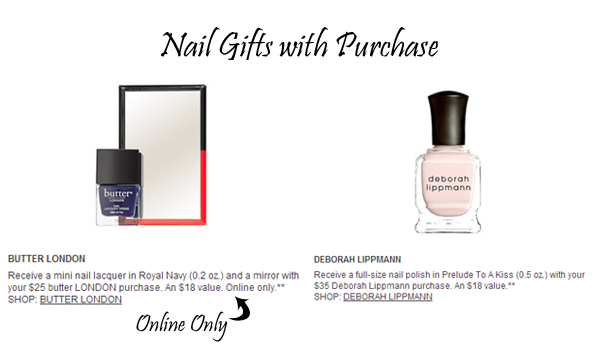 As far as I'm concerned, Estee Lauder and Lancome always have the best GWP sets. Remember those giant set EL would offer during the holiday? I found one of the palettes hiding in my old dresser at my parent's house. If your EL or Lancome order is enough to qualify for a GWP set, make sure you enter the appropriate code at checkout.
Alright shoppers, get your wallets ready. Which Nordstrom Anniversary Sale 2014 Beauty Exclusives do you plan to pick up? Have you spotted any deals that you like better than the ones I listed? Share your hauls with us!
The Nordstrom Anniversary Sale officially opens to the public on July 18th but if you are a Nordstrom Rewards member you can start shopping now. Not a member? Do like I did and get a Nordstrom Debit Card. You don't have to worry about having another store credit card yet you can earn all the same rewards. Genius! Visit Nordstrom.com/rewards for more details.
Disclosure: Affiliate links appear in this post. When you purchase through an affiliate link, you help support this site. For more info view my
Disclosure Policy
.