One of the best parts of the ULTA 21 Days of Steals for us nail polish lovers is the butter LONDON 2 for $15 sale. It's a great time to add that coveted shade to your bL collection and try the polishes you've considered but never taken the plunge on.
Today, I have my favorite butter LONDON colors that are currently available at ULTA.com, store availability will vary, to help you narrow down what is probably a mighty list of options.


Fall 2014 Brick Lane Collection Favorites
There's no official word on whether the butter LONDON Fall 2014 collection, Brick Lane, will be included or on display in stores (only one shade is online) but three of the polishes stood out to me. I haven't had a chance to swatch the collection in full but want you to have a heads up.
butter LONDON Dubs is a pink-nude sparkler that dries down textured, a cross between Zoya Pixie Dust and Magical Pixie. It has some larger hex pieces but they are smaller than Magical Pixie and not holo.
butter LONDON Cor Blimey is a regal purple shimmer that dries satin. It's really rich with a reddish shimmer that adds a lot of depth.
butter LONDON Bric-A-Brac looks like a jelly sandwich on the nail. The golden fleck particles give it a lit-from-within glow.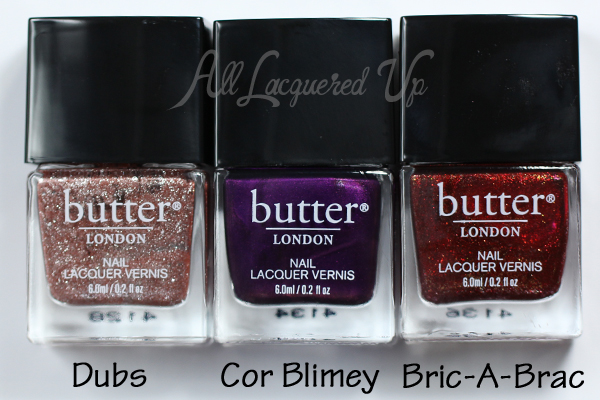 butter LONDON Core Collection Favorites
butter LONDON Wallis (swatch) is a gorgeous gold-green, cats eye type shimmer
Lady Muck (swatch) is a stunning soft blue shimmer
Artful Dodger (swatch) is a dusty teal creme
butter LONDON Marrow (swatch) is a luscious purple with a subtle shimmer
Muggins (swatch) is a whisper soft lavender creme.
Blowing Raspberries (swatch) is a classic berry creme
Note: My original bottle of Muggins was quite sheer and my review, linked above, reflects that. The current version is well pigmented and smooth.
butter LONDON Toff is a perfect mauve neutral creme for fall and practically a one-coat wonder.
butter LONDON Trout Pout is a fun bright coral creme
butter LONDON Cake-Hole is a unique pink in that it's almost neon and dries satin.
butter LONDON Molly Coddled is the warm, lilac sister to Muggins
butter LONDON Giddy Kipper is a delicious indigo shimmer. It's so smooth, rich and pigmented. Love it!
butter LONDON Slapper is a brighter, blue-r version of Artful Dodger.

And for myself, I plan to add these four beauties to my collection. Last time around, my local store didn't have them all in stock so I've been not-so-patiently waiting to add Indigo Punk, Inky Six, Champers and Blagger to my collection.
The ULTA 21 Days of Steals butter LONDON 2 for $15 Sale takes place this Saturday, 9/13, at ULTA stores nationwide and online at ULTA.com. Remember, supplies are limited so shop early.
Which bL shades are on your wish list? Do you agree with my picks? What ULTA Steals have you taken advantage of already? Don't forget to check out my favorite deals HERE.
Also, if your store has any of the butter LONDON Lolly Brights (swatches) summer colors still available, I highly suggest you scoop them up.
Disclosure: Some product samples were provided by reps for butter LONDON. The rest, I purchased. Affiliate links appear in this post. When you purchase through an affiliate link, you help support this site. For more info view my Disclosure Policy.