NY Fashion Week S/S 11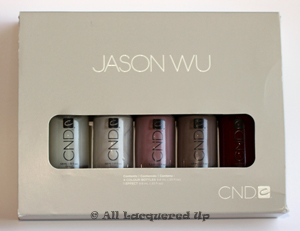 No, I didn't forget how to count, there is no Day 5 in my NYFW NOTD Challenge.  Day 5 was my NAIL FAIL day as I didn't meet my own challenge to change my nail color daily.  The best part, I was totally called out on it by my blends (blogging friends) Amber & Kristen.

Though Amber is partly to blame for my failure as I was out having a few too many adult beverages with her and Nance the night before.  The last thing I wanted to think about at the end of the night was changing my polish.

So with Day 5 behind me I couldn't resist breaking out the CND Jason Wu Collection for Day 6.  Being that I wasn't able to attend the show I couldn't get my hands on one of the special sets gifted to attendees but CND Co-Founder and Creative Director Jan Arnold was extremely generous, giving up her own personal set to me.  Can you even?