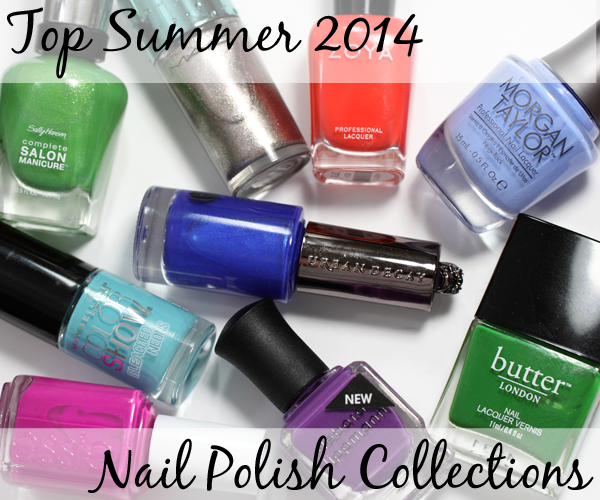 I know we're still enjoying Spring (or waiting for it to actually arrive) but Summer is just around the corner and I'm ready for bright, bold summery polish. This week the Top 10 Tuesday crew is talking summer nail polish colors and I couldn't narrow my favorites down to just ten shades so, instead, I'm sharing my favorite Summer 2014 Nail Polish Collections.


butter LONDON Lolly Brights (review) - Between the gorgeous foils and super saturated cremes, this collection hits on everything I love about summer nail color.
China Glaze Off Shore (review coming) – I'll be honest, it's been a while since a China Glaze collection thrilled me but this rainbow mix has me giddy. I mean, look at the blues, greens and purples. You guys know those are my colors so I'm all about it!
Deborah Lippmann 80s Rewind (review) – As an 80s baby, the names and theme get me just as much as the rich, bright shades do. As much as I love the Deborah Lippmann glitter party of summers past, these cremes are outstanding and such a breath of fresh air.
Essie Summer 2014 Neons "Too Taboo" (review) – As you saw in my Multi-Color French using Too Taboo, these are not your traditional neons. You don't need a white base and there is no streaky, matte formula to contend with. They're simply fantastic!
MAC Alluring Aquatic (review coming) – Summer calls for metallics and just as I was smitten with MAC Fierce Entrance and Magnificent Feast from Holiday, Shimmerfish, Neptune and Submerged have stolen my heart as well. And that packaging, can you even?
Maybelline Bleached Neons – Not quite pastel, not quite neon, the Bleached Neons are what I would call energized pastels. I showed them off in my Interlocking Dots Manicure and, for the price, they are worth checking out.
Morgan Taylor Island Treasures (review) – I'm just getting to know the Morgan Taylor line and, so far, I'm impressed. The formula is silky smooth and pigmented and wears really well. With obvious "me" shades, the Island Treasures collection immediately caught my eye. And even though I'm not really a pink girl, every so often I crave a hot pink, and Tropical Punch is stunning.
Sally Hansen Complete Salon Manicure Beach Paradise (review) – This collection is a winner for Summerlime alone. Fortunately, it's not the only gem to be discovered. Leis-y Days is worth seeking out and, I mean, look at that blue!
Urban Decay Summer 2014 (review) – I can't tell you enough how much I love Chaos. If I did make a Top 10 list of summer polishes, it would definitely be at the top. Then again, I adore everything about the new UD polishes; the bottle, the brush, the formula, the tightly edited colors.
Zoya Bubbly & Tickled (review) – The Zoya summer collections continually hit it out of the park and this year is no exception. I love the shimmery holo glitters in Bubbly and the full-coverage cremes in Tickled. The fact that they pair so well together just adds to their allure.

Loading InLinkz ...

So what summer collections are you loving so far? Which ones are you most looking forward to picking up? Do you have an all-time favorite summer collection? I think mine is a tie between Zoya Sparkle and China Glaze Summer Nights.
Disclosure: Product samples were provided by reps for the brands featured. Affiliate links appear in this post. When you purchase through an affiliate link, you help support this site. For more info view my
Disclosure Policy
.