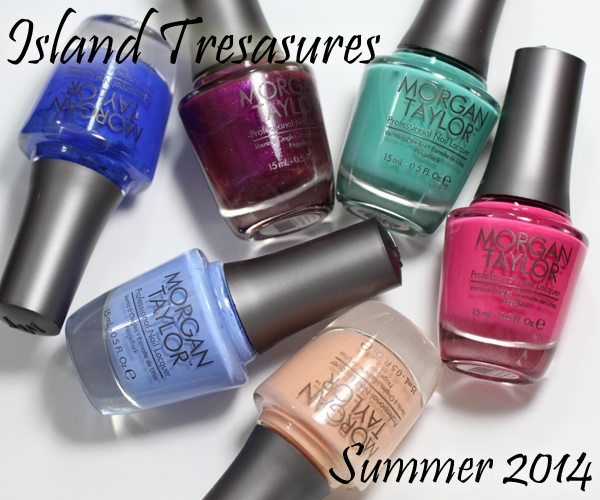 As I told you when I named my Top 10 Summer Nail Polish Collections, Morgan Taylor Island Treasures made the list for its mix of "me" colors with more mainstream shades like pink and fuchsia. The brand really hasn't gotten enough attention for its top notch formula which you'll get to see in a new video series I'm testing out.


Formula & Application
Morgan Taylor nail polish is 5-Free (Formaldehyde, Toluene, DBP, Formaldehyde Resin, Camphor). The tapered glass bottles have a weighty, substantial feel and the smooth plastic cap has a bit of a curve at the base which rests comfortably between fingers. The brush is long, flat, dense and medium in width. The bristles are firm but can fan out to give good coverage.
The formula isn't quite as watery as Essie's but it's not thick and creamy either. The pigmentation is strong though some lighter shades require three coats for full coverage on camera. It was only the peach creme, Beach Babe, that gave me any streaking issues but after three coats it's nice and smooth.
So about this video I mentioned above. As much as I try to give you a good picture of how polishes apply through words, I thought a visual may be more useful. That prompted me to film this "Try It On" video of the collection. I hope it's helpful and I'd love your thoughts on whether I should do these for more reviews.
ps my camera was set on a lower quality when I filmed myself so that's why it's not as clear as the nail shots. Mistakes were made.
If you can't view the video below CLICK HERE.


Morgan Taylor Beach Babe is a peach creme. It's not at all pastel or chalky and has quite a bit of orange in its base. It reminds me of the old school "flesh" Crayola crayon that was representative of no one's actual skin tone.
Morgan Taylor Going Native is a sea green creme. It's a perfect blend of turquoise and teal in that it doesn't lean too blue or too green. Something along the lines of Essie Where's My Chauffeur?
Morgan Taylor Making Waves is yet another one of those power blue cremes that I'm obsessed with this season. It's a slightly lighter version of Milani Blue Zoom and more purple than JINSoon Cool Blue.
Morgan Taylor Sarong but So Right is a vivid fuchsia with a metallic shimmer and tiny tonal flecks. It's deeper and richer than CND Sultry Sunset.
Morgan Taylor Take Me To Your Tribe is a periwinkle creme. It's a lighter, brighter China Glaze Secret Peri-winkle, an all-time fave of mine.
Morgan Taylor Tropical Punch is a hot pink creme. It's festive and, in spite of my general aversion to pink, I kind of want to wear it on my toes.

Bottom Line: I've had nothing but good experiences with the Morgan Taylor polishes I've tried. The application and wear have been on par with the top brands and I love the color range of this collection. Making Waves, Take Me To Your Tribe and Going Native are my obvious standouts but Tropical Punch has given me wandering eye syndrome. The only shade that didn't impress me as much as the rest is Beach Babe.
Morgan Taylor Island Treasures is available now. As a professional brand, they are only sold at salons and spas so locating it locally can be a challenge. LoxaBeauty.com is an authorized online retailer where the polishes sell for $8.50/ea.
Have you tried Morgan Taylor nail polish yet? Has it popped up at a salon near you? What do you think of the Island Treasures collection? Was my application video of help? What would make it better? 
Disclosure: Product samples were provided by reps for Morgan Taylor. Affiliate links appear in this post. When you purchase through an affiliate link, you help support this site. For more info view my
Disclosure Policy
.