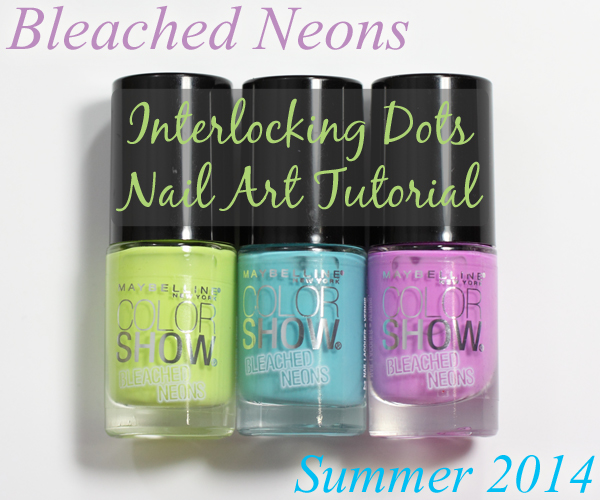 Normally, when I see a neon nail polish collection, I cringe a bit inside. While bright and fun, neons are notorious problem children. They are plagued by opacity issues, streaks and the need for a white base coat. In other words… TOO.MUCH.WORK!
Thankfully, we're seeing some non-traditional neons this season, like Essie's version and now the Maybelline Color Show Bleached Neons, which are a not-so-in-your-face take on the day-glow brights we typically associate with the genre. I decided to tackle one of my first PinspiratioNAIL pins, a look I've been wanting to try for a while now, with these punchy new shades.


The Pinspiration
When I spied this interlocking dots look on Pinterest, I was instantly smitten. I don't know who originated the technique but I loved this pink and black take on it by Polish Obsession for Subliminally Smitten.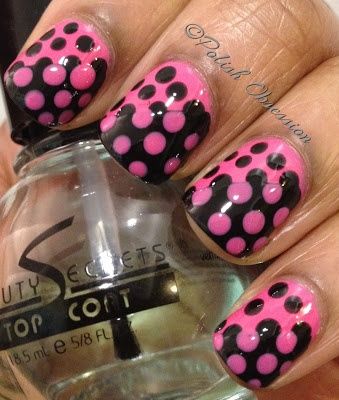 The only problem, I wasn't sure which of the seven Bleached Neons I wanted to use. Originally I thought of doing a rainbow style look but, as you can see, not all of the color combinations popped. Time to scale back.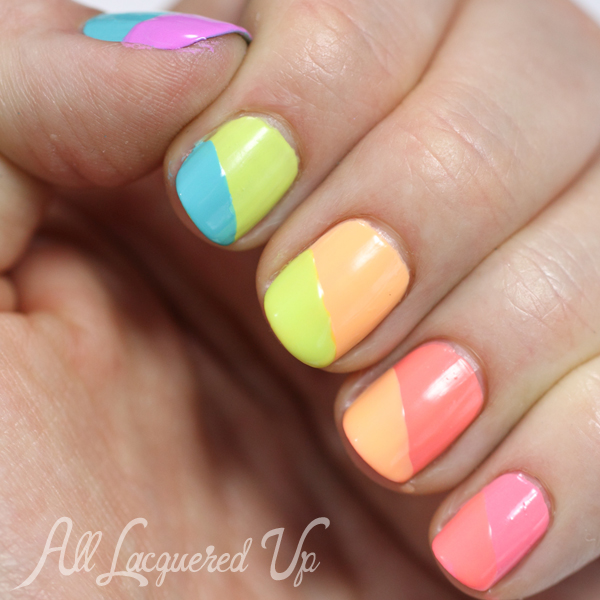 The contrast of Day Glow Teal with both Ultra Violet and Lime Accent appealed to me most so they made it into the final look. Plus, they are the most pigmented shades which is optimal for dotting.
From thumb to pinkie (without top coat): Maybelline Ultra Violet, Maybelline Day Glow Teal, Maybelline Lime Accent, Maybelline Bleached In Peach, Maybelline Coral Heat, Maybelline Pink Punch. The only Bleached Neon I omitted was Maybelline Citrus Collide because, yellow (need I say more?).

Get The Look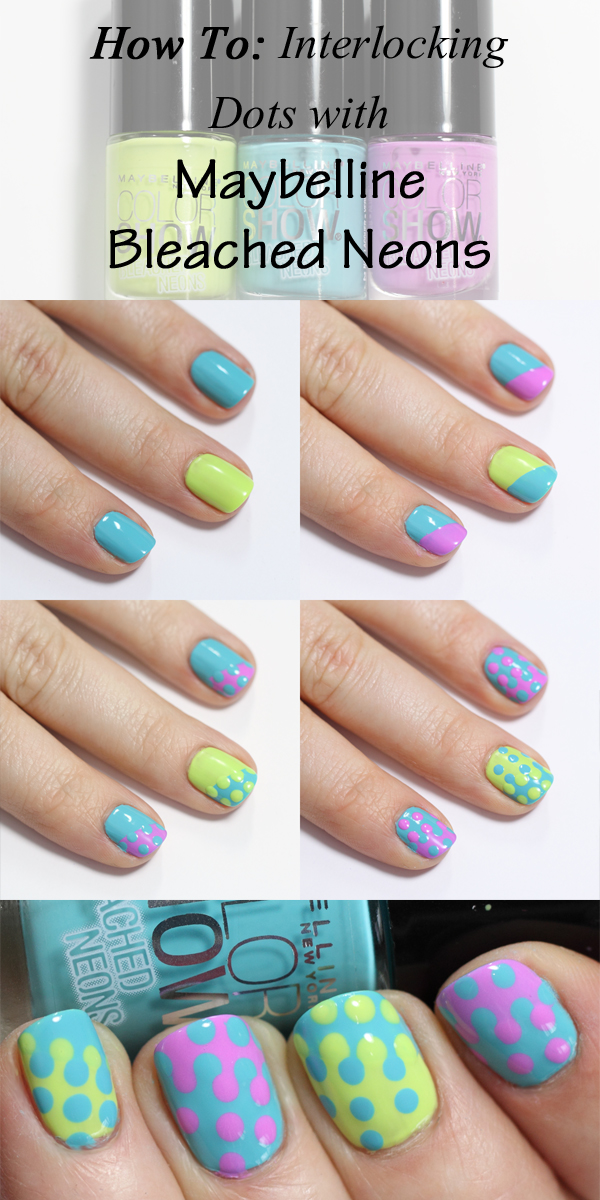 Interlocking Dots Tutorial
1. Apply your base color. I alternated between Day Glow Teal and Lime Accent and used Ultra Violet on my thumb.
2. Apply your contrast color to the top half of the nail, on an angle. I do this freehand, starting at the mid-point of the nail, swiping towards the opposite upper corner. The line doesn't need to be perfectly straight as the dots will cover it.
3. Use a dotting tool to apply dots with your base color along the upper side of the line you created. Try to space the dots evenly apart and just slightly overlapping the line. Add additional dots to the upper half of the nail, in a consistent pattern.
4. Apply dots in your contrast color along the lower side of the line, in between the first set of dots. Add additional dots to the lower half of the nail, in a consistent pattern.
5. Wait 15-20 minutes for your dots to dry before applying top coat. I used HK Girl from Glisten & Glow to avoid smearing.
Dotting Tips: Work quickly with your polish once you pour it out. The longer it's exposed to air, the thicker it becomes. To achieve evenly sized dots, press until you just feel the dotting tool hit the nail surface and clean between each nail.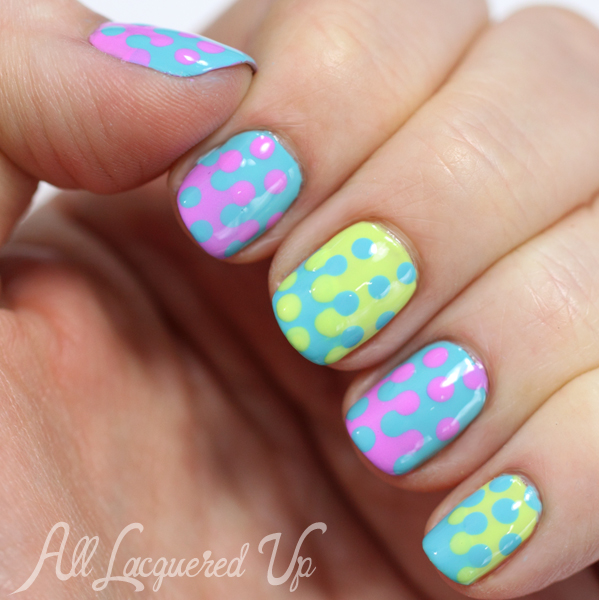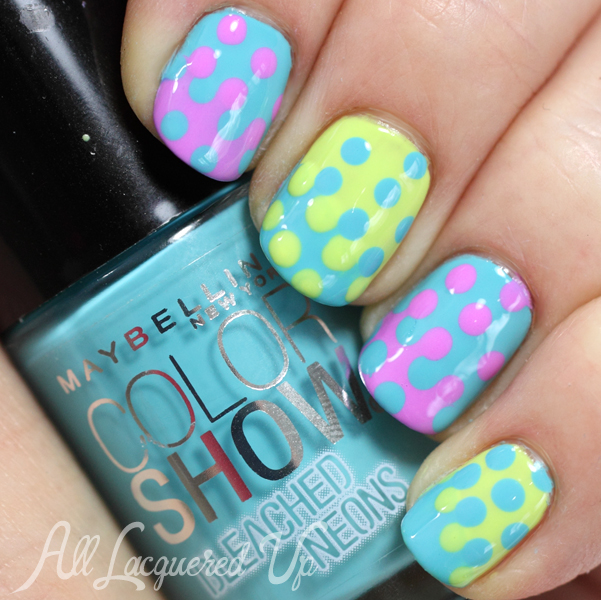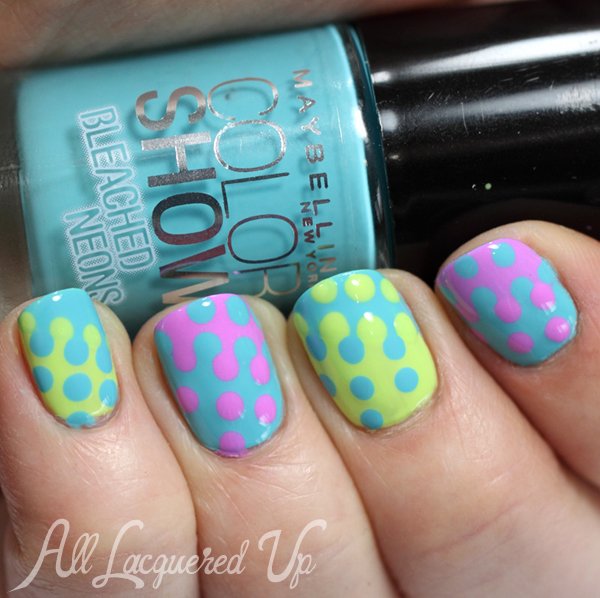 The Maybelline Bleached Neons are limited edition and available now at drugstores and mass retailers nationwide. Maybelline Color Show nail polish retails for $3.99/ea for a .23oz bottle. I've also seen them on eBay.com, if you're looking for an online outlet.
Have you spotted the Bleached Neons in store yet? Which shades do you plan to pick up? Have you tried this interlocking dots technique? What are your favorite color combos for it?
Disclosure: Product samples were provided by reps for Maybelline. Affiliate links appear in this post. When you purchase through an affiliate link, you help support this site. For more info view my
Disclosure Policy
.