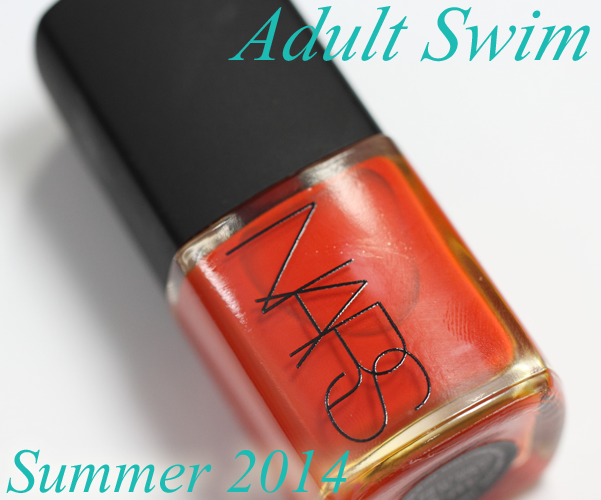 What is it about warmer weather that draws me to creme polishes? Can someone explain this? I get wanting glitters and sparkle around the holidays, darker shades in the winter, lights & brights in the spring but when the sun starts peeking out on a regular basis, I want rich, glossy color and I don't get the correlation.
Anyway, when it came time to select my #ManiMonday shade, I remembered that the boyfriend actually paused to notice when NARS Libertango from the Summer 2014 Adult Swim collection arrived. Creme, check! Boyfriend approved, check! Done deal!


Formula & Application
NARS nail polish is 4-Free (Formaldehyde, DBP, Toluene and Formaldehyde Resin). The squat square bottles are topped with a somewhat rubberized cap that houses a short, round brush. Unlike a lot of prestige brands that have a removable outer cap, the NARS cap is one solid piece. The bristles are pretty flexible, though they are kind of sparse and don't fan out easily.
I've mentioned this many times over the past couple years but ever since the Thakoon collection, NARS nail polish has been on point in terms of consistency, pigmentation and coverage. Libertango is no exception. It is opaque in two coats, applies flawlessly and dries nice and glossy.

NARS Libertango is a burnt orange creme. It can look more brick red in indirect lighting and more sun-ripened tangerine in direct light. It's definitely unique in that respect. And, after hunting through my red and orange nail polish drawers, I came up empty for a similar color, as you'll see below.
Compared to previous orange offerings from NARS, Libertango is definitely darker and more red than NARS TV Party from the Warhol collection and nowhere near as neon or traffic cone-esque as NARS Madness.
The only polish I have that has even the slightest resemblance to Libertango is L'Oreal Precious Coral but that one is way more red.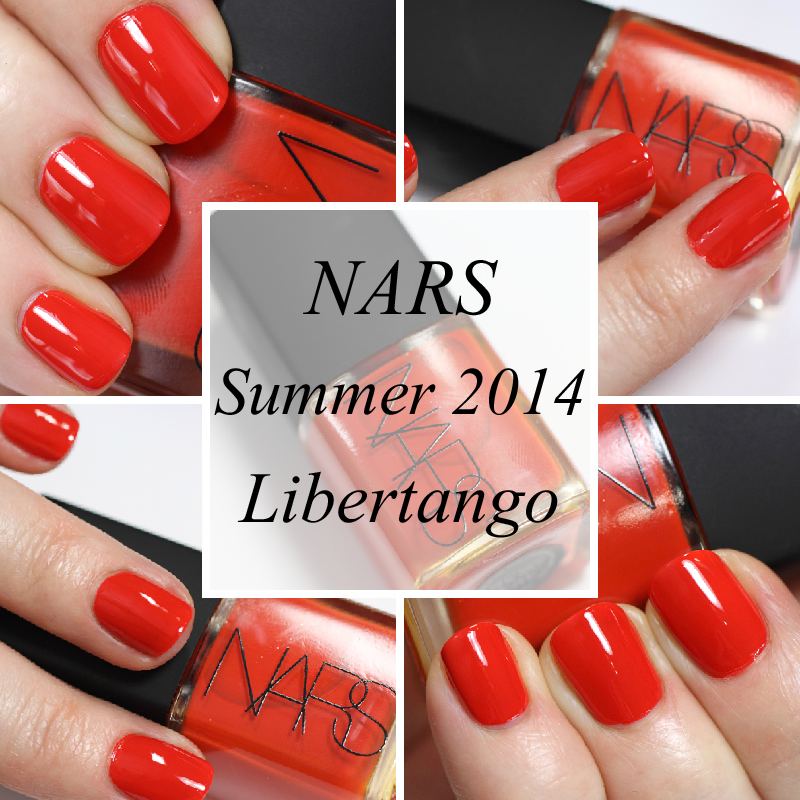 Bottom Line: Libertango has a sun-baked feel that is perfect for summer. The color is unique to my collection and the formula is top notch. Which is a good thing, considering the price point.
NARS Libertango is available now at NARS boutiques and counters nationwide and online at NARSCosmetics.com and Nordstrom.com. NARS nail polish retails for $19/ea for a .5oz bottle.
Is this a red-orange you would wear? What are your favorite NARS nail polish shades? Is anyone else hoping they bring back glitter/shimmer for fall? They've had so many cremes this past year.
Disclosure: Product samples were provided by reps for NARS. Affiliate links appear in this post. When you purchase through an affiliate link, you help support this site. For more info view my
Disclosure Policy
.