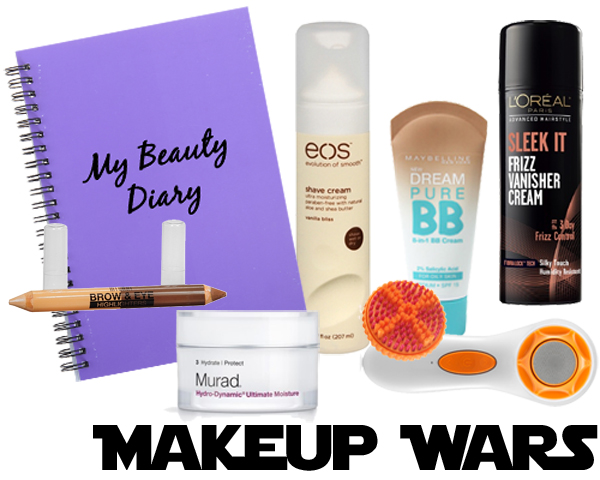 Affiliate Link|I Bought This|Press Sample
When you want to lose weight, nutritionists suggest starting a food diary to track everything that goes in your mouth each day. It's usually quite surprising when you think of every taste, snack and sip outside of your main meals.
As fellow beauty lovers, have you ever thought of tracking all the potions, lotions, and products you use in one day, from morning til night? That's the task for this week's Makeup Wars and well, as if I didn't already feel like a product junkie, this made it even more apparent. See everything it takes to get me through just one typical day.


The List
Since I work from home, unless I have evening plans, my weekday routine is very minimal. I mean, outside of hitting the gym, I live in yoga pants and a ponytail. So, I used this past Saturday for my beauty diary since I actually make an effort on weekends.
For me, most Saturdays are spent running errands and then either a nice dinner out, hanging in our neighbor's backyard or possibly an event around town. This weekend was pretty low key. Cooking at home and crashing a four-year-old's birthday a few doors down. I mean, they had a giant princess bouncy house and cupcakes. That's a no-brainer.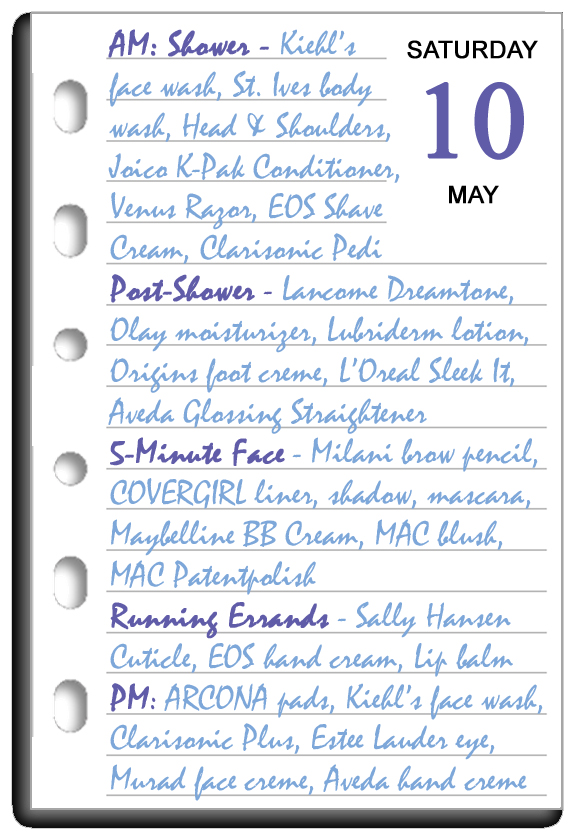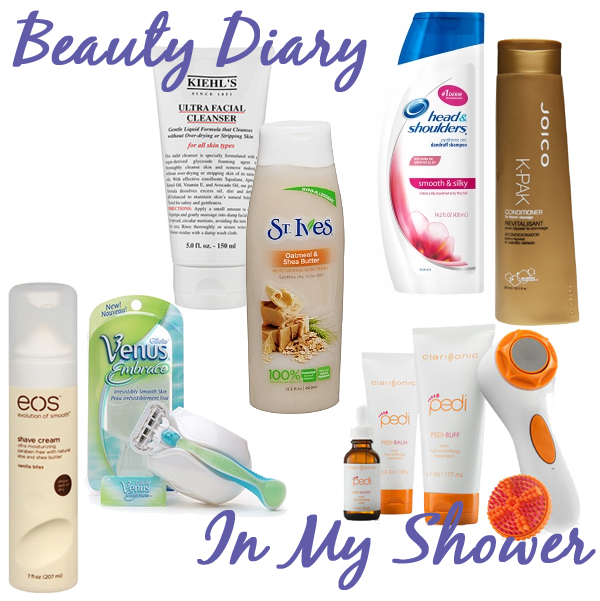 First things, first. I'm a morning shower person. With the way my hair misbehaves I could never wash it the night before and function. And since I've been battling a bout of dandruff (embarrassing and annoying), I've had to ditch my usual sulfate-free 'poos for Head & Shoulders. I've also been testing the Clarisonic Pedi (a full review is in the works) so I've added that to my shower routine.
ps I spotted Joico K-Pak liters at TJ Maxx and am going back to stock up. That conditioner is heavenly.
In My Shower - Kiehl's Ultra Facial Cleanser ($19.50, Nordstrom.com), St. Ives Oatmeal body wash ($3.59, Drugstore.com), Head & Shoulders Soft & Silky Shampoo ($6.49, Drugstore.com), Joico K-Pak Conditioner ($12.80, Drugstore.com), Gillette Venus Embrace Razor ($12.59, Drugstore.com), EOS Shave Cream ($3.49, Drugstore.com), Clarisonic Pedi Sonic ($199, Nordstrom.com).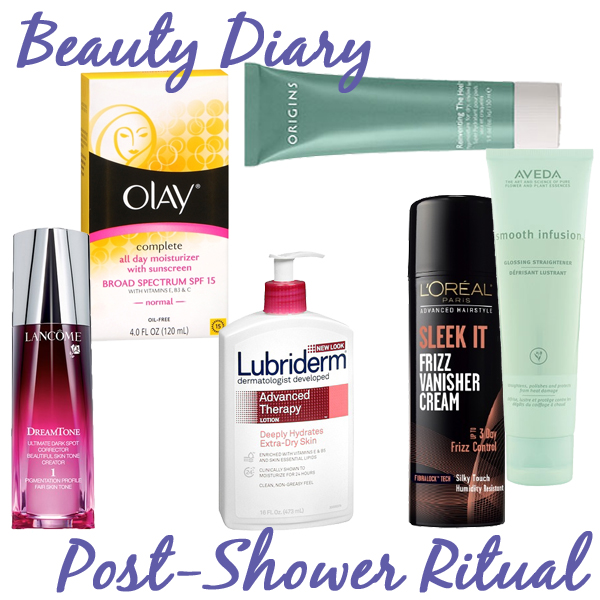 I don't like to use a lot of products on my face during the day, it just feels too heavy. A non-sticky serum, like this new one from Lancome, and a great everyday lotion from Olay is all I need.
And while I'm normally a hair styler snob, like to the Nth degree, I'm really liking the new L'Oreal Advanced Hairstyle collection. I ditched my Oribe leave-in for this Sleek It one and saved myself $40+.
Post-Shower: Lancome Dreamtone Serum 1 ($98, Nordstrom.com), Olay Complete All Day Moisturizer SPF 15 ($5.99, Drugstore.com), Lubriderm Advanced Therapy Lotion ($7.99, Drugstore.com), Origins Reinventing The Heel ($23.50, Origins.com), L'Oreal Sleek It Frizz Vanisher Cream ($4.99, Drugstore.com), Aveda Smooth Infusion Glossing Straightener ($23, Nordstrom.com).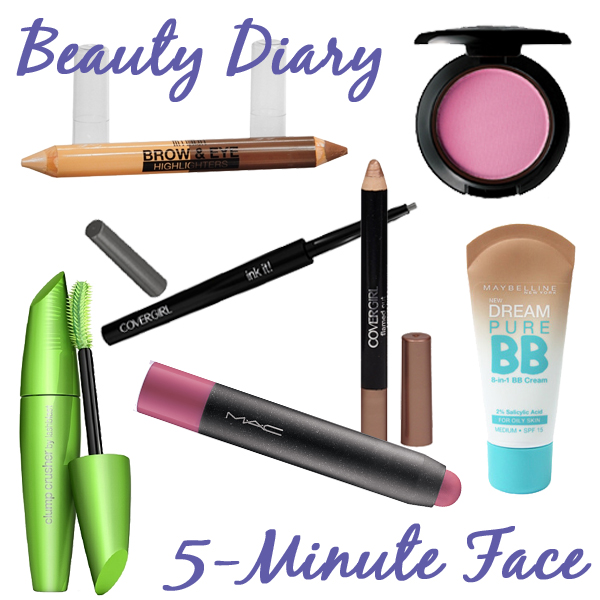 You've seen my 5-Minute Face before but I've altered it a bit since then. It's still the same type of products, just different brands. Milani recently introduced new brow products so I'm giving them a try in place of MAC pencil, which is getting pretty small.
Now that it's finally getting warmer, I'm testing the new Maybelline Dream Pure BB with Salicylic Acid since my skin tends to be more oily in the summer.
Also, since I discovered the ease and amazing wear of the COVERGIRL Flamed Out Shadow Pencil, it's been permanently added to my routine.
5-Minute Face: Milani Brow & Eye Highlighter ($6.49, Drugstore.com), COVERGIRL Ink It! Charcoal Ink eyeliner ($5.19, Drugstore.com), COVERGIRL Flamed Out Shadow Pencil in Melted Caramel Flame ($5.19, Drugstore.com), COVERGIRL LashBlast Clump Crusher Mascara ($5.51, Drugstore.com), Maybelline Dream Pure BB Cream (Maybelline.com), MAC True Romantic Beauty Powder Blush (discontinued), MAC Patentpolish Lip Pencil in Spontaneous ($20, Nordstrom.com).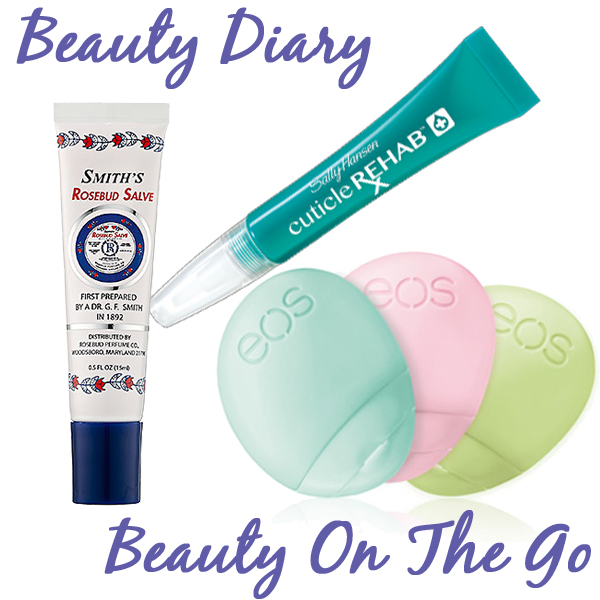 In addition to the plethora of lip products in my purse, there are three things I always have on hand. Cuticle cream/oil, hand lotion and lip balm. Considering that most people I see will, at some point, check out my nails, dry hands or cuticles are unacceptable.
Running Errands – Smith's Rosebud Salve ($6, Sephora.com), EOS Refresh Everyday Hand Lotion ($1.99, Drugstore.com), Sally Hansen Cuticle Rehab ($7.49, Drugstore.com)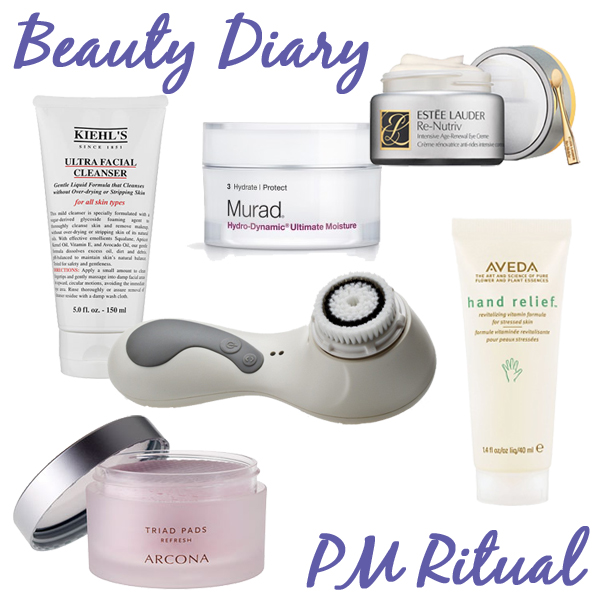 As much as I'd love to say I do this every night, on average, I can only manage a face wipe to take off the day's grime. Though I'm usually pretty diligent on weekends as that's when I tend to have makeup on.
You only get one face and one chance to keep it tight so the one place I refuse to scrimp is on skincare. The boyfriend may have freaked the first time I brought my Estee Lauder eye cream home but when I broke down the actual cost, considering how long it lasts, I "somewhat" convinced him it's not crazy.
Also, ever since I've incorporated a Clarisonic into my nighttime routine, it has made a world of difference in the number of breakouts I get and my skin's overall texture.  I'm a believer in investing in the Plus as I use the body brush year round. It's especially handy in the summer to prep for self-tanner.
Before Bed: ARCONA Triad Pads ($32, Nordstrom.com), Kiehl's Ultra Facial Cleanser ($19.50, Nordstrom.com), Clarisonic Plus ($225, Nordstrom.com), Murad Hydro-Dynamic Ultimate Moisture ($65, Sephora.com) Estee Lauder Eye Cream ($120, Nordstrom.com), Aveda Hand Relief ($22.50, Nordstrom.com).

Loading InLinkz ...

Okay, confess, how many products do you use in a day? Have you ever taken inventory on your daily beauty routine? Does my list seem totally over the top, just about right, or much lower than you expected?
Disclosure: Product samples were provided by reps for some of the brands featured. Others were purchased by me. Affiliate links appear in this post. When you purchase through an affiliate link, you help support this site. For more info view my
Disclosure Policy
.