My first year in college, I joined a sorority (Alpha Delta Pi). Living on an engineering floor comprised of 44 guys and 5 girls didn't offer much in terms of socializing so going Greek made sense for me. One of the rules my sisters imparted on me upon receiving my first "letters" to wear… don't wear them in public without AT LEAST mascara and lip gloss on your face.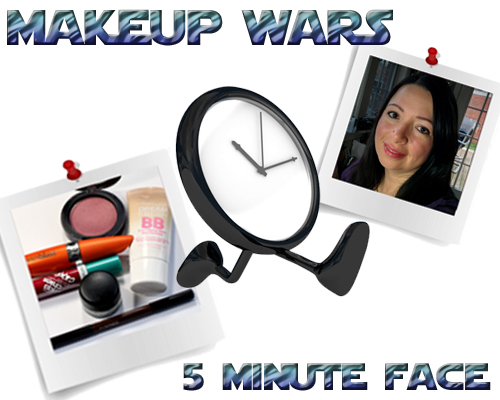 Affiliate Link|I Bought This|Press Sample
It sounds silly but it's something that has stuck with me throughout the years. Like the the mnemonic device, "Don't leave home without your M.I.L.K. (money, ID, lipstick and keys)," it's just good sense!
So when it comes to my 5 Minute Face, the focus is always lips and eyes. And considering that I'm usually running late and don't have time for a full face of makeup, this is pretty much my everyday look.

My 5 Minute Face
Let's break it down. I always start with my eyes, the windows to the soul, and finish with my face, if time allows. I actually timed myself putting these products on and it did only take me five minutes, maybe six.
Brows – I never used to bother with my brows but as they are getting a bit sparse with age, yippee, I make time to fill them in with my MAC Veluxe Brow Liner in Deep Dark Brunette ($19.50).
Eyeliner – In a perfect world, we would all have natural liner like Eyeliner Richard from Lost. Alas, my lashes aren't dense enough to create the illusion of liner so out comes the MAC Blacktrack Fluidline ($16).
Mascara – My lashes are straight and short so I can't ignore them. A quick curl and a couple coats of COVERGIRL LashBlast and I'm all set.
BB Cream – I used to be all about tinted moisturizers until BB Creams came into my life. I started using the Garnier one but I prefer the thin, creamy texture of Maybelline Dream Fresh BB Cream in Light/Medium ($8.99). Plus it has a more diverse color range.
Blush – Wearing BB Cream alone can wash out the face and give it a lifeless appearance. I find taking the time for a swipe of blush is a necessary step. I rely on MAC True Romantic Beauty Powder Blush.
Tinted Lip Balm – I usually apply this in the car on the way to my destination. Only at a stoplight or when someone else is driving, people. I'm not one of THOSE drivers. Lately, I've been crushing on COVERGIRL Lipslicks Smoochies in Text Me ($4.94). They remind me of Clinique Almost Lipstick, only they're 1/3 the cost and way more moisturizing.


What is your makeup focus when you're tight on time? Which products are part of your 5 Minute Face routine?
Disclosure: Product samples were provided by reps for COVERGIRL, Maybelline and MAC. I have re-purchased some items myself. Affiliate links appear in this post. When you purchase through an affiliate link, you help support this site. For more info view my Disclosure Policy.