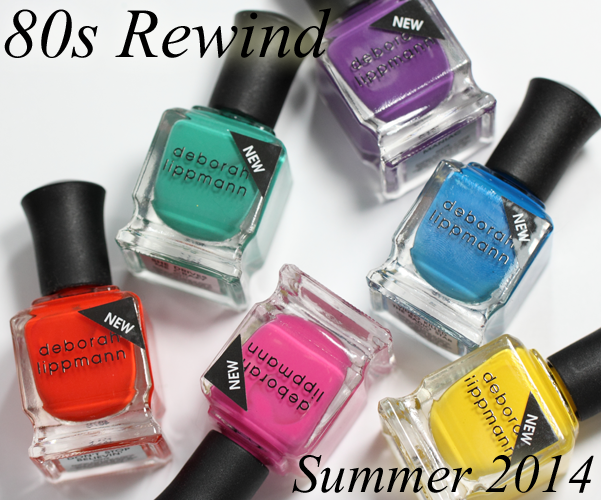 Is anyone else obsessed with the "80s Project" on Grey's Anatomy? If you aren't in the know, the second half of the season featured unique covers of creator Shonda Rhimes' favorite 80s tunes. We're talking, "Take On Me", "Tainted Love", "Fame", etc. I hope they sell them as a compilation.
Between that and the Deborah Lippmann Summer 2014 "80s Rewind" collection, I'm loving this celebration of my favorite decade for music.


Formula & Application
Deborah Lippmann nail polish is 5-Free (DBP, Toluene, Formaldehyde, Formaldehyde Resin, Camphor) and cruelty-free. Her signature glass bottle is one of the most recognizable shapes in the industry and it's totally vanity display worthy. The curved cap was designed with professional manicurists in mind as it is shaped to rest comfortably between your fingers. The Lippmann brush is short, round and average in width with flexible bristles that easily fan out over the nail plate.
First things, first. It should come as no surprise that the only shade I have any application issues with is the yellow. It's yellow. Comes with the territory. That being said, it's not bad for a yellow. A little thick but after three coats, it's nice and smooth.
The rest of the collection certainly makes up for it. Smooth with a jelly-esque feel and pigmented. Two coats of each color gets it done!

Deborah Lippmann Don't Stop Believin' is a bright, papaya red-orange creme. CND Electric Orange is in the same color family, though lighter and not as red.
Deborah Lippmann Maniac is a slightly red-based grape creme. It's not quite as blue or dark as China Glaze Grape Pop. In fact, it's very similar to Sally Hansen Triple Shine Vanity Flare.
Deborah Lippmann She Drives Me Crazy is a teal creme that's more green than blue. It's pretty damn close to Sally Hansen Triple Shine Seasational.
Deborah Lippmann Video Killed The Radio Star is a bright Caribbean blue creme. If China Glaze Isle See You Later was opaque, it would be a close twin. In the bottle they look dupe-y but the ChG shade is so sheer it's ridiculous.
Deborah Lippmann Walking On Sunshine is a taxi cab yellow creme with a hint of French's mustard. I don't own anything quite like it though Zoya Darcy is close just not as intense.
Deborah Lippmann Whip It is a cool, bright pink creme. To me, this is OPI La Paz-itively Hot, without the shimmer.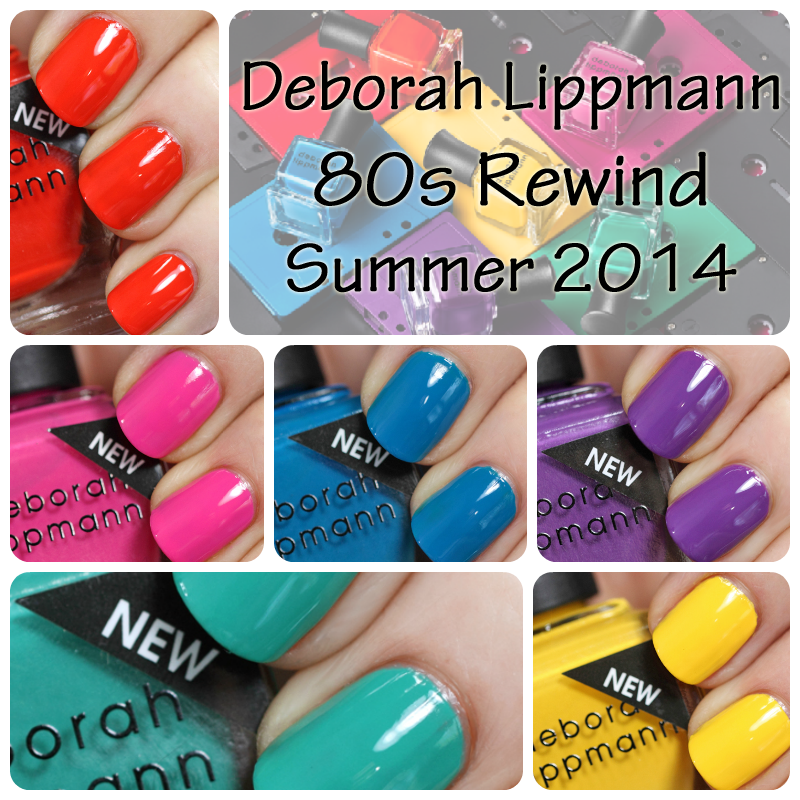 Bottom Line: I love a nail theme party and Deborah Lippmann hit me in my sweet spot. These colors are so 80s but not in a cheesy retro way. Kind of like how The Goldbergs is sentimentally reminiscent while That 80s Show was more of a send-up. It's also why one show got renewed and the other tanked after a few airings.
Video Killed The Radio Star is definitely my favorite of the collection, with She Drives Me Crazy coming in a close second. And you know Maniac won my purple-loving heart. There are similar shades on the market but, if it's in your budget, I love the DL formula, bottle and brush.
Deborah Lippmann 80s Rewind collection is available now at DeborahLippmann.com,  NeimanMarcus.com,  Nordstrom.com, Sephora.com and ULTA.com. Deborah Lippmann créme nail polish retails for $18/ea for a .5oz bottle.
Thoughts on 80s Rewind? Which shades are calling to you? What kind of 80s inspired nail art would you create with these shades?
Disclosure: Product samples were provided by reps for Deborah Lippmann. Affiliate links appear in this post. When you purchase through an affiliate link, you help support this site. For more info view my
Disclosure Policy
.