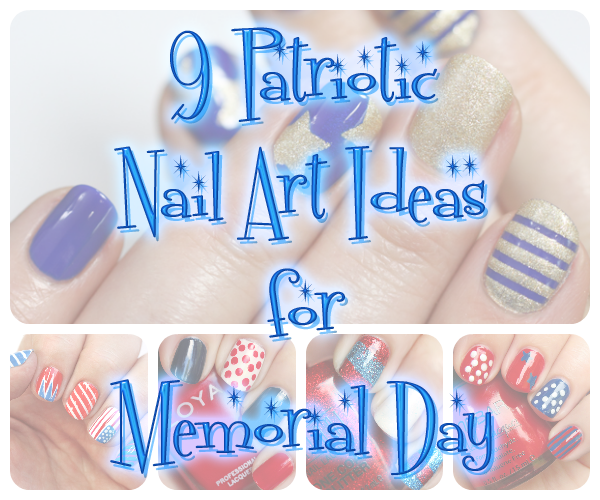 Memorial Day Weekend is the official kick-off to summer in the US and it looks like we're going to have beautiful weather here in the CLE. Apparently, my street will be in our city's parade so you know I need a manicure for the event.
If you enjoy a themed mani as much as I do, then you'll love these Nine Patriotic Nail Art Ideas to get you in the spirit to honor the service men and women who gave their lives to ensure our freedom. Let's get our Red, White & Blue on!


A Nautical Take on Stars & Stripes
I've done quite a few traditional red, white and blue manicures, as you'll see below, so I wanted to take a different tack for my Memorial Day Weekend look. When I got my hands on the new nautical-themed Lancome Summer 2014 French Riviera Collection, it was like it was meant to be.
The collection includes three nail shades, Marine Chic (navy creme), Nuit D'Azur (cobalt creme jelly) and Golden Riviera (matte gold). I used the latter two for my design.
I started by applying two coats of Nuit D'Azure and Golden Riviera and letting them dry completely.
On my index finger I placed striping tape over Nuit D'Azure and then polished a coat of Golden Riviera, pulling up the tape with tweezers immediately after.
On my ring finger, I employed my star shaped Nail Vinyls, placing two individual stars hanging off my nails before applying a coat of Nuit D'Azur.
I reversed the pattern on my right hand.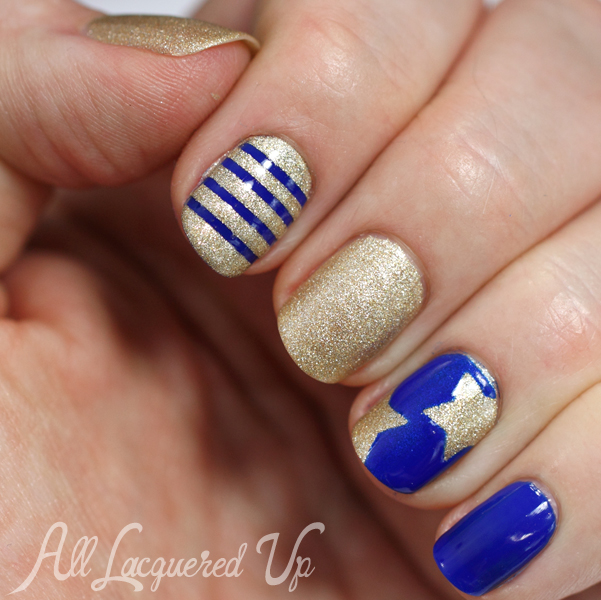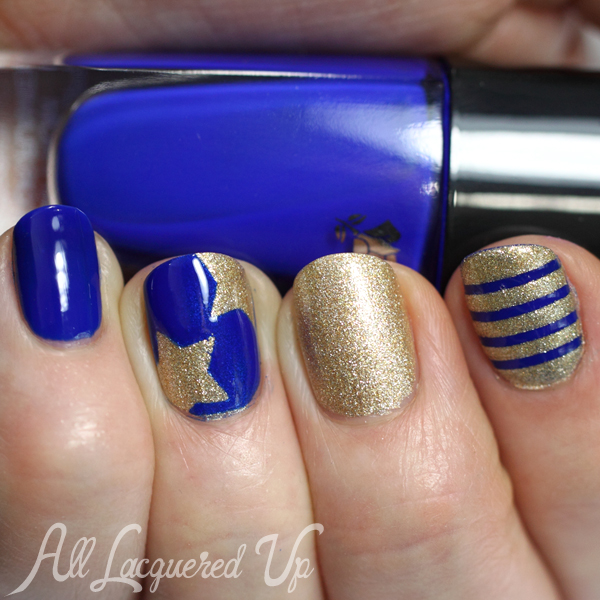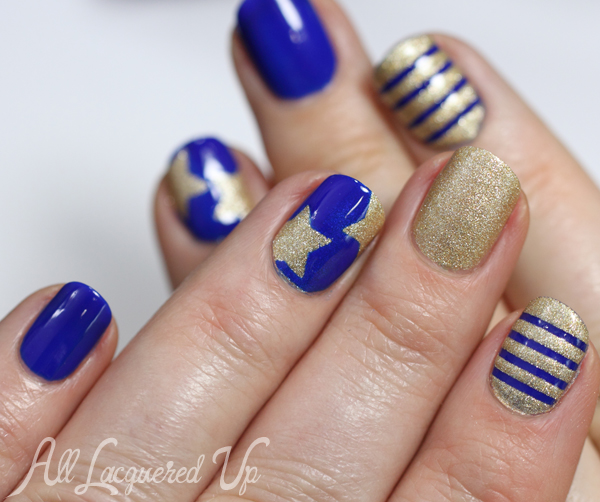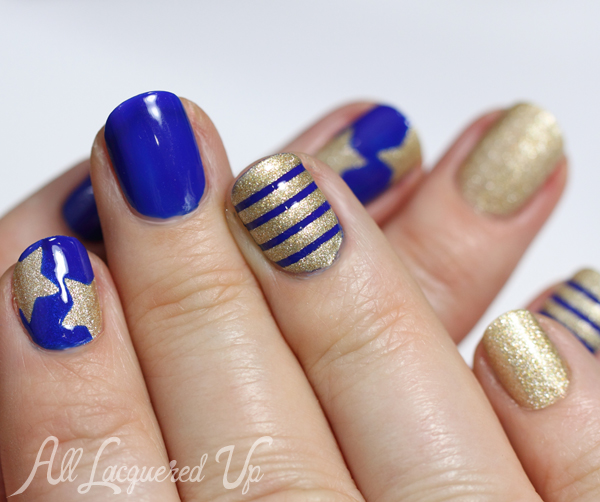 Eight More Memorial Day Nail Art Ideas
You're a Grand Old Flag  (how-to)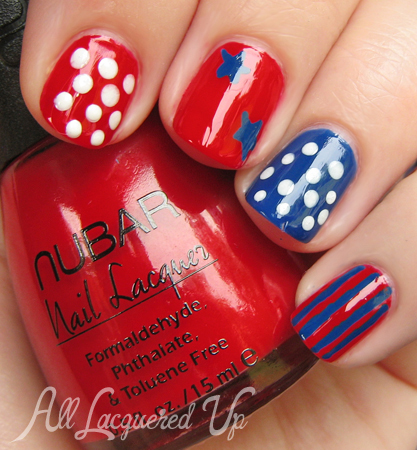 America The Beautiful Glitter Stripes (how-to)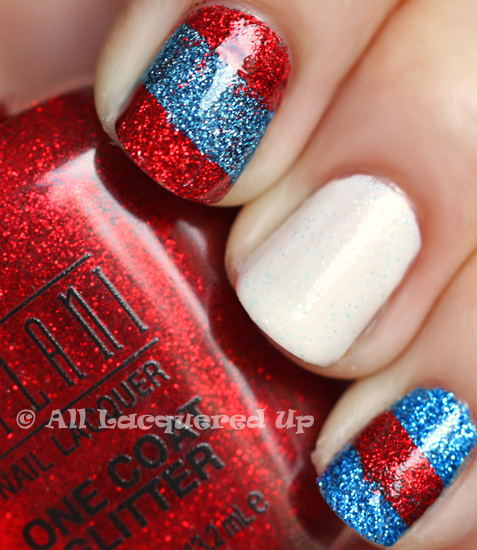 Dotty Red, White and Blue (how-to)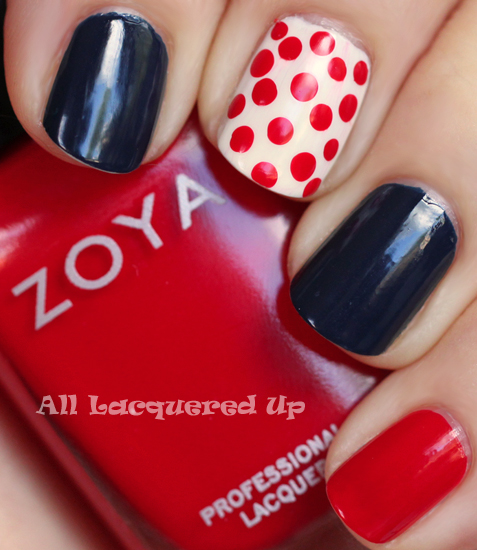 From Sea To Shining Sea Blue Gradient (how-to)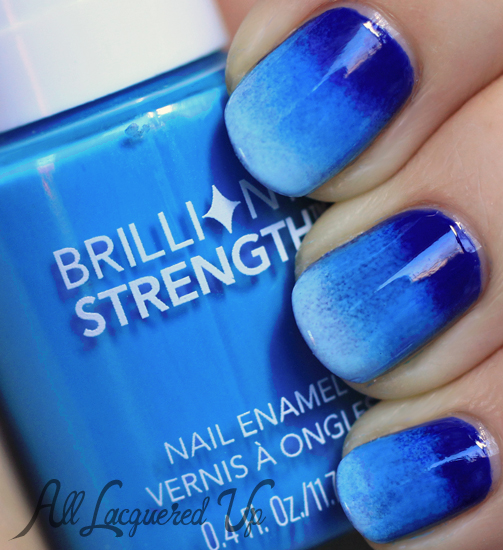 Blue Ombre Stripes with a Red Glitter Accent (how-to)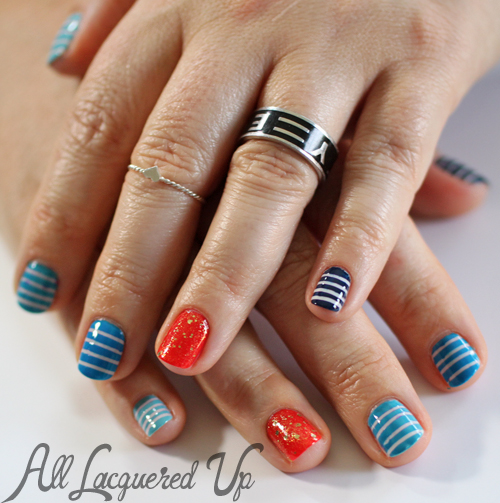 Old Glory Stripes  (how-to)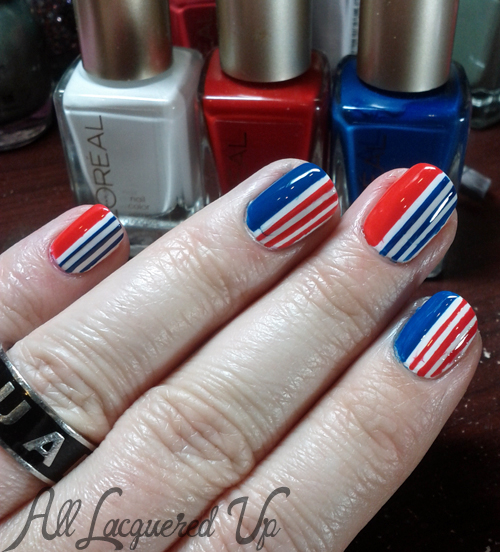 Rockets Red Glare Flag and Flames (how-to)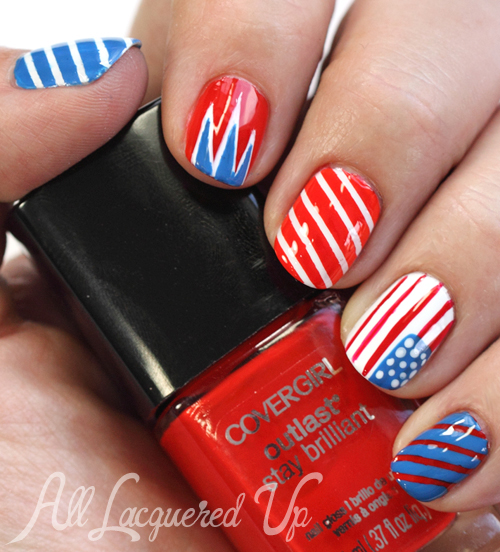 Finally, my buddy Jin Soon Choi created a not-so-literal take on Patriotic Nails for the holiday using her eponymous nail polish line, JINsoon.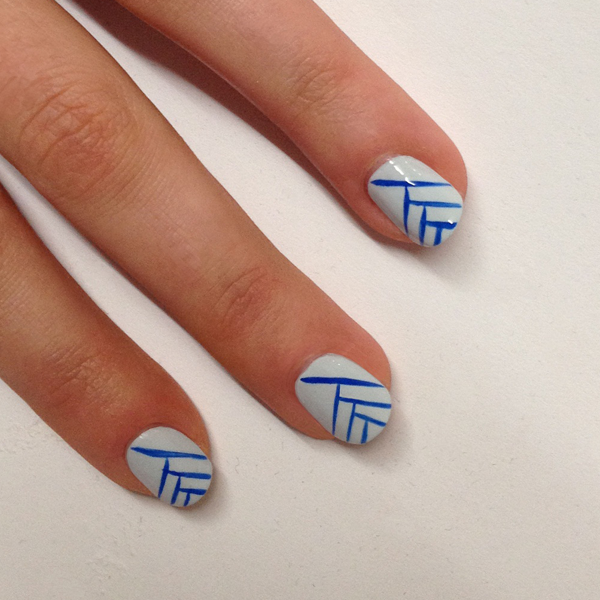 How-To:
File and shape your nails to a natural square shape.
Apply a base coat like JINsoon Power Coat.
Apply two coats of JINsoon Kookie White on the entire nail bed.
With a thin brush, create thin lines using JINsoon Cool Blue. Paint the first line from the top of the nail at a diagonal, ending at the opposite side of the nail. Then paint the second line perpendicular to the first line about a third of the way down the nail. Continue painting at right angles from the previous line (as shown in the photo) until you reach the end of the nail.
Apply a top coat like JINsoon Top Gloss for a lasting glossy finish.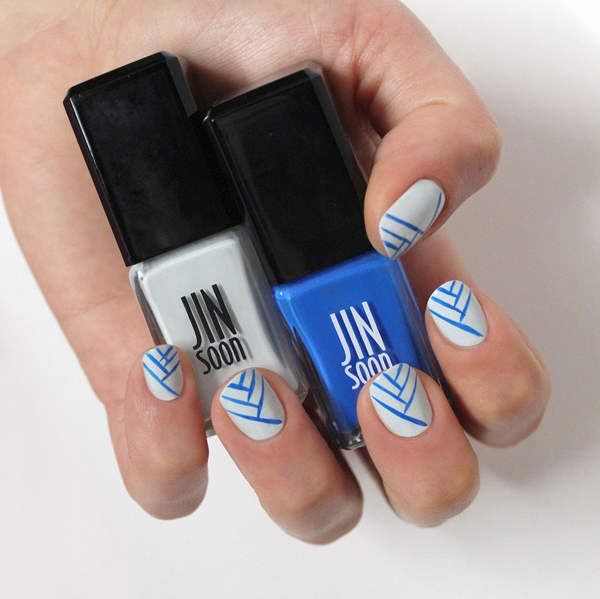 The Lancome French Riviera Collection is available now at Lancome counters nationwide and online at Lancome.com and Nordstrom.com. JINsoon nail polish is available at Sephora.com and Nordstrom.com.
Do you have big plans for the holiday weekend? Will you be sporting a red, white and blue mani? What do you think of my nautical take on stars and stripes?
Disclosure: Product samples were provided by reps for Lancome. Affiliate links appear in this post. When you purchase through an affiliate link, you help support this site. For more info view my
Disclosure Policy
.