This weekend I'm celebrating my birthday in usual fashion, with my family, on their sailboat at my favorite place in Ohio, Put-In-Bay. It's a tradition that started in my early 20s and, weather be damned, we have gone every year since. Yes, I realize it's kind of juvenile to make such a big deal about my birthday in my mid (late) 30s but, being an only child, my parents make a big deal of it so, who am I to say no?
In keeping with the nautical theme of the weekend, I created a nauti nail art manicure using the appropriately water-themed summer nail polish collection from Maybelline Color Show with a punch of red from Essie.

In creating my nauti nails I knew I wanted to wear horizontal stripes and that I wanted to incorporate multiple shades of blue. A striping tape manicure seemed the logical choice. My debate was weather to make the base colors all different and polish over in the same, pale grey shade, or vice versa. Tip: Experiment with your ideas on nail art wheels before executing. Saves you a lot of time.
I ended up polishing all my nails with a base of Maybelline Bare Escape, a cool pale grey creme. It's a little thick and streaky so I wouldn't wear it on its own but for this purpose it worked well. It dried fast, which is key to a tape manicure.
Next, I cut 32 strips of thin striping tape from Amazon and placed them on my nails in a vertical pattern. Then I polished each digit with a different shade of blue. I used Maybelline Midnight Swim (navy creme), Maybelline Azure Seas (bold blue creme), Maybelline Shocking Seas (cyan creme), and Maybelline Turquoise Paradise (aqua creme) pulling up the tape as I finished each nail.
As a sort of anti-accent accent nail, I used a rich red creme, Essie Hip-anema, on my ring fingers with a coat of Deborah Lippmann Boom Boom Bow over top.
Application tips: 1) Place all the tape before you polish. 2) Use tweezers to place the tape on the nail 3) Start the tape flat on the nail at the edge, only leaving excess hanging on one side. 4) Pull up the tape with the tweezers. 5) Wait 10-15 minutes before applying top coat to avoid blurring the lines.
Not So Pro Tip: Don't use hot pink colored striping tape. It bleeds, as evidenced below.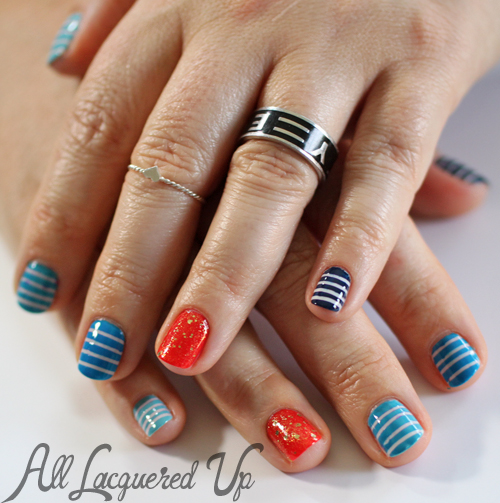 The Maybelline Color Show summer edition nail polishes are limited edition and available now at drugstores nationwide. Maybelline Shocking Seas and Deborah Lippmann Boom Boom Pow are both core colors and Essie Hip-anema is part of the spring Madison Ave-hue collection available at salons and mass retailers nationwide. Maybelline Color Show nail polish retails for $3.99/ea.
Do you like my nauti nail art? Do you have any striping nail art tips to share? Tell me I'm not alone in making my birthday a weekend extravaganza?
Disclosure: Product samples were provided by reps for Deborah Lippmann, Essie and Maybelline. Affiliate links appear via a third party link service. For more info view my Disclosure Policy.