In spite of having a boyfriend who is a major Star Trek fan, he even owns Shatner's CDs, I never got on board. That is, until JJ Abrams became involved with the franchise. I'm a fan of his work from back in the Felicity and Alias days so when he took over the helm, I paid attention. Even though the boyfriend feels the first film "wasn't a Star Trek movie" (I loved it!), he gave his approval when we saw the second installment, Star Trek Into Darkness.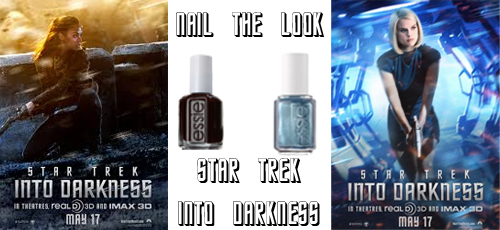 Affiliate Link|I Bought This|Press Sample
As with the first film, I couldn't help but notice the nail polish on the two female leads, Zoe Saldana as Uhura and Alice Eve as Carol Marcus. Fortunately, I was able to get the scoop on their looks and the rest of the women of Star Trek Into Darkness straight from Assistant Make-up Department Head Deborah Patino Rutherford who worked alongside Make-up Department Head David Anderson. So if you plan to dress as your favorite character you can finish off your look with the proper polish.

According to Deborah, "Nails were an important element to our make-up design as we wanted our Starfleet woman to be groomed, serious and pretty. This film is set in the future  so we decided no fake nails or French tips as this could possibly date us."
Keeping a consistent look from the last movie, Zoe Saldana's makeup artist Vera Steimberg used Essie Wicked on Uhura. A short, vampy nail makes perfect sense for this strong, yet feminine woman.
For newcomer Alice Eve, Deborah opted for Essie Fair Game. "We wanted her character to be serious and classy." The slate blue pearl has a futuristic, clean yet industrial feel that compliments the color of Carol Marcus' uniform.

On the other Starfleet women the nails were mostly Urban Decay, OPI and MAC Cosmetics nail polish in nude and earth tones with a few distinct colors in dark burgundy, gray, black, blue and yellow to pop it.
Civilian and Alien women wore a variety of colors by OPI, MAC, butter LONDON and Urban Decay in grays, silver, golds, teals, wines, violets and greens.  Some matte, some shimmery or sparkly. The UK nurses wore Sephora by OPI White Hot and Lady V (played by Colleen Harris) wore Urban Decay Barlust.
Some of the specific shades include: MAC Hyperion, OPI Nomad's Dream, MAC Nocturnelle and OPI Blue My Mind.
Three shades came from the Urban Decay Holiday 2011 Nail Kit – Barlust, Wrecked and Gunmetal. They're all edgy and dark. Scrangie has great swatches of them HERE.
Other Starfleet women were kept more classic with neutral shades like OPI It's Totally Fort Worth It (Texas collection) and OPI Moon Over Mumbai (India collection).

Essie Wicked ($8) is currently available at salons and mass retailers nationwide including Essie.com and even though Essie Fair Game was a limited edition shade, I was able to easily score a bottle on eBay and found more on Amazon. All the OPI shades ($9) are currently available, find a salon at OPI.com, as is MAC Nocturnelle ($16) at MACCosmetics.com.
Did you see Star Trek Into Darkness? Were you distracted by Alice Eve's nails too? What do you think of the color choices for each character? Will you pick up any of these shades for a potential Halloween costume?
Disclosure: I purchased Essie Fair Game and Wicked. Reps for OPI provided product samples. For more info view my Disclosure Policy.
image credits: All Lacquered Up & Paramount Pictures