For the second year in a row, OPI has teamed up with Disney to create a capsule collection in honor of the First Lady Mouse of Animation, Minnie Mouse. While the OPI Vintage Minnie Mouse collection paid homage to her classic, retro style, OPI Couture de Minnie melds fashion forward trends with the iconic character.
Texture continues its 2013 dominance as we are introduced to a new Liquid Sand shade in addition a sequin glitter top coat and three full coverage nail polishes in hues of pink, fuchsia and red. Check them out!

Formula & Application: OPI is a 4-free brand. The OPI Pro Wide brush is flat, wide and medium in length. It's of average stiffness and easily spreads out on the nail when pressed. The only downside to the Pro Wide brush is that it can be too wide for slim fingers or little toes.
All of these polishes applied a bit differently and have their own advantages and quirks so I will address them individually in the shade reviews.

OPI A Definite Moust-Have is a hot pink creme with just a hint of pearl that adds to its depth. You can only see it on the nail in bright light. It's a warm take on fuchsia in that it has a bit of rosiness to it undertone. It's packed with pigment and flows well on the nail. It's almost a one coat wonder in that respect. While I don't own any matches, the base color is very similar to the creamy Orly OMG (Spring 2009).
OPI Chic From Ears To Tail is a cool bubblegum pink with a smattering of crystal clear mica flecks that show up in direct sunlight. The finish is similar to OPI You're Such A Budapest (Euro Centrale). It applies similarly as well. It's kind of streaky, a little lumpy and somewhat sheer but with three coats and careful brush strokes I was able to even it out and achieve full coverage. I realized that I'm seriously lacking when it comes to pinks of this nature. OPI Pink Friday (Nicki Minaj) lives in the same neighborhood but is a bit lighter, warmer and milkier.
OPI Innie Minnie Mighty Bow is a vibrant red shimmer with some warm undertones. The finish is somewhat of a junior version of the glass fleck finish. The shimmer seems to float in the polish but in a much more subtle way. It gives it a lit from within quality that is very mesmerizing. Like A Definite Moust-Have it's very pigmented and you can almost get away with one coat. While I don't own a dupe, it's a cross between OPI Thanks So Muchness (Alice in Wonderland) and OPI No Autographs Please (Holiday in Hollywood).
OPI Magazine Cover Mouse is the newest addition to the Liquid Sand line of textured polishes. This one is a strawberry red with hot pink and gold sparkles. As with all textured nail polishes, they are intended to be worn sans top coat. This one packs a lot of pigment so I only used one coat. Once dry, it has a fantastic sparkle to it. Now I won't say dead on dupe but the Julie G Frosted Gumdrop in Hot Cinnamon is so close to this shade that it's hard to tell them apart. Magazine Cover Mouse is a bit lighter with more of the fuchsia sparkle coming through on the nail.
OPI Minnie Style is a clear based glitter top coat filled with magenta and white hexagonal sequins. The glitter is pretty spread out so it doesn't lay evenly on the nail. This is definitely a glitter that requires some work in placement. Application tip: drop a blob of glitter at the base off the nail, re-dip the brush and then brush over the nail.

When OPI announced the launch of this collection, they reached out to bloggers requesting nail art based on the display for use on the OPI Facebook page. Knowing how many talented nail artists are out there, I didn't submit a design but I tried my hand at a simple look just to share with you.
Given the sinewy look they created for Ms. Mouse and the peplum dress she dons at the far left, I felt it was time to try my hand at an Hourglass Manicure.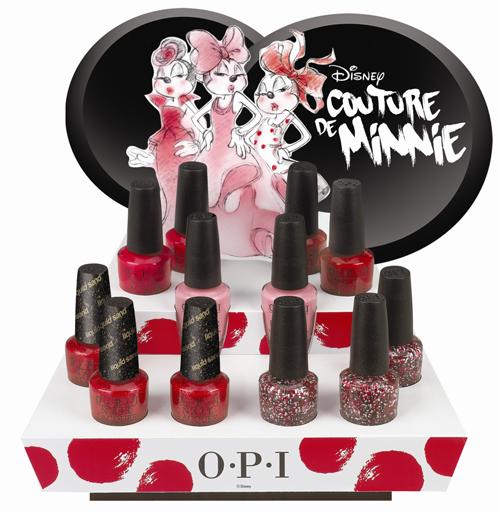 Using OPI Chic From Ears To Tail as a base, I applied French tip stickers to the sides of my nails before layering a coat of OPI A Definite Moust-Have on top. Easy, elegant and shapely.

Bottom Line: I don't have the Vintage Minnie Mouse collection to compare with this one but overall I think OPI did a good job of representing Minnie Mouse. I don't know how fashion forward it is, beyond the use of texture, but they definitely nailed her color palette (pun totally intended). At the end of the day, OPI makes great reds, especially red shimmers and Innie Minnie Mighty Bow is a perfect example of that. A Definite Moust-Have is just that, a mus- have for pink lovers while Chic From Ears To Tail & Minnie Style get a pass due to their application issues. If you own Julie G Hot Cinnamon, I would skip Magazine Cover Mouse.
OPI Couture de Minnie is available now at salons nationwide including Beauty Brands, Beauty First, Chatters, Dillard's, jcp Salons, Pure Beauty, Regis, Trade Secret, and ULTA. They are also available at the first authorized online seller ULTA.com. OPI nail polish retails for $9/ea for a .5oz bottle. For more info visit OPI.com.
Thoughts on Couture de Minnie? What do you think of my Hourglass Manicure? What type of nail art do you think represents this more fashionable version of Minnie Mouse? Do you plan to pick up any of these shades?
Disclosure: Product samples were provided by reps for OPI. Affiliate links appear via a third party link service. For more info view my Disclosure Policy.