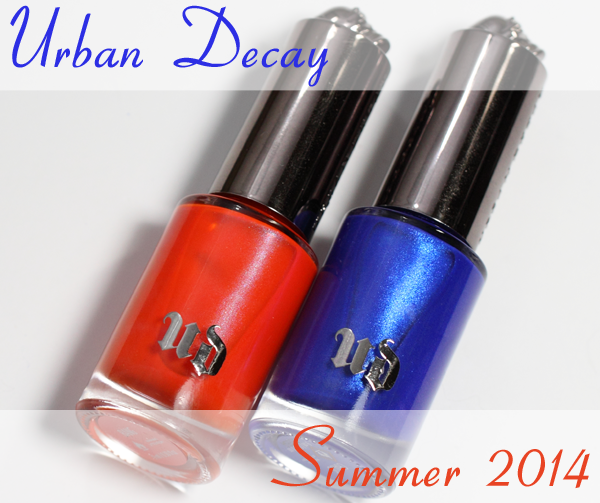 Because I have a good friend who went to Syracuse, it's hard for me to see blue and orange together and not think of their school colors. Which is exactly what crossed my mind when the new Urban Decay Summer 2014 nail colors, Bang and Chaos arrived, in the midst of March Madness.
I've made my feelings about bright blues very apparent (hint: I LOVE them) so, obviously, I'm biased. However, everyone I've seen while wearing Chaos has flipped for the shade as well, so you know it's good.


Formula & Application
Urban Decay nail polish is 5-Free (Formaldehyde, Toluene, DBP, Formaldehyde Resin, Camphor). The weighty, round glass bottles are topped with a chrome cap with the brand name embossed on the side and a raised skull on top.
The brush is round, thick and dense with firm bristles. Due to number of bristles, it picks up a lot of polish and does fan out some on the nail. I found the brush to be easy to control, making precise, even polish placement a breeze.
In the past, the new Urban Decay formula has delivered pigmented, smooth, two coat coverage colors and with Chaos that tradition continues. However, with Bang, your results may vary. I used three thin coats to conceal my free edge but depending on how heavy handed you are with polish application, you could get away with two.

Urban Decay Bang is a vivid, reddish orange with a subtle hint of pearl shimmer. You can see the pearl on the nail in direct lighting but it's pretty nonexistent otherwise. It's worth noting that this shade dries with a satin finish, I assume due to some neon pigment in the mix, so a glossy top coat is necessary.
Urban Decay Chaos is an electric, mid-tone blue shimmer that borders on ultramarine. It's so much more striking and bold in person which makes it very hard to capture on camera. The light blue shimmer really comes alive on the nail and is so much more pronounced than Bang.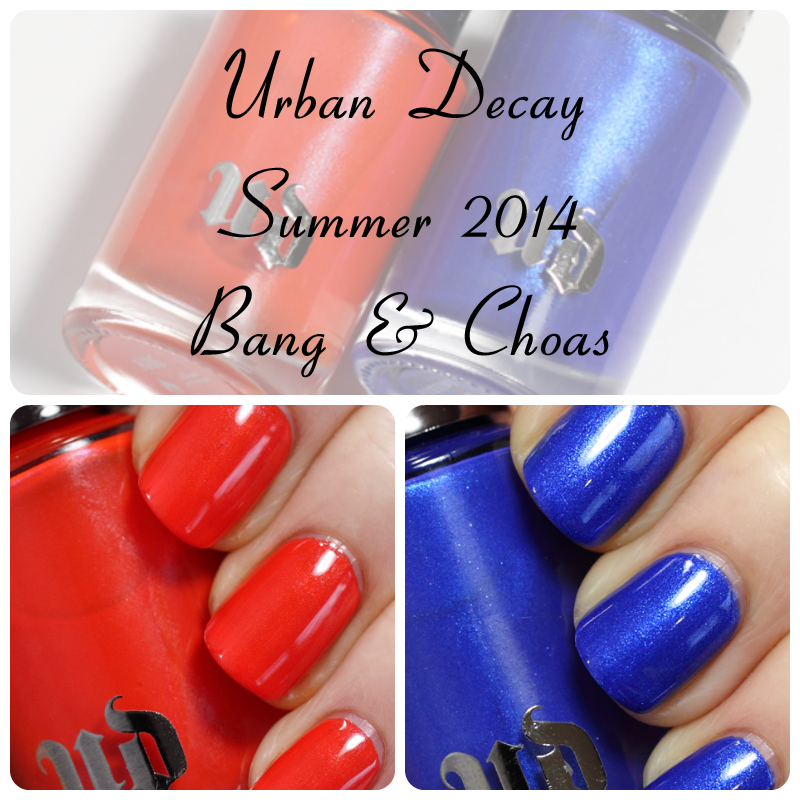 Bottom Line: Chaos is really the star of this show and given the prominence of bright blue nail colors this season, it's clearly on-trend. I love everything about this polish, the silky smooth consistency, the pigmentation and, of course, the shockingly cool color. This is a "must" in my book. Bang, on the other hand, is nice but not necessarily note-worthy. However, this color pairing makes for a great mani/pedi combo.
Urban Decay Bang and Chaos from the Summer 2014 collection is available now at UrbanDecay.com, Beauty.com, Macys.com, Ulta.com and coming soon to Sephora.com. Urban Decay nail polish retails for $15/ea for a .3oz bottle.
What do you think of UD's new nail colors? Do you plan to pick up either shade? Or both? Have you tried UD polish since it relaunched last fall? Thoughts?
  Disclosure: Product samples were provided by reps for Urban Decay. Affiliate links appear in this post. When you purchase through an affiliate link, you help support this site. For more info view my
Disclosure Policy
.