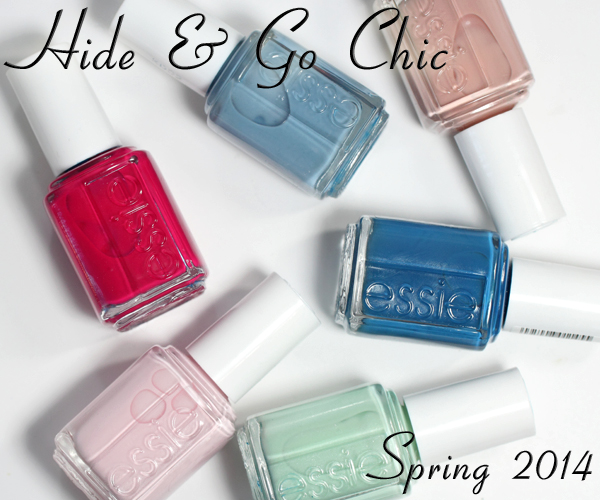 My office, aka The Polish Room, looks out over the backyard and given that we live on a close-knit street filled with active little kids, it's common to see them running by, playing games after school. Especially now that spring has finally sprung.
Seeing them streak across the yards reminds me of building forts and endless games of Tag with my neighborhood friends. With names like Fashion Playground, Hide & Go Chic and Truth of Flare, the Essie Spring 2014 collection takes me right back to childhood, making me nostalgic for summer days of playing from dawn to dusk.


Formula & Application
Essie is a 3-Free brand. The square bottles are embossed with the Essie logo and the smooth plastic caps include an embossed 'e' on top. Bottles at mass retailers have stickers rather than embossing on the bottle. The brushes are thin, round and shorter than most. The bristles are very flexible, allowing you to easily fan out the brush to cover your nail width.
In this instance, the consistency and opacity of each shade varied greatly so I will address that in each individual review below.

Essie Fashion Playground is a true mint green with those subtle crystal flecks that I love so much. The problem here, is that the color is so light that the flecks are barely noticeable. Also, the formula was a "challenge" aka a PITA. It's streaky so you need to apply three pretty significant coats to get it opaque and smooth.
Essie Hide & Go Chic is a deep azure blue creme bordering on teal. The high pigmentation and silky smooth, squishy texture makes it the best polish in the collection in terms of application. Two easy coats gets it done!
Essie Romper Room is a pale petal pink creme. It's kind of difficult to work with given it isn't the best at self leveling and has a somewhat streaky application.
Essie Spin The Bottle is a creamy beige and a pleasure to apply. I needed three coats but the signature squishy Essie consistency made even coverage a breeze to achieve.
Essie Style Hunter is a saturated raspberry creme with a pink berry base. Like, Hide & Go Chic, its packing a lot of pigment and a nice smooth texture so I only needed two coats.
Essie Truth or Flare is a sandwashed denim creme. It has such a great consistency but the pigmentation is seriously lacking. While I managed to get it opaque, it took three medium to thick coats to get it there.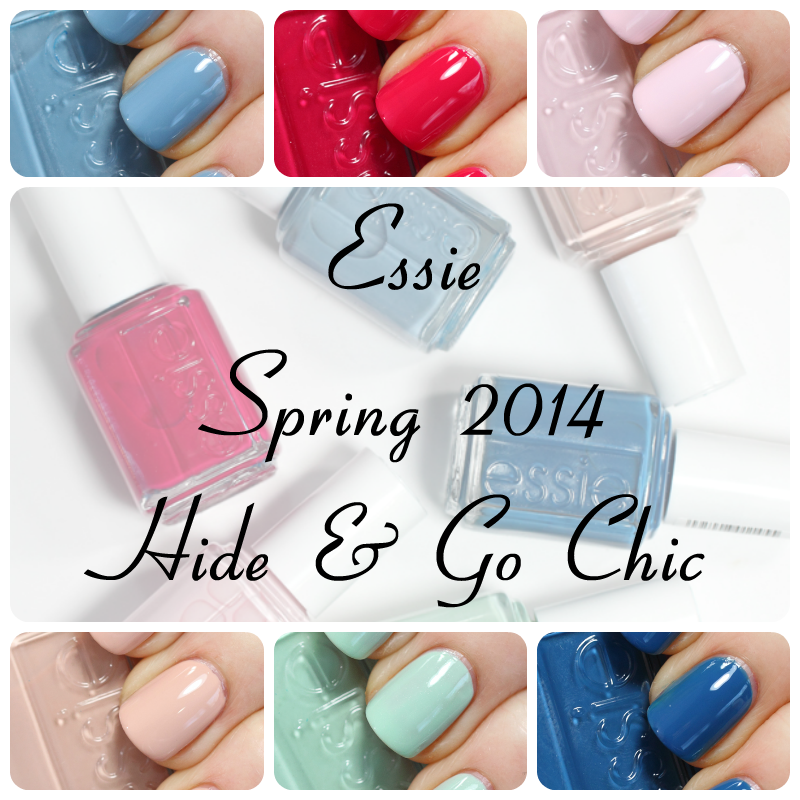 Bottom Line: It's not normally my style but I'm into Style Hunter. Something about this rich glossy shade is calling to me. And I will never kick a teal out of bed for eating crackers so Hide & Go Chic is another winner. Obviously, I'm a fan of Spin The Bottle after naming it one of my Top 10 Nude Nail Polishes. The rest get a pass given the formula issues plaguing them.
The Essie Spring 2014 Hide & Go Chic collection is available now at salons and mass retailers nationwide and online at Essie.com, Beauty.com, Kohls.com, Nordstrom.com, and ULTA.com. Essie nail polish retails for $8.50 for a .5oz bottle.
What was your favorite game to play as a kid? What do you think of the Essie spring collection? Which shades do you plan to pick up?
  Disclosure: Product samples were provided by reps for Essie. Affiliate links appear in this post. When you purchase through an affiliate link, you help support this site. For more info view my
Disclosure Policy
.