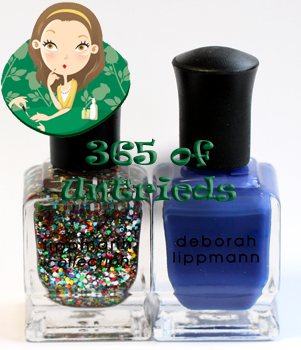 365 of Untrieds is my personal challenge to weed through the polishes in the ALU stash that I've been wanting to try but just haven't gotten around to.
It's funny how my feelings about my birthday have changed over the thirty #$%$# years I've been alive. Growing up an only child, my parents spoiled the pants off me so it's no wonder that I spent my teens and 20s turning my day into a week that was "all about me."
When I hit 30 the world was ending, of course, and now that I'm more comfortable with that first digit in my age, I find myself not caring so much about the celebration as I used to. I just remember how lucky I am to have two amazing parents who think the world revolves around me (it does doesn't it?), a boyfriend/partner who goes above and beyond to make my life complete and a wonderfully diverse cast of characters who are more like family than friends. And of course, I'm so so lucky to have all of you supporting me and sharing the polish love.
Today's polish choice was a no-brainer since today is my birthday. Cue the fanfare, ha! I started off the month with a polish named Happy Birthday so it seems fitting to close it out the same way. This time with Deborah Lippmann Happy Birthday and guest star I Know What Boys Like from the Summer 2011 color collection.